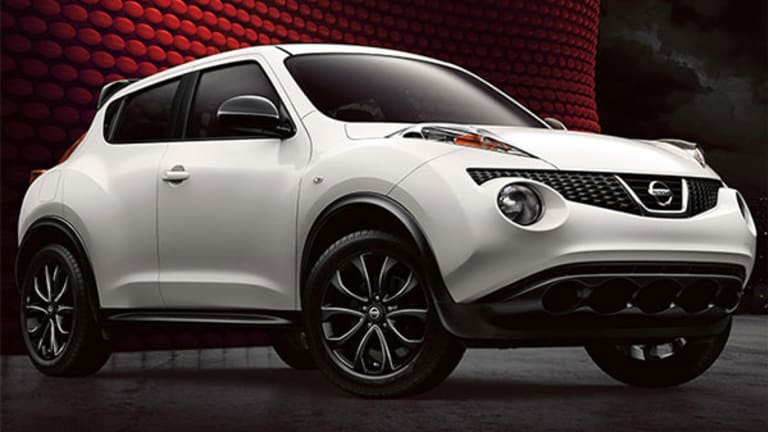 Honda, Nissan Shares May Be a Better Bet Than Toyota Now
Shares of the second- and third-largest Japanese automakers have lagged Toyota, but the time may be ripe for investors to exploit that difference as Honda and Nissan press forward.
DETROIT (TheStreet) -- The last five years haven't been kind to U.S. investors in Nissan Motor (NSANY) and Honda Motor (HMC) - Get Free Report, the second- and third-largest Japanese automakers after Toyota Motor (TM) - Get Free Report .
Nissan and Honda, both of whose most important global market is the U.S., could now see their shares make up that lost ground. Both automakers have turned in solid gains as U.S. auto sales have grown, and the value of their dollar-denominated profits has increased with the weakening of the yen.
The relative values of the dollar and yen also suggest that the American Depositary Receipts of the automakers' equities have fared worse than the corresponding shares denominated in Japanese currency and traded in Tokyo.
Honda is about to begin production of its made-over Pilot large sport-utility vehicle, as well as a small crossover called the HR-V, which should take advantage of growth surges in those segments. Nissan is undertaking an innovative business strategy of helping Mexican dealers buy U.S. dealerships in places like Los Angeles and Houston, with the goal of increasing penetration among America's Hispanic shoppers.
Jose Munoz, head of Nissan North America, has been public about his determination (and that of his boss, Nissan CEO Carlos Ghosn) to capture a 10% share of the U.S. auto market. Nissan finished 2014 with an 8.4% share, compared to Honda's 9.3%. (Toyota, with a 14.4% share, was less than 100,000 vehicles behind No. 2 Ford (F) - Get Free Report .)
Nissan is 43% owned by French automakerRenault (RNSDF) .
Don't expect Honda to give up its No. 2 position among Japanese automakers without a fight. The company, whose vehicles were once known more for utility than for beauty, is devoting more attention to cosmetic details, a trend noticeable on the new Pilot. John Mendel, head of Honda's U.S. operations, has declared 2015 to be the "Year of Honda," which includes introduction of its long-awaited small jet, designed for the general aviation market.
Over the past five years, Honda's ADRs have yielded a negative 7.1% return, while Nissan's ADRs have gained 10.4%. By comparison, the S&P 500 Index (SPY) - Get Free Report has gone up almost 93%. Toyota ADRs, the class act of the category, have gained more than 73%.
On a price-to-earnings basis, Toyota ADRs today are expensive compared to those of Nissan and Honda. In decades past, a premium for Toyota stock surely was justified on the basis of its quality ratings, efficiency, financial strength and marketing savvy. But Nissan has come a long way since nearly falling into bankruptcy in 1999, and Honda may boast fairly that it has never posted a deficit, despite all of the cyclical shifts of economies and automotive buying it has experienced.
Whether to buy Honda and Nissan shares in Tokyo or as ADRs in New York is a question that may hinge on the notoriously uncertain currency markets. For the time being, the yen's relative weakness compared to the dollar works to the advantage of exports from Japan. Increasingly, however, the major automakers -- no matter their corporate homes -- are global companies trying to manufacture as close to their customers as possible.
This article is commentary by an independent contributor. At the time of publication, the author held no positions in the stocks mentioned.