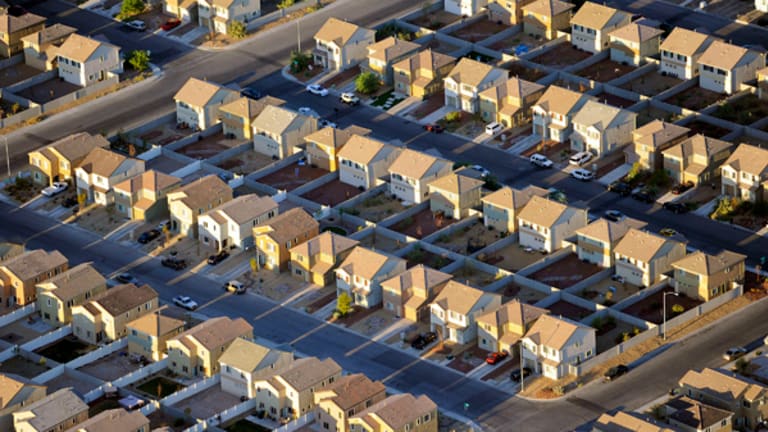 Home Prices Still Rising but at Slower Pace, S&P/Case-Shiller Shows
Home price gains continue to lose steam, based on Tuesday's reading of the S&P/Case-Shiller Home Price Index, which tracks prices in 20 metropolitan cities.
NEW YORK ( TheStreet) -- Home price gains continue to lose steam.
Prices rose 4.3% year-over-year in November, per Tuesday's S&P/Case-Shiller Home Price Index, which tracks prices in 20 metropolitan cities. This is down from 4.5% in October.
"The housing market is still moving forward, but we're going forward at a diminishing rate and that has been true at least for the last year," said Craig Lazarra, global head of index investment strategy at S&P Dow Jones Indices in an interview with TheStreet. "A year ago at this time the November 2013 year-over-year increase was almost 14%."
Lazarra says the current price trend is natural following the 2008 housing bust. "The rate of increase seems to be leveling out in the positive 4% area," he told TheStreet. "I would be very surprised if the next several months weren't roughly in the same range now."
Housing momentum is largely pinned to incomes. While wages still remain tepid, consumers are at least benefiting from low gas prices.
But an energy stimulus alone won't necessarily move the dial for home prices. Substantial wage increases are the key ingredient.
"Should incomes reaccelerate in the coming year, as many anticipate including consumers (based on recent surveys), there is a good chance house prices will resume their climb back towards their pre-recession peak," ITG Chief Economist Steve Blitz wrote in a note on Tuesday. "It is, however, a long climb given shifting demographics and lack of too easy financing."
Aside from prices, mortgage rates affect affordability. The average rate on a 30-year fixed mortgage stands at 3.63%, its lowest point since May 2013, Freddie Mac said last week.
With a massive quantitative easing program in Europe, analysts wonder if the Federal Reserve will delay its rate hike, once widely expected to occur in 2015.
If consumers think rates will fall further, they may delay home purchases, hoping to score a better deal in the future, causing price increases to decelerate further.
--Written by Scott Gamm in New York.
Follow @ScottGamm.