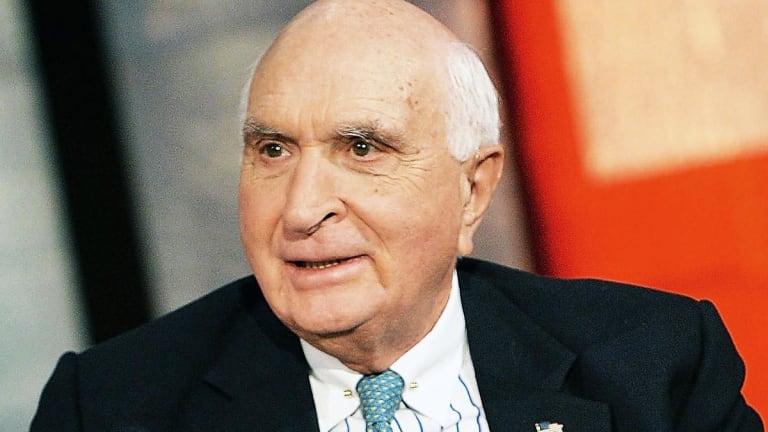 Who Are America's Heroes? Home Depot's Ken Langone Is One of Them
In a cynical age, he's one business leader we can believe in.
In a cynical age, he's one business leader we can believe in.
GUEST COMMENTARY
By William Gruver and Alexander Riley, Bucknell University
We live in a time of powerful cross currents. As we see the vitriol directed at those in positions of civic power -- whether political, military, religious or economic -- it is tempting to think that the heroes of our national pantheon are dead and gone.
We have killed the very idea of American heroism. At the very least, the idea of a hero in our public lives seems out of fashion, replaced by some combination of cold cynicism and heated demagoguery.
Yet some of us are old enough to remember a different time. When we were young, heroes were both in fashion and easy to find. We followed the examples of extraordinary leaders and statesmen, from George Washington and Abraham Lincoln to John F. Kennedy and Ronald Reagan. We were stirred to change by the inspired words of Dr. Martin Luther King Jr., and we were guided through difficult issues by the considered opinions of Justice Sandra Day O'Connor.
We also found other heroes outside of politics. John Whitehead, for instance, became an inspiration to many not just for his leadership of Goldman Sachs (GS) - Get Report , but also because of his humility and engaged philanthropy. Astonishingly, Whitehead never boasted about his participation in the Normandy invasion of June 6, 1944. In fact, in those pre-Google days, we were not even aware that he had been there at all.
Similarly, Whitehead found time while working his way up at Goldman to be a financial supporter of and an active volunteer with the International Rescue Committee. He not only wrote checks, but also donated his time to work with refugees. Think of how that image stands against our conception today of the "Wolves of Wall Street."
The Great Recession left significant economic wreckage, but its most damning effect may be on our social cohesion. It destroyed our faith in those who achieve economic success. We now believe their methods suspect and their purposes nefarious. So too, the motives of the political class are seen as deferential and captured by economic interests.
As university professors, we cannot help but note how these changed perceptions affect the development of young people, who are too often enamored by celebrated heroes of sports or entertainment. As educators, we find celebrity obsession enfeebling. For the next generation to have any hope of success, society must find ways to reinvigorate the discussion around civic heroism and its role in the human-maturation process.
Politics and military endeavors are perhaps the privileged sites for the work of heroes. President George H.W. Bush was recently and appropriately celebrated for his life of service in both the military and politics. This national moment -- the shared mourning of a hero's passing -- was deeply needed, but it was disheartening to see media coverage that treated "Bush 41" as the last of America's heroes.
However, we say that heroes are alive and well. They are both prevalent and relevant in our civic lives. And if we can be so bold, we offer as an example a friend -- Ken Langone, who's perhaps best known for helping to launch Home Depot (HD) - Get Report .
Ken may be surprised or even amused to find himself presented as a hero. After all, the light-hearted audacity of his recent autobiography, I Love Capitalism! An American Story, is one of its most attractive features. Yet the story of Ken's life also reveals just the qualities we should most seek in our heroes.
Ken's generosity is legendary. His community-minded altruism is informed by a deep humility and desire to both pay back and pay forward the aid he was given throughout his life by others. (Full disclosure: Ken is a supportive alumnus of our school, Bucknell University.)
Though his track record would easily lend itself to an endless litany of his successes, Ken openly admits his flaws and remembers those who contributed to his successes. In the midst of his book's fascinating sea of details about Ken's rise from humble working-class roots to the pinnacle of the American business community, a central motif emerges over and over again.
In an environment where dissembling and sycophancy are often seen as the way to promote oneself, integrity and the willingness to tell hard truths were at the heart of Ken's motivation. That is the type of lesson we need young people to learn from our civic heroes.
Heroism is often mistaken as flattery for the hero. In truth, the greater part of heroism is the moral tale that others can use to model their lives.
The vivid depiction of a thoughtful and grateful life by someone at the heights of the American business world gives much-needed values to a wider audience. Heroes of Ken's caliber translate their personal success into sources of inspiration for the next generation, all while deconstructing the false polarity between individual achievement and concern for others.
America's heroes are not dead, they're just hidden in the shadows of cynicism and demagoguery. We need only bring them back into the light by honestly telling their stories.
(William R. Gruver is professor of management practice and the Howard I. Scott Chair in Global Commerce, Strategy and Leadership at Bucknell University. Alexander T. Riley is professor of sociology at Bucknell University.)