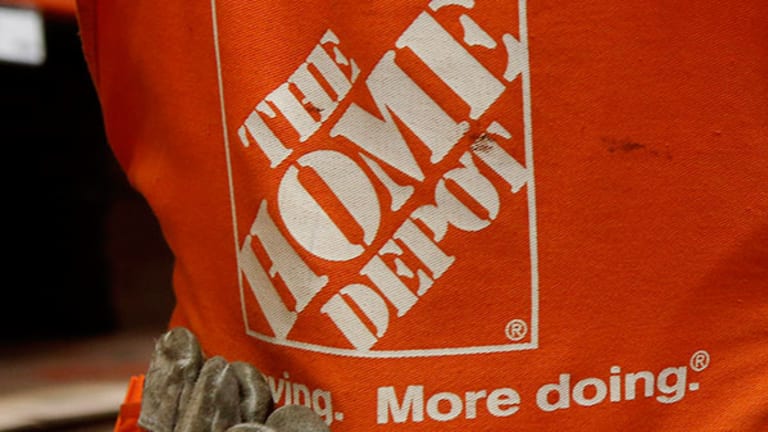 Home Depot -- Still Building Value After Strong First-Quarter Results
At minimum, there's 15% gains to be had in HD stock. And when combined with its 2.11% annual dividend yield, there's tons of long-term value for shareholders.
NEW YORK (TheStreet) -- Don't hold your breath waiting for shares of Home Depot (HD) - Get Report to get cheap. The world's largest retailer of home-improvement products hasn't been cheap for a long time and it's likely heading higher. Why?
Despite weak recent retail sales data, showing consumers spent less than the market had hoped for in April, consumers didn't neglect home improvement projects -- at least, according to Home Depot's earnings results. And with worst-than-expected results released by rival Lowe's (LOW) - Get Report, it would seem that Home Depot has gained some market share. And all of this bodes well for HD stock.
This means investors who buy HD stock today at around $112, can own shares of a market leader that is trading at just 18 times next year's earnings estimates of $6.02 per share. This implies more than 14% year-over-year earnings growth, assuming the company earnings $5.26 for this fiscal year. This is important because it implies HD is projected to grow earnings next year at almost three percentage-points faster than its long-term projected growth rate of around 12%.
All told, this is the optimal buying opportunity for HD, especially with comparable sales still on the rise. Not only that, but Home Depot continues to show tons of room for higher gross margins, meaning higher profits in the quarters and years ahead. And this is despite the company's annual sales approaching $80 billion, which is roughly 50% higher than rival Lowe's.
To that end, it's first-quarter results, a 6.1% year-over-year jump in revenue, or $20.89 billion, was a solid start. Revenue growth was buoyed by an almost 5% increase in volumes, owing to more than 360 million transactions.
But here's the thing, unlike other retailers, not only has Home Depot figured out ways to get customers into its stores. The company, headquartered in Atlanta, GA., has found a formula to get customers to spend more per each visit. Average ticket prices climbed by almost 2%, to $58.60; an encouraging sign.
Just as remarkable, even with the 6% increase in quarterly revenue and 2% increase in average transactions, inventory levels remained flat at $12.3 billion. Ordinarily this would not be a good thing. Investors would want to see inventories decrease since it means more product is leaving the stores. In this case, however, it means Home Depot's management figured out ways to squeeze as much profit out of each dollar in revenue generated, helping to deliver solid results despite weak consumer spending.
Assuming retail sales numbers do improve in the months/quarters ahead, this will only fuel the stock, given that the company is actively looking for ways to cut costs and centralize its distribution centers.
The company continues to grow revenue and profits despite currency headwinds caused by the strength of the U.S. dollar. That is one reason the stock commands a higher P/E (23) than the S&P 500, which trades two points lower. Accordingly, though the shares have performed well, up 42% in the past 12 months, HD could still reach $120 to $125 in the next 12 to 18 months to deliver an extra 12% gain.
Buying HD is as much of a bet on the company's management as it is on Home Depot itself, or on any prospects that the retail industry might improve. So, at minimum, there's a 15% gain to be had in the stock. And when combined with its 2.11% annual dividend yield, there are tons of long-term value for shareholders.
This article is commentary by an independent contributor. At the time of publication, the author held no positions in the stocks mentioned.