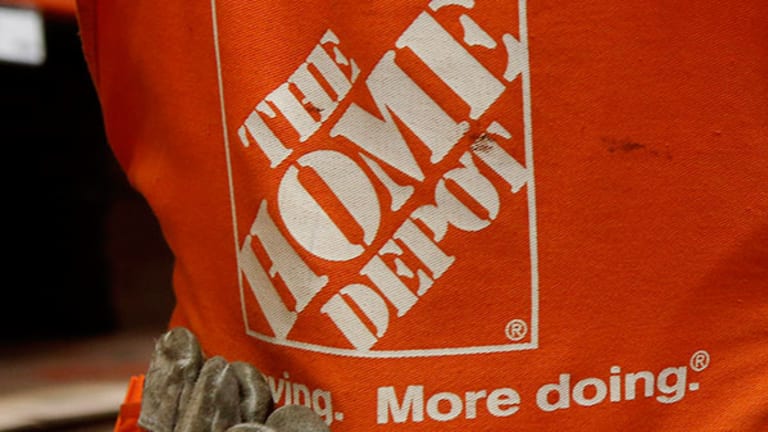 Home Depot Ready to Defend Appliance Business Against New Competitor
Marvin Ellison, the CEO of J.C. Penney, is a former Home Depot executive who overhauled that company's appliance business.
Home Depot (HD) - Get Home Depot, Inc. (HD) Report is ready to defend its lucrative appliance business from the newcomer on the block, J.C. Penney (JCP) - Get J. C. Penney Company, Inc. Report .
The home improvement retailer, which has increased the amount of space in its stores devoted to fridges and stoves during the U.S. housing recovery, said Tuesday it will expand square footage for appliances at 100 more stores this year. Executives at Home Depot also casually shot down the notion that J.C. Penney's successful pilot of appliances in 22 stores during the first-quarter caused it to lose any momentum.
"Well, we haven't seen the impact of any increased competition, our appliance business was extremely strong again in the first-quarter and in fact, it accelerated as we exited the quarter," said Home Depot's executive vice president of merchandising Ted Decker on a call with analysts.
Home Depot said sales of appliances added 0.5% to its 6.5% same-store sales increase in the first-quarter, and were an outperforming category overall. Selling appliances has become an increasingly important business for Home Depot through the years. Total sales of appliances tallied $6.5 billion last year, up about 15% year over year. The business now represents roughly 7.5% of Home Depot's overall sales, compared to 6.9% in 2013.
Yes, J.C. Penney now sells appliances.
Meanwhile, J.C. Penney is preparing to expand its appliance offerings under the leadership of new CEO Marvin Ellison, who helped lead the overhaul of Home Depot's appliance business as executive vice president of U.S. stores from 2008 to 2014.
J.C. Penney will expand its new appliance showroom concept to 500 stores nationwide after seeing positive consumer feedback at 22 test stores that kicked off in February.
Starting in early July through the fall, J.C. Penney will introduce major appliances to new stores every week until nearly half of its over 1,000 locations offer kitchen and laundry appliances from Samsung, LG, GE Appliances and Hotpoint. Each store will have 130 to 230 appliances on the sales floor for consumers to browse. 
This week, J.C. Penney will launch a redesigned appliance section on its website and begin offering over 1,200 options to consumers from Samsung, LG and GE. 
"The predominant percent of our customers are homeowners, and they said to us that they would buy appliances from us if we sold them," said Ellison on a call with analysts May 13, adding, "we think appliances is one of those categories that we can have a promotional cadence around it and that can help us to respond in a soft sales environment if we need to."
Let the appliance wars commence.