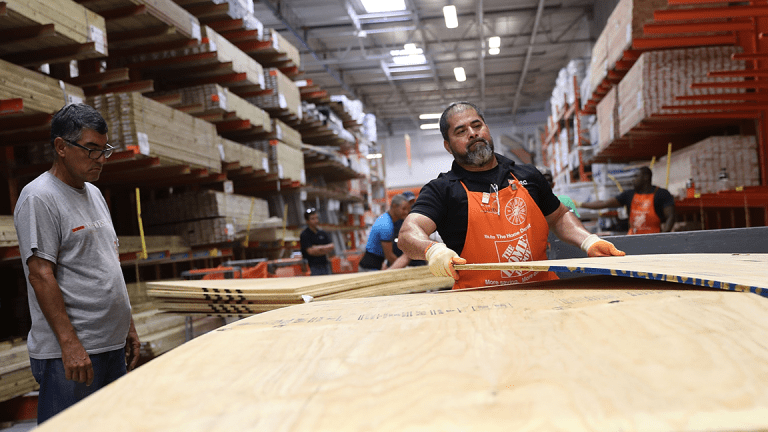 Home Depot CFO: We Have Barrier Islands Around Us That Protect Us From Amazon
Home Depot has set the standard in the retail space when it comes to earnings day. TheStreet talks with Home Depot Chief Financial Officer Carol Tome after better-than-expected fourth-quarter results Tuesday.
Thanks to big-time momentum in the home remodeling market, obliterating Wall Street profit forecasts come earnings days has become the new norm for Home Depot (HD) - Get Home Depot, Inc. Report . 
The home-improvement giant reported fourth quarter earnings of $1.69 a share, trouncing estimates for $1.61 a share. Same-store sales rose an impressive 7.5%, and were ahead of estimates for a 6% increase. 
TheStreet talked with Home Depot's Chief Financial Officer Carol Tome about the quarter and year ahead. In short, Tome doesn't expect rising interest rates to seriously dent (if at all) Home Depot's business trends this year. Sorry, stock market bears.
TheStreet: State of the U.S. housing market, what's your assessment? Seems as if Wall Street has started to freak out about rising interest rates and the impact to the stock market and housing.
Tome: There is only 3.2 months of housing supply on the market. In a normal environment, there would be six months of supply. That actually bodes well for a number of things. First is home price appreciation, which is a driver of how much people spend on remodeling. Home prices are expected to grow 5% to 6% in 2018. Anyway we look at it from home price appreciation to housing turnover to household formation, it all bodes well for a strong housing environment. 
Even in the face of rising mortgage rates, we don't think it's an issue right now. Our analysis suggests that for every 25 basis point increase in mortgage rates, it's $40 of additional mortgage expense every month. We have a ways to go before we are concerned. 
TheStreet: For the average investor that has made bank off owning Home Depot's stock over the past couple years, when should they see any impact to you from rising interest rates?
Tome: You need to look at two things. You need to look at rising mortgage rates coupled with rising house prices, coupled with incomes, before you could reach a conclusion on a potential impact. What we are seeing now is really a perfect world. As rates are rising, home prices are rising, and so is income. About 80% of American households will have more income this year than last year. There is really no near-term concern.
I do have to add that housing is cyclical, we all know this. There will be a slowdown at some point. My crystal ball on this is no better than anyone else's. When it happens, it's likely to be much less severe than the last time around. First of all, you have the housing shortage. Secondly, you don't have the crazy underwriting that happened before. 
TheStreet: Walmart's (WMT) - Get Walmart Inc. Report fourth quarter hints it's feeling the heat from Amazon (AMZN) - Get Amazon.com, Inc. Report . Yet, Home Depot did quite well. Is the home improvement space just un-Amazon-able?
Tome: We have really invested in this interconnected experience, which has paid huge dividends. We had 21.5% sales growth online last year and the business now makes up 6.9% of our overall business. More importantly, 46% of those sales were picked up inside of a store. When a customer comes into the store, they are buying something else. 
We are not an item retailer. We are a project retailer. That is very different than selling consumable items. It's just very different. We also help you when you have a problem. If your bathroom is leaking water, that's a very different need than if you are trying to match a sweater to your eye color. And then housing is a good asset class. 
So do we have an Amazon protected moat around our business? Of course not. But do we have barrier islands around our business? Yes, we do. Our job is to continue to invest in those barrier islands. 
TheStreet: What interests you in terms of acquisitions right now? Supply chain? Another retailer?
Tome: When we think about acquisitions, we think about enabling capabilities. We recently made a very small acquisition of The Company Store. You might say why? It wasn't for their sales, it was because they had merchant talent that we didn't have. And, we could have recruited to bring that talent to the table. But, we saw an opportunity to get into this space quickly and acquire the talent we so desperately need. 
As I look out on the landscape, if we see something out there that would make us better and the cost of acquiring it is cheaper than the cost of building it, then we will make a deal. It's not like there is a long list of these. 
TheStreet: How big an impact of selling Tesla (TSLA) - Get Tesla Inc Report solar panels inside of Home Depot be for the company? How are you marketing it?
Tome: It's a very interesting opportunity. But certainly it would round out the sales prospects for the company. We love bringing it in because it shows we are willing to invest with a supplier to bring innovative and cool products to our customers. 
TheStreet: It continues to get worse for Sears (SHLD) . Is Home Depot doing anything in particular to capture sales from closed Sears stores?
Tome: They, like every competitor, we do all kinds of things. We have a competitive plan we put together for everyone. The thing about our space is that it's highly fragmented. But yes, we have some specific things that we do. One thing we try to do with any competitor is that if we see an associate that we like, we will try to hire that person.