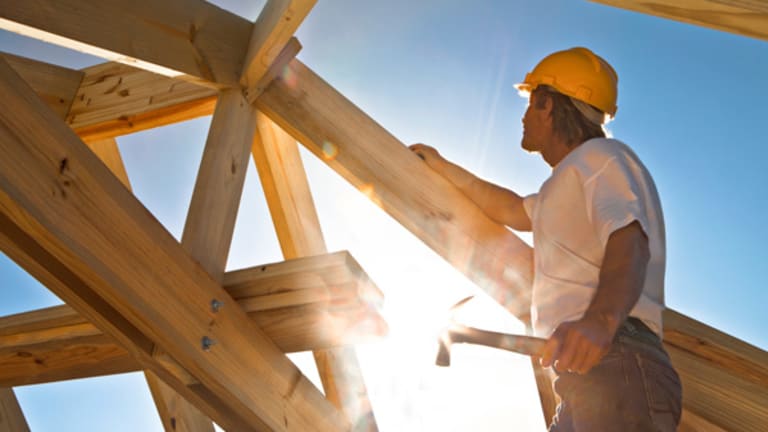 Homebuilding Is Picking Up Again, but It's All About Rentals
Housing construction is finally showing signs of recovery, but not because more Americans are buying homes.
NEW YORK (TheStreet) -- Housing construction is finally showing signs of recovery, but not because more Americans are buying homes.
October permits to build new houses and apartments came in comfortably above Wall Street estimates, the government reported Wednesday. Builders got permission to erect homes at a 1.08 million annual rate, beating forecasts that averaged 1.03 million, according to Econoday. That's up 4.8% from September.
The growth in new construction, however, continues to be concentrated in rental housing, not houses for sale. Younger workers are delaying forming households and choosing apartments, even though renting is more expensive than buying in most of the country. The drop in incomes for young adults has helped drive the number of U.S. households 5.4 million lower than it would be without recession-induced "doubling up," real-estate site Zillow reports.
The year as a whole is likely to bring about a 10% gain in housing construction, concentrated in apartment builders, says Michelle Meyer of Bank of America Merrill Lynch. That's well below the jump between 2012 and last year. Housing-start growth has slowed right along with home price appreciation, as each began to climb out of the 2007 to 2011 bust.
"In the past year, residential investment has slowed, with the sector not contributing [to gross domestic product growth] on a four-quarter moving average," she says.
Like Merrill's analysts, IHS Global Insight economists expect that to improve in 2015 -- but only slightly. In a conference call with reporters Tuesday, IHS said residential construction will boost first-half GDP by about 0.2 percentage points.
All this new construction is still good for home builders. On Tuesday, the National Association of Home Builders said its confidence index rose nearly four points to 58 on a scale of 100, with any score above 50 pointing to expansion. And on Thursday, the National Association of Realtors is expected to report that existing-home sales rose in at October an annual rate of 5.17 million, vs. 5.15 million in September.
The recovery still isn't robust, but this news comes at a good time for home building stocks, a new report from Standard & Poor's Capital IQ argues.
Builders have been recovering from a summer dip, and their technical pattern is now positive, S&P equity strategist Sam Stovall writes. In addition, S&P thinks builders' fundamentals have improved because a new head of the agency that oversees Fannie Mae (FNMA) and Freddie Mac (FMCC) is moving to assure easier mortgage credit. Cleaned-up balance sheets and steady job gains are also aiding fundamentals. It helps that the Federal Reserve is likely to go slowly in raising interest rates, S&P housing analyst Erik Oja says.
S&P rates eight of the 10 stocks in its home building index as "buy" or "strong buy," including names like Pulte (PHM) - Get Report , Ryland (RYL) , Lennar (LEN) - Get ReportKB Homes (KBH) - Get Report and Toll Bros. (TOL) - Get Report .
Still, the housing news isn't completely good. While building permits rose, housing starts in October dropped by 2.8% to a seasonally adjusted annual rate of 1.009 million. October was better than six of the months in 2014 to date, and worse than three others -- not the sign of any major breakout.
Housing is in a bind. Fundamentals of the housing market point to a boom -- there is huge pent-up demand, interest rates are low, consumer confidence is improving and affordability is solid. In particular, housing should surge partly because, as Zillow notes, rents are surging in California and Florida, the nation's two biggest new-home markets.
But the fundamentals of the economy point toward slower growth -- especially real median household incomes that are still lower than in 2007.
Put together, that means more slow expansion in housing for the next six months or so. It may be enough to drive some gains in builder stocks, which tend to run in the winter anyway, as hope for spring selling seasons rises. This recovery would eventually double housing construction, if starts got back to normal levels.
But an outcome that good still isn't certain.