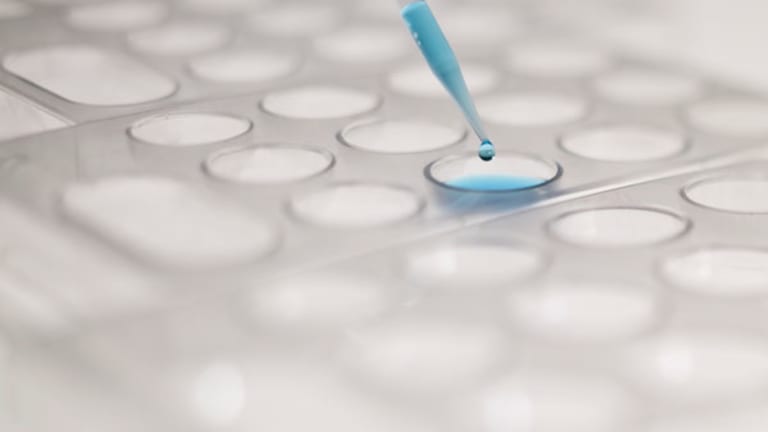 NEW YORK (TheStreet) -- It was Two-For-Tuesday in health care this week as EnteroMedics (ETRM) and OncoMed Pharmaceuticals (OMED) - Get OncoMed Pharmaceuticals, Inc. Report soared. At the peak, OncoMed generated all-time highs, reaching above 120% gains before closing with a gain of 98%. EnteroMedics closed right at the highs of the day, up an impressive 63%.
EnteroMedic investors quickly reversed their skepticism after less-than-stellar third-quarter earnings reported in October upon favorable data from its Maestro system obesity study.
Can investors capture greater gains or is now the time to ring the register?
EnteroMedic is an 11-year-old medical device development company that hasn't generated revenue, much less a profit. In October, the company reported the Maestro device demonstrated benefits in three studies. That news, not totally unlike Tuesday's press release, also rocketed shares over 30%.
[Read: Detroit Bankruptcy Caps 'Banner Day' for Bond Insurers Ambac, MBIA, AGO]
Maestro system is a device implanted into obese patients that stimulates the vegus nerve between the esophagus and the stomach, lowering hunger sensations. The system is already approved in Europe and Australia and awaits approval in the U.S. A target market is patients with type II diabetes.
Considering the market's currently available and cautiously optimistic outlook for Food and Drug Administration approval, EnteroMedic appears to be a strong buy into a dip. Delivering a favorable study is one thing but it isn't a substitute for revenue and profits.
The likely market reaction is within a few days the stock will settle lower, setting up a more favorable buying opportunity.
For EnteroMedic, however, option trading volume is so light that the lack of liquidity makes the bid/ask spread too wide for all but the most aggressive type of trades. Chasing the price higher doesn't appear to offer a favorable risk-reward because of dilution fear. The chart above demonstrates a six-fold increase in shares outstanding during the past two years while the annual cash burn rate is near the amount of cash on hand. In the last quarter's conference, the company reported a burn rate of $14.1 million for the first nine months ending Sept. 30.

Bottom line, there is a chance the train can leave the station without you, but I believe if you sit on your hands and wait you will have an opportunity to buy shares under $2 soon. If you own shares now, you may want to consider taking some gains and repurchasing during a dip lower.
The top headline-capturing health care news was small-cap OncoMed Pharmaceuticals squeezing the daylights out of the 11% short interest when it opened higher by about 70% and continued to annihilate anyone who dared to stand in its path. TheStreet's Keris Alison Lahiff reported news of the price breakout Tuesday morning.
[Read: Save $600 on a Used Car with This One Trick]
The company is partnering with $66 billion biotech giant Celgene (CELG) - Get Celgene Corporation Report, and it's reasonable to assume Tuesday's move is the first wave higher, although I wouldn't suggest chasing it. The companies will develop and market anti-cancer stem cell medicines. Celgene will have an exclusive option to license Demcizumab, its drug, if it wins regulatory approval. Demcizumab is in trials so investors shouldn't expect an immediate jump in revenue.
On the other hand, OncoMed will receive $177.25 million as an upfront payment from Celgene and Celgene agreed to purchase about 5% of OncoMed's stock. For OncoMed shareholders, the holidays arrived early this year. I think the stock has a lot of room to grow and $40 or more this time next year appears reasonable.
At the time of publication, Weinstein had no positions in securities mentioned.
This article is commentary by an independent contributor, separate from TheStreet's regular news coverage.