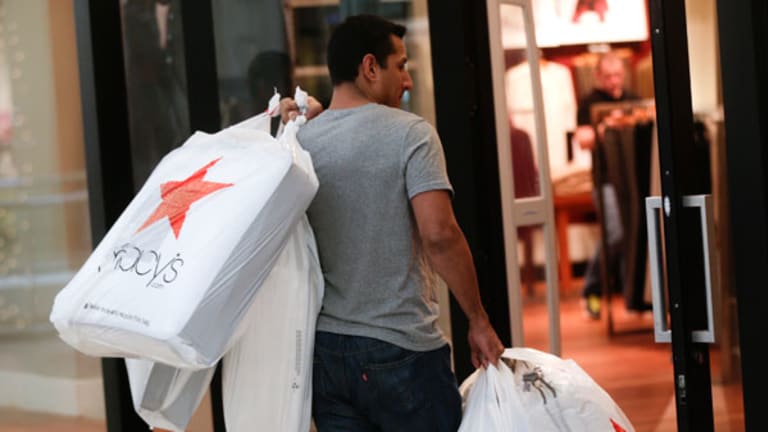 Holiday Retail Sales Rise 3.5%, Driven by Deep Discounts
One gauge says that retail spending rose 3.5% during the holiday season. But the sector's reliance on deep discounts could hurt bottom lines.
NEW YORK (TheStreet) -- MasterCard Advisors' SpendingPulse reported this week that deep discounts and long hours at retailers such as The Gap (GPS) - Get Gap, Inc. Report, Macy's (M) - Get Macy's Inc Report, and Kohl's (KSS) - Get Kohl's Corporation Report resulted in an increase in retail spending of 3.5% for the holiday season.
But the sector's reliance on deep discounts could hurt bottom lines when retailers report earnings.
According to a company press release, Amazon.com (AMZN) - Get Amazon.com, Inc. Report rang up its biggest holiday season in history. What other retailers notice about Amazon is that more than half its sales were transacted with a mobile device such as a smartphone.
ShopperTrak had predicted that holiday sales would rise by only 2.4%
. But retailers determined to move merchandise reduced prices and extended hours, and they offered discounts of as much as 75%.
Although those discounts could disappoint investors during the coming earnings season, there has been little disappointment with retail stocks' performance in 2013.
The exchange-traded fund for the sector, the SPDR S&P Retail ETF (XRT) - Get SPDR S&P Retail ETF Report is up more than 40% for the year to around $88.20. Wal-Mart (WMT) - Get Walmart Inc. Report, the largest retailer, has risen nearly 18% to about $78.40 over the same period. The biggest Internet retailer, Amazon.com, has soared more than 60% in 2013 to near $405 as of Thursday's close.
Equally as impressive for Amazon is its performance during the holiday season.
Over the last month of market action, which was during the holiday shopping period, Amazon had jumped more than 7.0% as of Thursday's close. Over the same period, the S&P 500 was up about 2.3%.
For the holiday season, Amazon shipped about 36.8 million items to its customers around the globe. Amazon reports that there was an average of 426 items heading out of its warehouse doors every second to buyers from 185 countries. As the company added more than one million Amazon Prime Members, which offers free two-day shipping, during just the third week of December, more increases should be in the future.
In addition to beating its previous sales marks, Amazon is also topping the expectations of the analyst community.
Deutsche Bank issued a buy recommendation for Amazon with a target price of $400 in late October. At that time, Telsey Advisory Group set its price for Amazon at $460 a share. But Standpoint Research put out a sell recommendation on Oct. 28 with a price of $280. At present, the consensus of the analyst community for Amazon from FINVIZ is a bullish rating of 1.90 (1 being a strong buy and 5 being a strong sell) with a target price of $405.97. (Amazon shares closed at $404.39 Thursday.)
Despite Amazon's rally this year, investors should note the preponderance of insider selling on the open market, even when shares were trading for significantly less than they are now.
Throughout 2013, insiders sold shares of Amazon for as low as $256.10. That was back in May, when John Seely Brown, a director of the company, sold shares.
Even though Amazon is up more than 60%, there are not any insider buys on the open market for 2013 reported by FINVIZ.
As legendary investor Peter Lynch pointed out, there are many reasons for insiders to sell (pay tuition, buy a home, diversify holdings, etc.). But it is certainly worth noting that there was no insider buying on the open market even as Amazon's shares rose so much during 2013.
Even with its tremendous rise for the year, the short float for Amazon is just 1.91%. For Wal-Mart, it is 2.17%, according to FINVIZ. Warren Buffett is also a major shareholder of Wal-Mart, so more in the short community are betting against the Oracle of Omaha than Jeff Bezos, the head of Amazon.
Jonathan Yates does not own any of the stocks mentioned in this article.
This article represents the opinion of a contributor and not necessarily that of TheStreet or its editorial staff.
Jonathan Yates has written for numerous publications including Newsweek and The Washington Post. He is a former general counsel for general counsel for a publicly traded corporation. Much of his career was spent working on Capitol Hill for Members of Congress in both the House and Senate. He has degrees from Harvard University, Georgetown University Law Center and The Johns Hopkins University.