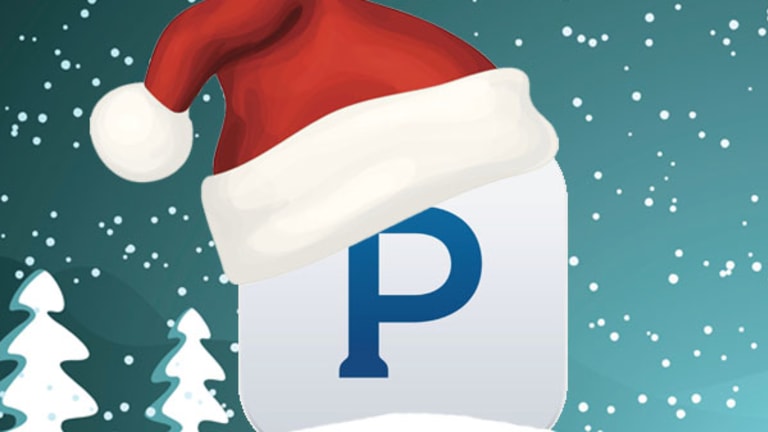 Holiday Music Has a Cash-Register Ring to It
Holiday album and track sales are down, but people will still pay for stations and playlist that go easy on the Brenda Lee.
PORTLAND, Ore. (TheStreet) -- Well, holiday music lovers, this is it: The First Acceptable Day for Holiday Music.
Declared so by old cranks, young contrarians, tortured retail workers and scores of fellow countrymen who haven't figured out how to turn a dial or listen to music through something other than their grandparents' transistor radios, today is supposedly the first day you can listen to holiday songs without someone casting some passive-aggressive scorn your way. No exasperated sighs of "already?" passed beneath rolling eyes. No multi-page screeds about holiday creep or the continued commercialization of the culture. Just as many spins of
Rockin' Around The Christmas Tree
,
Sleigh Ride
,
Christmas In Hollis
,
A Fairytale of New York
and
All I Want For Christmas Is You
as you can handle.
Just don't expect them to shell out for more than some playlists. Kelly Clarkson, Mary J. Blige, Jewel and Bad Religion -- yes, the punk band with the evolutionary biology professor frontman who brought you
American Jesus
-- are among the bands pushing holiday albums this year in a market that has shown little appetite for them. Last year,
Nielsen
(NLSN) - Get Nielsen Holdings Plc Report
Soundscan reported a 7.1% drop in album sales between Nov. 5 and Dec. 30 from the same period a year before. The holiday music genre, meanwhile, saw its digital track sales drop 12% from 13.7 million purchases in 2011 to 12.1 million last year.
The two best-selling holiday albums of the season -- Rod Stewart's
Merry Christmas Baby
and Michael Buble's
Christmas
-- sold roughly 1.37 million copies combined. That still didn't match the sales of the season's best-selling album, Taylor Swift's
Red
. Meanwhile, Brenda Lee's
Rockin' Around The Christmas Tree
was the season's most purchased single at nearly 1.8 million sold, but didn't have any other holiday tunes keeping it company in the Top 10.
In fairness, Buble's
Christmas
alone sold more than 2.2 million copies in 2011, when Justin Bieber's
Under The Mistletoe
chipped in another 1 million sales. However, holiday music sales only managed a 1.1% uptick in 2011 even with those heavy hitters in the mix.
Nope, as my colleague
suggested to me a few weeks ago, holiday music is little more than Muzak. It's pleasant background music with just enough sentimental attachment to make people remember where they were the last time they heard it and hopefully inspire them to throw a party, hit the stores and, in any case, buy something.
that he's somewhat correct. A 33-market study conducted by radio research firm
Arbitron
(ARB)
in 2009 found that the average market share for radio stations that switched to the all-holiday format rose 91%.
With a National Retail Federation survey finding that 53% of consumers began their holiday shopping before mid-November and a Google survey finding that 9% started shopping in October - when the earliest holiday radio converts switched formats -- it's tough to blame the stations for seeking a ratings boost by becoming store background music. It's much easier to fault them for turning holiday radio into a small cluster of holly, jolly earworms. According to Andrew Forsyth, a consultant for
Nielsen
, the average playlist size for all-holiday stations in New York, Chicago, San Francisco, Dallas/Fort Worth and Los Angeles shrunk from 752 songs in 2009 to 694 in 2010, while the average number of times each song was played during the holiday season rose to 33.4 from 30.5.
By 2011, the last year Nielsen tracked airplay for holiday songs, Brenda Lee's
Rockin' Around The Christmas Tree
had been played 40,000 times during the 56-day holiday season. That's 714 times per day or 29 times per hour. For a song that's little more than two minutes long, that's akin to just putting it on repeat on Nov. 5 and not stopping the playback until the the New Year. Burl Ives'
Holly Jolly Christmas,
Johnny Helms'
Jingle Bell Rock
, Jose Feliciano's
Feliz Navidad
, Nat King Cole's
The Christmas Song
, Mariah Carey's
All I Want For Christmas Is You
and Andy Williams'
It's The Most Wonderful Time Of The Year
all get similar treatment with more than 33,000 play per season.
That's a psy-ops assault that leaves listeners who prize their sanity with little choice but to retreat. That's where streaming comes in. Want to have a prayer of hearing Robert Earl Keen's
Merry Christmas From The Family
, Kurtis Blow's
Christmas Rappin'
, The Kinks'
Father Christmas
or anything even slightly removed from the canon?
Pandora
(P)
takes great pains each year to document just how many of its listeners switch over to its dozens of holiday stations to do just that. The company's data shows that more than 25 million of its 200 million users listened to 187 million hours of holiday music.
More than 10% of users tuned into holiday stations by mid-November, while more than 28% of all music played on Pandora during Christmas Day is played on a holiday-themed station. Spotify, meanwhile, had musicians including
Ellie Goulding, Rob Thomas, Mariah Carrey, Kelly Clarkson, Lady Antebellum and Fun
. Cobble together year-round holiday playlists. Not to be outdone, Rdio got
Rolling Stone, Complex Media, The AV Club, retailer Free People and musicians Y La Bamba, DeVotchKa, The Hush Sound and No Doubt guitarist Tom Dumont
to contribute holiday playlists that are still up.
Sirius-XM
(SIRI) - Get Sirius XM Holdings, Inc. Report
rolled out the first of its seven holiday channels -- including its strictly new-music "Holly" -- in mid-November and restricts the well-worn favorites to just one spot on its dial. Even retailers shell out to companies including
Soundreef
,
MoodMixes
,
Custom Channels
and Prescriptive Music -- whose clients include
Marriott Hotels
(MAR) - Get Marriott International, Inc. Class A Report
,
The Cheesecake Factory
(CAKE) - Get Cheesecake Factory Incorporated Report
and a number of hotel, restaurant and retail chains -- to make sure their holiday music mixes aren't just the same playlist rotated every hour or so. In Prescriptive's case, it mixes in holiday music with other tracks as the holiday season progresses and shifts the balance by degrees. A 40% holiday music mix in mid-November goes to 60% as Christmas draws near and hits 100% around the holiday itself.
Holiday music sales may be down, but holiday music still sells. Even if listeners and companies are just paying for a holiday music channel or playlist that gets them away from Band-Aid and Bing Crosby for a while, there's still value attached to the right kind of holiday cheer.
-- Written by Jason Notte in Portland, Ore.
>To contact the writer of this article, click here:
Jason Notte
.
>To follow the writer on Twitter, go to
.
>To submit a news tip, send an email to:
.
RELATED STORIES:
>>5 Reasons To Just Surrender To Holiday Radio Now
>>3 Steps To Mastering Holiday Gift Delivery
>>Stop Calling Music 'Indie' - There's No Such Thing
Jason Notte is a reporter for TheStreet. His writing has appeared in The New York Times, The Huffington Post, Esquire.com, Time Out New York, the Boston Herald, the Boston Phoenix, the Metro newspaper and the Colorado Springs Independent. He previously served as the political and global affairs editor for Metro U.S., layout editor for Boston Now, assistant news editor for the Herald News of West Paterson, N.J., editor of Go Out! Magazine in Hoboken, N.J., and copy editor and lifestyle editor at the Jersey Journal in Jersey City, N.J.