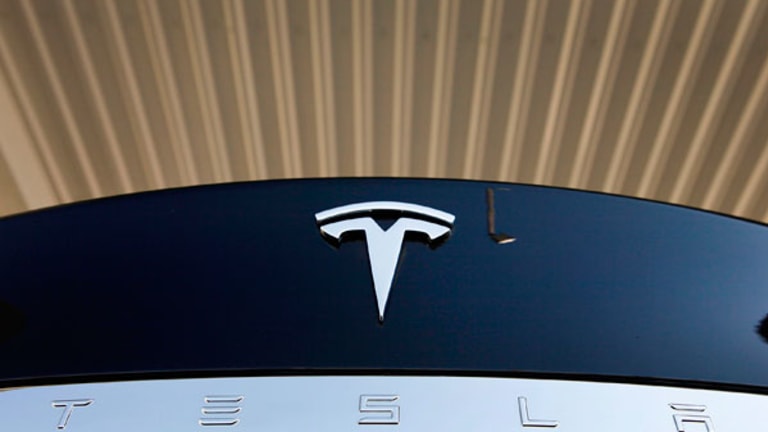 Hold the Phone -- Tesla Didn't Make a Profit Selling Cars
Tesla is a great car to buy, but don't expect the stock to continue running.
NEW YORK (TheStreet) -- Tesla (TSLA) - Get Report has awards, zero emissions, brilliant leadership and downright cool cars.
But it lacks the one thing its investors want: a profit -- from selling cars.
Let's get one thing straight from the start. I'm a fan of Tesla's CEO Elon Musk, Tesla Motors, Nikola Tesla, and even
PayPal
, a unit of
eBay
(EBAY) - Get Report
. I want to see Tesla succeed for several reasons.
I love the name that was selected to brand the car and company. Nikola Tesla was one of the greatest geniuses of all time. He isn't well known, certainly not as well as Thomas Edison, but he arguably gave the world a better understanding of the many uses of electricity than Edison did. In fact, it appears the Tesla light bulb will remain in active service around the world longer than Edison's. (Tesla invented the florescent light bulb.)
Also see: Cramer: What's Really Driving Tesla >>
Even more obscure than Nikola Tesla is Tesla Motors' quarterly profit, which has received tremendous attention lately.
Reuters reported
adjusted earnings of 12 cents per share, or about $14 million, from $562 million in sales.
Sam Ro wrote, "In other words, the market has concluded that Tesla is the real thing."
Fantastic news for sure, and faster than you can say "zero to 60 in 4.2 seconds," the price of the stock jumped 50%. Am I the only one who read the quarterly report? Because it doesn't appear that Tesla is making money, at least from automobile manufacturing. The reaction of the stock is a different story altogether.
Also see: Cramer Won't Wait for Tesla >>
I recently wrote
, an article pointing out that short interest is positively charged at more than 45% of the float. For those of us with investor high mileage (and the gray hairs to go along with it), the first thought to come to mind is "short squeeze".
At a certain point, it doesn't make one iota of a difference
why
a stock is trading higher, short-sellers have a limited amount of pain tolerance and once that point is reached, the short position needs to be covered.
Once you have enough short interest in a stock, it's like a stick of dynamite. All it takes to light the fuse is a positive news event and the wheels are set in motion.
Also see: Next Recession Postponed Until 2016 >>
What you cannot take away from the stock climb is that Tesla is now all of a sudden adding shareholder value by selling electric cars.
What Telsa has proven itself very capable of manufacturing are methods of government support. I think you will soon agree.
Here's a simple and rounded examination of the earnings release (for the three months ended March 31):
Revenue
: $561.8 million
Cost of Revenue
: $465.5 million
Gross Profit
: $96.3 million
So far, so good. Tesla made $96 million gross profit. But shareholders can't bank a gross profit. Other expenses need to be accounted for:
Research and development costs
: $54.9 million
Administration, selling, and general costs
: $47 million.
After accounting for $101.9 million from expenses related to operating the business, there isn't any profit left. In fact, from operations, Tesla lost money again this quarter. The loss amounted to $5.6 million. The losses are even worse after removing government subsidies.
data by
As an automobile manufacturer, Telsa isn't profitable yet, and the company stated that it doesn't expect to report a profit in the upcoming earnings release. Investors may receive a surprise beat, but otherwise they will have to remain patient.
So why did Tesla report a paper profit? Because of accounting rules and nonsustainable government money.
Items included:
California zero emission credits (see this Bloomberg article)
: $68 million
Federal/other credits
: $17.1 million
We can go on, but I covered much of it in my previously mentioned article last week. Besides, the zero emission credits more than offset the profit. If you haven't read yet, the California Zero Emission Vehicle Program credits are a result of a mind-numbing California law that results in other automobile manufacturers, including
Ford
(F) - Get Report
and
GM
(GM) - Get Report
, paying Tesla so they can sell vehicles in California. The payments come from somewhere, and not from GM or Ford. The payments made by GM and Ford come from increased prices paid by consumers.
data by
About half of the cars that Tesla makes are sold in California, and each one results in
uber
-government subsidies.
Remove the subsidies, and you amputate Tesla's profit. Tesla's Musk states that some of the direct subsidies are expected to decline, albeit while Tesla's gross margin is anticipated to increase to 25%. Another factor that shouldn't be forgotten is the tax credits buyers currently receive.
If Tesla is left to stand on its own in the free market and without the support of central planners spending other people's money, it may never become profitable. With budget deficits at the state and federal level increasingly becoming the subject of debate, Tesla investors may quickly find out how fast and how far Tesla can travel under its own power.
At the time of publication, Weinstein held no positions in stocks mentioned.
This article is commentary by an independent contributor, separate from TheStreet's regular news coverage.