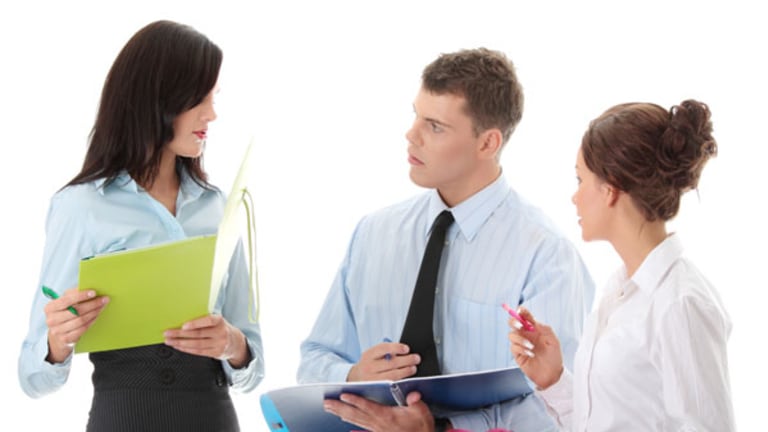 Hold Microsoft, Investors Say
Microsoft shares have been stuck in place for years, but investors say that the tech giant still deserves a chance to prove it can generate increasing stock value.
NEW YORK (
) -- The
New York Times
ran a feature this week on the unintended uses that creative innovators are finding for Microsoft's new Kinect kinetic gaming device. Some artists, for example, discovered that the Kinect's body-motion detector is great for creating virtual brushstrokes.
Which is nice and all. But while
Microsoft
(MSFT) - Get Microsoft Corporation Report
technology innovation may be leading to all kinds of creative inspiration, the issue for Microsoft and the markets is the lack of value being created in the tech giant's shares.
Indeed, if the Kinect device were to sense motion while an investor was looking at the Microsoft stock price in recent years, the image on screen probably would show a person yawning. If the device were to attempt to sense the motion of an incarnation of Microsoft's share price itself, it would have trouble finding any motion to track.
Microsoft investor frustration received an outlet that was heard right at the very top of the tech giant's corner office suite during its recent annual shareholder day Webcast. Microsoft CEO Steve Ballmer and chairman Bill Gates took questions from investors over the Internet, and much of the interrogation, in one form or another, was focused on the lack of pop in Microsoft shares.
>>Ballmer, Gates Sell Microsoft: Should You?
An focus of investor frustration was CEO Steve Ballmer's recent large sale of Microsoft shares and his statement that he intended to keep selling through the end of the year. It's Ballmer's first major insider sale of Microsoft shares since 2003.
One investor challenged Bill Gates on the issue of his annual heavy selling of Microsoft shares to fund his global philanthropic organization, the Bill and Melinda Gates Foundation. Taking Gates to task for not selling Microsoft shares in a way that reduces active share count, the investor asked, "You're doing a lot for the developing world, and traveling around China with
hitting up Chinese billionaires, but what have you done for Microsoft shareholders recently, Bill?"
Echoing a recent Wall Street analyst report, another frustrated Microsoft investor asked Ballmer and Gates why they didn't break the company up in order to generate more value through a "parts are greater than the whole" formula.
In an bit of tech world irony, a research report released by
Trefis
last week showed that the market value of the iPhone as a business, all by itself, would only be lower than the market value of 10 companies. Microsoft made the list of the 10 companies still worth more than the iPhone, but it's eye-opening that one Apple product is seen as being in striking distance of all of Microsoft.
Indeed, the recent Microsoft investor frustration about the lack of movement in Microsoft shares raised the question (which we put to investors):
If Ballmer and Gates are selling Microsoft shares in droves, should you be too?
The poll results show that there is a healthy component among the Microsoft shareholder base that is ready to wave the white flag with the tech giant's shares, though not specifically because of any of the insider selling done by Ballmer or Gates.
Approximately 27% of poll respondents said that lack of growth in Microsoft shares is the reason to sell the tech stock.
It was clear from the poll results, though, that Microsoft shareholders weren't happy about Ballmer's big year-end 2010 insider selling.
Roughly 11% of poll respondents said that Ballmer's first big sale of Microsoft stock since 2003 was a reason to ditch Microsoft shares.
Another 11% of poll takers said that Ballmer's big sale of Microsoft stock was concerning, but wasn't enough of a reason by itself to sell shares of the tech giant. In any event, a combined 22% of poll respondents voicing at least some level of displeasure about Ballmer's stock sales, echoing the tone on the Microsoft shareholder Webcast, and the concern over the lack of growth in shareholder value.
The one issue that received play on the Microsoft investor Webcast, but didn't seem to be a big deal for investors more generally based on the poll results, is Bill Gates' annual insider selling to fund his foundation. Only 6% of poll respondents said that the Gates annual selling was a major concern for them.
After all the votes were tabulated, the body motion that the poll detected was, in effect, lack of motion.
It's not just the Microsoft share value that won't budge. Even as growth has proven elusive for the stock, investors aren't ready to budge from their Microsoft holdings.
In a bit of good news for the tech giant, approximately 45% of poll respondents said that they are sticking with Microsoft shares regardless of recent insider selling or lack of share value growth.
It wasn't a clear majority opinion -- and that's fitting since Microsoft and its investors seem stuck in place. It doesn't give the Kinect's motion detector much to go on, either, but it at least gives Microsoft a little room to maneuver.
Indeed, like the artists already finding ways to use the Kinect device in ways not dreamed of by Microsoft engineers, Ballmer and Gates painted some broad brushstrokes during the annual investor day. By their reckoning, Microsoft is a company on the move and set to execute on ambitious plans that will drive share value.
The jury's still out, though, on whether Microsoft's plans will remain limited to a virtual venue, or will be translated into the realm of actual stock prices, where movement onward and upward needs to be detected in Street and investor sentiment.
-- Written by Eric Rosenbaum from New York.
RELATED STORIES:
>>Ballmer, Gates Sell Microsoft: Should You?
>To contact the writer of this article, click here:
Eric Rosenbaum
.
>To follow the writer on Twitter, go to
.
>To submit a news tip, send an email to:
.