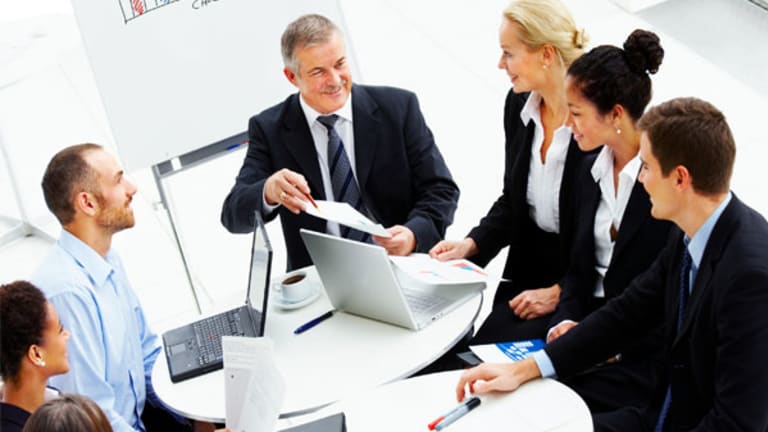 Hoenig: Big Banks Put Capitalism at Risk
Thomas Hoenig, president of the Federal Reserve Bank of Kansas City, says that big U.S. banks endanger capitalism.
NEW YORK (TheStreet) -- In a speech entitled "Dodd-Frank One Year On," Thomas Hoenig suggests that "too big to fail' banks put the American capitalistic system at risk -- and that Dodd-Frank legislation does not go far enough to protect our financial system.
Hoenig -- president of the Federal Reserve Bank of Kansas City (and perhaps the most outspoken member of the Federal Reserve System) -- was a lone wolf during his tenure as a voting member of the Federal Open Market Committee,
matching a record for dissenting votes
in 2010 (he was the
sole member to vote against quantitative easing
).
Kansas City Fed President Thomas M. Hoenig
Today, he has released prepared statements, made available on
KansasCityFed.org
, that address the causes of the 2008 financial crisis, and proposes possible solutions to rein in future crises.
Below are 10 notable quotes from Hoenig's speech; the full text of the speech can be found here.
10.
"The U.S. economy is the most successful in the history of the world. It achieved this success because it is based on the rules of capitalism, in which private ownership dominates markets and individuals reap the rewards of their success. However, for capitalism to work, businesses, including financial firms, must be allowed, or compelled, to compete freely and openly and must be held accountable for their failures."
9.
"...following a series of crises during the late 1980s and 1990s, the government confirmed that because of systemic impact, some institutions were just too big to fail -- the largest institutions could put money in nearly any asset regardless of risk, and their creditors would not be held accountable for the risk taken."
8.
"The Dodd-Frank reforms have all been introduced before, but financial markets skirted them. Supervisory authority existed, but it was used lightly because of political pressure and the misperceptions that free markets, with generous public support, could self-regulate."
7.
"Dodd-Frank adds new layers of these same tools, but it fails to employ one remedy used in the past to assure a more stable financial system--simplification of our financial structure through Glass-Steagall-type boundaries."
6.
"...banking organizations should be expressly prohibited from activities that include dealing and market-making, brokerage, and proprietary trading, which expose the
financial safety net but have little in common with core banking services."
5.
"...it would be unfortunate if restricting activities were to drive U.S. banks and jobs to other countries. However, we have 200 years of banking success in this country to refute that assertion."
4.
"The United States led the world -- because it had strong, prudently run institutions that knew how to manage money in the best interests of the client."
3.
"... what countries should be focused on now is getting back to fundamentals aimed at simplifying highly complex and unstable
banks. The focus should be on financial stability."
2.
"The financial system has become far less competitive and far more volatile with the onset of systemically important institutions. Though large firms remain a critical part of our economic system in the United States, they should not become so dominant that they become unaccountable to our capitalistic system."
1.
"So long as the concept of a
too big to fail institution exists, and there are institutions so powerful and considered so important that they require special support and different rules, the future of capitalism is at risk, and our market economy is in peril."
-- Written and excerpted by John DeFeo in New York City
RELATED STORIES FROM THIS AUTHOR:
10 Myths That Politicians Want You to Believe >>
'QE2': How to Invest in Manipulated Markets >>
Disclosure: TheStreet's editorial policy prohibits staff editors, reporters and analysts from holding positions in any individual stocks.