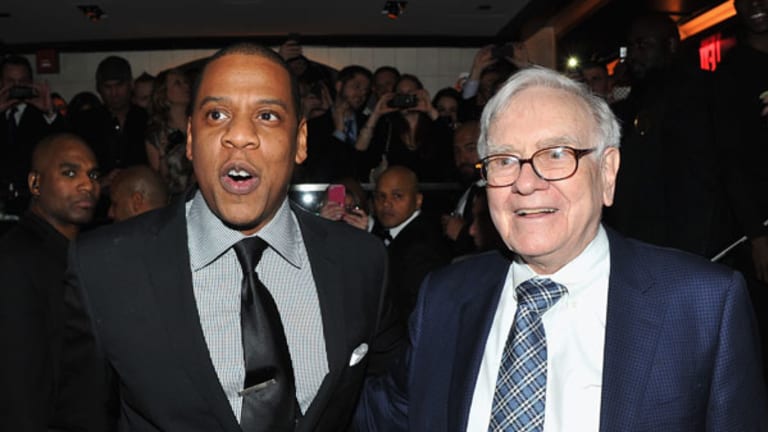 Hip-Hop's Golden Age Is a Moving Target
Over the last 20 years, hip-hop has become the dominant culture, the measure by which art is valued.
PORTLAND, Ore. (TheStreet) -- In the early 1990s, I went to high school at a Catholic school in Montclair, N.J., whose student body seemed to come from just about everywhere else.
The Montclair that Stephen Colbert calls home today beckons New Yorkers to come out to New Jersey and raise their children in its Bourgeois Bohemian enclave dotted with arthouse theaters, galleries, organic groceries and antique shops. When I went to Immaculate Conception, however, it was still a historically diverse middle class town flavored by the working class towns around it. My grandfather drove me in from Belleville, my classmates came from East Orange, Newark, Bloomfield and elsewhere and everybody took home a lesson.
I remember one of my friends coming up to me and asking if I was OK the day after Kurt Cobain died. I remember my mom thinking about keeping me out of the school's walkathon the day after the Rodney King verdict, lest my nonwhite classmates suddenly think I looked too much like Los Angeles Police Chief Daryl Gates and fly into a rage.
The small, superficial portion I remembered most, however, was hip-hop. Beyond the anti-crime
Self Destruction
compilation and the occasional Run DMC song or novelty single like UTFO's
Roxanne Roxanne
or Newcleus'
Jam On It,
I didn't get much exposure to hip-hop in junior high and was genuinely surprised when I came into school freshman year and nobody was listening to M.C. Hammer, Young MC or Technotronic. On the first day, my English teacher Mr. Taylor called one of my classmates a fool for having a notebook with Eazy-E from N.W.A. on its cover. When that classmate refused to switch, Mr. Taylor threw him out.
Within the next four years, I'd get a taste of a little bit of everything. I'd get to listen to Das Efx, Eric B and Rakim and Pete Rock & CL Smooth in the locker room. I remember sitting in Pizza Hut during their lunch buffet on one of our school's half days and a friend unwrapping a brand new copy of KRS-One's
Return of The Boom Bap
. The first time I heard then Snoop Doggy Dogg's
Doggystyle
was in the back of social studies class from a friend's Sony Discman.
The aforementioned walkathon was a giant tape swap, with the guys trading copies of Big Daddy Kane and Kool G Rap albums. It was an awkward transition at best on my end -- featuring cassingles of LL Cool J's
Around the Way Girl,
social studies reports on 2 Live Crew's court battles and an ill-advised hardcore-kid mosh to Onyx's
Slam
at a school assembly -- but by senior year I'd finally caught up. I knew my way around the hip-hop racks at the Crazy Rhythms record store on Bloomfield Avenue near where I caught the bus and came away with two of my most cherished possessions: cassettes of Nas'
Illmatic
and Wu-Tang Clan's
Enter The 36 Chambers
.
As the great Jeff Chang's book
Can't Stop, Won't Stop
would later attest, I and other kids my age got our lesson in hip-hop's "Golden Age." The A Tribe Called Quest CDs that were the soundtrack for my class trip and De La Soul videos on Video Music Box when I came home paired with the Public Enemy and N.W.A. songs I'd heard more on the news than in my Walkman to create what's often described as the greatest, most creative era of hip-hop.
It's also an era that's all too often viewed through a veil of generational conceit. Listen, I miss the jazz samples, the party tracks, the lighter acts like Kid 'N' Play and Kool Moe Dee's attempts at dancing as much as anyone else, but
that
particular era was by no means the Golden Age. If anything, it was hip-hop's great evangelical period.
It's what made Christopher Wallace pick up a mic and become Notorious B.I.G. It was what inspired Tupac Shakur to stop clowning with Digital Underground and start making his mark. It's what made Dr. Dre introduce a blonde-haired white kid from Detroit as arguably one of the best rappers alive. It pressed the margins in ways that Grandmaster Flash and The Furious Five and Kool Herc never could, but by today's measure, they're quaint.
Picking up a mic and rocking a crowd is perhaps the least effective expression hip-hop culture has today. With no offense meant to Will Smith or LL Cool J, even the "rapper/actor" title is a little played. No offense to Diddy and countless others either, but it also takes more than managing an alcohol or apparel brand to reap hip-hop's enormous potential.
When
Forbes
sets up Jay-Z on a lunch date with Warren Buffett and the Oracle of Omaha repays the favor by showing up at Jay's 40/40 club, that's a sign of how big it's become. When Dr. Dre makes more designing and selling his Beats headphones --
and upcoming Daisy streaming service
-- than he did as a rapper, that's how big it's become. When Yasiin Bey, better known as Mos Def, puts down the mic and puts himself through a painful force-feeding procedure to call attention to the treatment of prisoners at Guantanamo Bay, that's how big it's become.
Those are the stakes now. That original golden age paved the ground for hip-hop culture -- for the rapping, dancing and graffiti painting KRS-One considered the pillars of hip-hop. Now rap has permeated myriad other music genres. The original graf artists and bombers birthed Shepard Fairey's iconic image of then-candidate Barack Obama. What used to be called breakdancing is now the foundation for modern popular dance from the
Step Up
series to the Broadway stage.
Hip-hop doesn't have a culture anymore -- it
is
the culture. We've reached a point where Jay-Z isn't just an entertainer, but a businessman and cultural figure with so much clout that he was not only on the greeting line for Obama's first inauguration, but was with him on election night 2012 for his second victory. Jay-Z not only
ended Cristal's association with hip-hop
in 2006 after its brand's managing director slighted rappers during an interview with
The Economist
, but he also reframed the context of all such associations in his 2011 book
Decoded
:
With language, rappers have raided the dictionary and written in new entries to every definition -- words with one or two meanings now have 12. The same thing happens with brands -- Cristal meant one thing, but hip-hop gave its definition some new entries. The same goes for other brands: Timberland and Courvoisier, Versace and Maybach. We gave those brands a narrative, which is one of the reasons anyone buys anything: not just to own a product, but to become part of a story.
As my editor Carlton Wilkinson notes, Jay-Z, Dr. Dre and Kanye West are
changing the commercial expectations
of hip-hop's biggest names. But they're also changing the cultural expectations. Kanye West's
Yeezus
melds hip-hop into art to such a degree that
had to bring in no less than Andy Wahol protege Lou Reed to interpret and review it. Though united in praise of its obvious merit, even hip-hop heads are asking a strange question about
Yeezus
: Is it hip-hop?
The answer: Of course it is.
Yeezus
doesn't transcend hip-hop en route to being art, it expands hip-hop into a corner of art it just hadn't previously touched. Again, murals, burners, spoken-word performances, poetry books -- all the accepted, existing ties between hip-hop and art -- aren't just approved domain, they're mile markers of where hip-hop's been. It's changed the context of all of the above just as it's changing the elements of business that Jay-Z, Dre, Diddy and 50 Cent have explored and changed the sporting world from warm-up and on-deck music to sports management and franchise ownership. By that measure, being Mick Jagger seems downright boring because it's
been done
-- and then re-attempted several times over.
When was hip-hop's Golden Age? Not when some lanky kid was sitting on a corner of Bloomfield Avenue waiting for the No. 13 bus and listening to Nas' "It Ain't Hard To Tell." It was less than 10 years after Nas was dissed by Jay-Z and unexpectedly incinerated him with the response track "Ether" one afternoon on New York's hip-hop station Hot 97. It was after
The Blueprint
, the Dr. Dre proteges and the branding. Somewhere between Warren Buffett's lunch table and Lou Reed's deadline, hip-hop's real Golden Age began. And it didn't have to evangelize to either of them to do so.
-- Written by Jason Notte in Portland, Ore.
>To contact the writer of this article, click here:
Jason Notte
.
>To follow the writer on Twitter, go to
.
>To submit a news tip, send an email to:
.
RELATED STORIES:
>>Song Hordes: Return Of The Indie
>>Reunion Acts: Second Verse, Same As The First
>>How To Be The Old Guy At The Music Festival
Jason Notte is a reporter for TheStreet. His writing has appeared in The New York Times, The Huffington Post, Esquire.com, Time Out New York, the Boston Herald, the Boston Phoenix, the Metro newspaper and the Colorado Springs Independent. He previously served as the political and global affairs editor for Metro U.S., layout editor for Boston Now, assistant news editor for the Herald News of West Paterson, N.J., editor of Go Out! Magazine in Hoboken, N.J., and copy editor and lifestyle editor at the Jersey Journal in Jersey City, N.J.