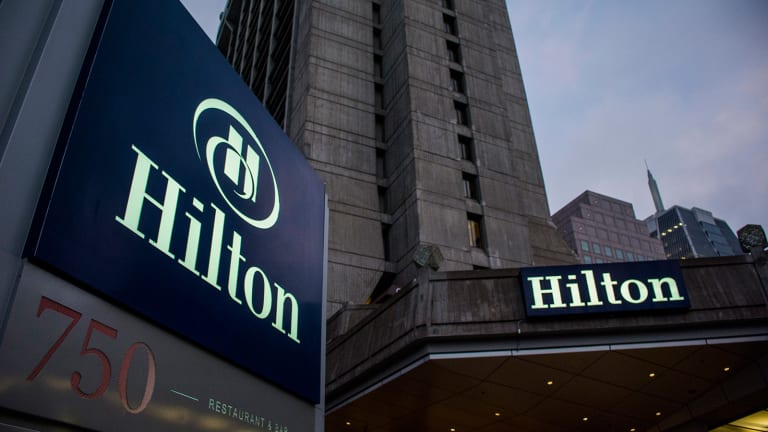 Hilton Worldwide and Spinoffs Are Good Investments Now or Later
The iconic hotel operator will complete the spin off of its timeshare unit and real estate.
CORRECTION: Several minor errors have been corrected in this article, including that the hotels in the REIT will not be third-party owned, when we had stated otherwise; the company was taken private in 2006 by Blackstone group, rather than 2007; we have also clarified that Hilton's timeshare division outperformed its "owned and leased" hotel division, rather than just its "hotels." We regret the errors. 
In February, iconic hospitality company Hilton Worldwide (HLT) - Get Hilton Worldwide Holdings Inc Report  said it would spin off its timeshare division, Hilton Grand Vacations, and also create a REIT called Park Hotels & Resorts. 
Hilton Worldwide will complete the transactions by the end of 2016. All three companies will be publicly traded. Both spin-offs will maintain a long-term licensing agreement with Hilton Worldwide, and both transactions are tax-free. Recent legislative changes restrict tax tree REIT spin-offs, but Hilton's transaction is grandfathered in.
In announcing the moves, Hilton CEO Chris Nasetta said that he was looking to "unlock growth opportunities that are embedded within the three businesses and take advantage of capital market and tax efficiencies."
Three focused, more operationally streamlined entities bearing the Hilton brand name or connected to it will offer excellent opportunities for investors. Hilton remains one of the world's most recognizable hotel operators with locations worldwide. The moves have come as the companies face an increasingly competitive landscape as not only hotels but vacation rental companies jostle for business. 
Hilton Worldwide posted revenues of $11.5 billion last year, a 6.6% increase. It finished Tuesday trading at just under $24 a share, up 1.3%. It was the second consecutive year of single-digit gains since the company rejoined the New York Stock Exchange after a six-year absence. The company was taken private by Blackstone Group in 2007.
But Nasetta, a skillful pilot over the past turbulent decade, believes that the parent company could do better without the burden of managing its enormous time share unit or owning properties. A Hilton spokesperson declined to comment further on the transactions.  
As it has grown over the past two decades, the time share industry has also had to combat criticism that it takes advantage of consumers through difficult-to-understand terms and excessive charges. But last year, the Hilton Grand Vacations segment outperformed Hilton's "owned and leased hotel" division, according to the company's annual report. Revenue increased from $1.17 billion in 2014 to $1.308 billion last year, a 9% rise. By comparison, revenues at the hotel segment declined 1%.
Such growth may stem at least partly from an aging baby boomer population that is more willing to invest in timeshares than vacation homes. Times shares are more affordable, offer similar comforts as second homes but do not require owners to be directly involved in upkeep. 
Judi Kozlowski, a Remax timeshare resale agent who handles Hilton timeshares, says that the company has helped itself through the quality of its properties and customer friendly practices. "Hilton has the best resale market out there -- the developer does not punish the resale deeded points buyer," Kozlowski said. "Buyers of points on the secondary market are rewarded with the ability to join the Elite Club. They are still allowed to use the open season rates, trade internally and use RCI through Hilton."
To be sure, Brexit could hinder the timeshare division's success as the diminished value of the pound limits Brits ability to travel.
"At the moment holiday makers coming to the continent from the U.K. are starting to feel it," wrote Charles Thomas is an English journalist based in Spain for Inside Timeshare, an online resource for timeshare owners in Europe. "The lower pound makes things here expensive, especially imported British goods like food. British owned bars in Europe serve traditional British food, so all has to be brought in. So what has happened is, for the British traveler, these items now cost more on the continent than in the U.K. That is just the start."
Recent precedent is working in favor of Hilton Grand Vacations. Rival Marriott Vacations Worldwide posted revenue of $454.9 million last year, up from $401.9 million a year earlier. Marriott Vacations' total company contract sales climbed 23% to $198.4 million, while earnings rose 52% to 85 cents a share, as calculated on a diluted basis. The company was spun off by
Marriott International
in 2011. 
Marriott International also seems to be benefiting from the spinoff. Its earnings rose and share price tripled from 2014 to 2015. Marriott International is trading at $68 a share with a P/E of 21 and a 1.2% dividend yield. That bodes well for Hilton Worldwide, which has a more accessible entry price of just under $24 a share.
Park Hotels & Resorts covers 69 Hilton properties, including the Hilton Hawaiian Village and the Hilton Waikoloa Village, the Hilton New York Midtown and the Hilton San Francisco Union Square. It will have earnings before taxes, amortization and depreciation of $825 million. 
Joel Greenblat, author of Little Book That Beats the Market, says that investors should wait a few months until after the spinoff before buying shares at potentially improved values. "You need to give it a few months to allow for this indiscriminate selling to take place," Greenblat said. "Quite a few institutions won't even be aware that they own shares in the new spun-off company until they see month-end or quarter-end filings. When they notice it in with their portfolio of 100 companies they dump it with no questions asked."
Greenblat added that spun off companies are often too small for institutional ownership. 
Greenblat's perspective on the three companies is worth noting. But investors might also buy shares of Hilton Worldwide and the other entities early on and see what happens as they mature. There is a lot working in their favor. 
This article is commentary by an independent contributor. At the time of publication, the author held no positions in the stocks mentioned.