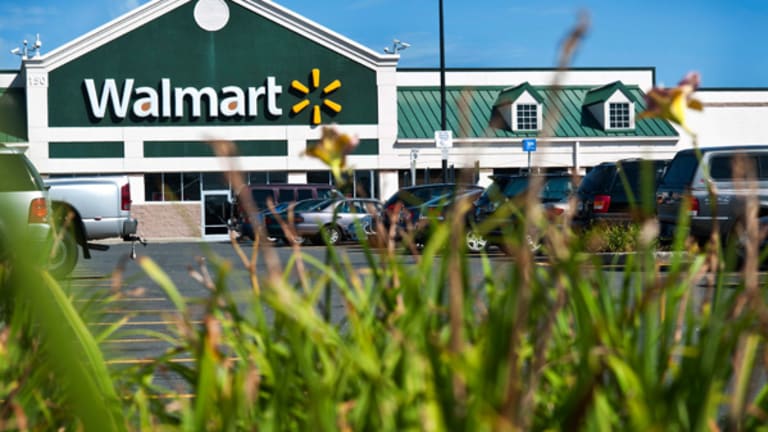 Hidden Inflation Slows Growth, Holds Down Wages
For workers at Walmart and other low-wage jobs, how offices in Washington measure CPI makes all the difference.
NEW YORK (TheStreet) -- On Thursday, Aug. 29, fast-food chain workers conducted strikes in nearly 60 cities asking that chains like McDonalds (MCD) - Get McDonald's Corporation Report, Burger King (BKW) , Wendy's (WEN) - Get Wendy's Company (The) Report and Yum Brands (YUM) - Get Yum! Brands Inc. Report (which holds KFC and Taco Bell) boost their minimum hourly pay to $15/hour.
Meanwhile, the saga between
Wal-Mart
(WMT) - Get Walmart Inc. Report
and the D.C. City Council continues with Mayor Gray having 10 days from Aug. 30 to sign or veto legislation which requires Walmart to pay a minimum wage of $12.50/hour while other employers are only required to pay the D.C. minimum wage of $8.25/hour.
The Income Gap
In 1980, wage earnings as a percent of Gross Domestic Income (GDI, the sister concept to GDP) were 49%. In the last GDI report, they were closer to 42%. Meanwhile, corporate profits are up 50% from about 8% of GDI in 1980 to about 12% today. There is no doubt that the income gap between the rich and the middle class is growing.
The Slide in GDP Growth
The accompanying table shows the compounded annual growth rate (CAGR) of real GDP (as "officially" measured) from the bottom of each of the last four recessions to the following peak.
It is notable that the CAGR of real GDP in today's recovery (2.23%) is about half the pace of the recovery from the recession of the early '80s. Note that in each subsequent cycle since 1982, GDP's CAGR has slid more than 50 basis points.
The 'Official' CPI
In the mid-90s, it was determined that demographics would become an issue regarding the cost of social programs like Social Security and Medicare. So, the CPI formulation was changed so as to slow down the "official" rate of inflation, which, in turn, slowed the cost of the social programs.
But there was also an unintended consequence, one not recognized by any politician or the mainstream media today. Because the "official" CPI is widely accepted as "the" measure of inflation, and because "cost of living" raises for most of middle America are based on it,
its manipulation over time has lowered the real incomes of wage earners (the middle class) with the resulting negative impact on the CAGR of real GDP
, because if the prices of goods and services are actually rising faster than incomes, then aggregate demand is negatively impacted.
I first published the accompanying graph on Aug. 12 at
TheStreet
("
CPI Manipulation Has Exacerbated the Income Gap
"). The graph shows the growth rates in the official CPI, average hourly earnings, corporate profits, and the
ShadowStats
(John Williams' "Shadow Government Statistics" newsletter) computation of inflation. As you can see from the graph, wages have only kept pace with "official" CPI, but corporate profits have grown more in line with the
ShadowStats
inflation rate (SGS alternative CPI, 1980-based), interrupted only by an occasional recession. There are several private sector measurements of true inflation including that published by John Williams. In each private sector survey, the cost of living is shown to be rising significantly faster that the "official" CPI.
Source: Shadowstats.com
Conclusion
If the "official" CPI had accurately reported inflation over the past 20 years, it is likely that wage rates today would be significantly higher, that wage earnings would command a larger percentage of GDI, that aggregate demand would be more robust because a larger share of income would be in the hands of those with higher marginal propensities to consume, and that GDP would be growing faster.
For those in Washington, D.C. waiting for Mayor Gray to make a political decision about wages for Wal-Mart employees, and for those disgruntled fast-food workers who conducted strikes in 60 cities in late August, be careful who you blame. The federal government has the power to remedy the wage situation and the income gap simply by being forthright about the real rate of inflation.
This article is commentary by an independent contributor, separate from TheStreet's regular news coverage.
Robert Barone is a partner, economist and portfolio manager at
, an investment advisory firm in Reno, NV.
He previously held positions as an economist for Cleveland Trust Company and as professor of finance at the University of Nevada. During his tenure at Comstock Bancorp in 1996 he became a Director of the Federal Home Loan Bank of San Francisco, serving as its Chair in 2004.
Barone also served as Director of AAA of Northern California, Nevada and Utah and a Director of its associated insurance company. He currently serves on AAA's Finance and Investment Committee. Along with his son Joshua, he founded Adagio Trust Company in 2000. Barone received a Ph.D. in Economics from Georgetown University.
This commentary comes from an independent investor or market observer as part of TheStreet guest contributor program. The views expressed are those of the author and do not necessarily represent the views of TheStreet or its management.