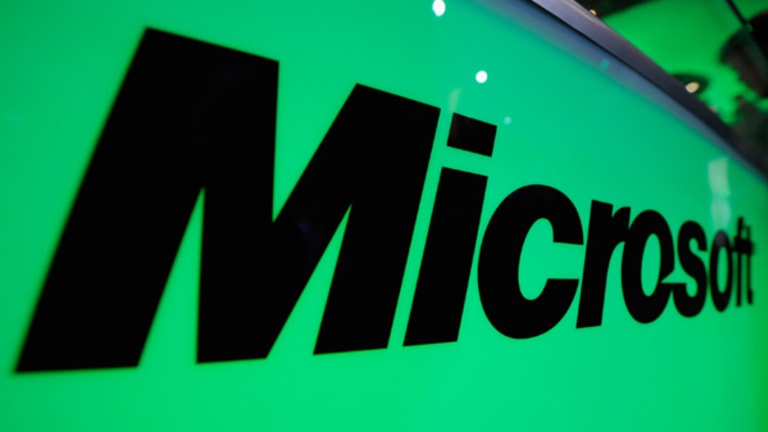 Google Can't Crush Microsoft
Not only is Google failing to crush Microsoft, Microsoft investors are positioned to outperform.
NEW YORK (TheStreet) -- Microsoft (MSFT) - Get Microsoft Corporation (MSFT) Report is one of my most bullish picks for 2014. So you can imagine my surprise to read in TheStreet that Google (GOOG) - Get Alphabet Inc. Class C Report will crush Microsoft.
Microsoft performed remarkably well in the last year. Since the start of 2014 it and Google are both up about a dollar a share, albeit Google trades for $1,118 and Microsoft is near $39.
So, Rocco Pendola, given a choice of making a dollar, I'll take Microsoft's return every time. After adding Microsoft's 28-cent February dividend, Microsoft's investors are ahead over $2 a share since the start of the year.
A quick comparison of the two respective charts says it all.
Microsoft's chart is trending higher, and Google's price action demonstrates weakness. Now I know Rocco Pendola's article refers to the companies' execution of their strategies, but I arrive at the opposite opinion and spelled out why in "Microsoft Fires Free Windows Phone at Google, but May Hit Apple" (AAPL) - Get Apple Inc. (AAPL) Report.
There's no question Google efficiently and effectively shifted Microsoft's user base from high-priced operating systems and office programs. Gmail crushed Hotmail for years, but that was yesterday's news and today Microsoft is fighting back.
To recapture the mobile platform, Microsoft originally partnered with Nokia (NOK) - Get Nokia Oyj Sponsored ADR Report to ensure at least one hardware manufacturer produced a Windows-based phone. Now there's a growing list of smartphone makers producing or about to produce Windows Mobile phones. Without the cost advantage of free software, I think Google may find an exodus of vendors supporting Android phones.
Microsoft is becoming so aggressive that it's reportedly started or about to begin giving Windows Mobile software away for free in some large markets. Windows can make money off of App sales, so while not as ideal as selling the operating system and then selling generating revenue from Apps, the strategy is superior to Google's encroachment of market share.
Microsoft is addressing Google's Chrome operating system. Microsoft has lowered the cost for low-cost hardware producers and may be nearing a free Windows 8 release if recent rumors are accurate. Windows 8.1 with Bing could turn into a Chrome killer. Watch for more Windows-based entry level tablets soon.
After Microsoft ported the best of Outlook email to a free web-based service, Gmail doesn't have anything over Microsoft. Outlook has folders, ease of navigation and use and storage available for free. Once SkyDrive and now called OneDrive, Microsoft makes it easy to store, edit and share documents.
Microsoft is the software of business and has leveled the playing field for free tools. There is little reason to switch because you don't want to buy an expensive office program. On the other hand, there is a lot of reason to get a computer with Windows because the breath of programs is profoundly greater.
As a company and, more importantly to the average reader, as a much better investment in terms of risk and reward, Microsoft excels. The dividend alone puts you almost 3% ahead per year alone. From a technical analyst view, Microsoft's chart is much more attractive, also.
At the time of publication, Weinstein had no positions in securities mentioned.
This article represents the opinion of a contributor and not necessarily that of TheStreet or its editorial staff.