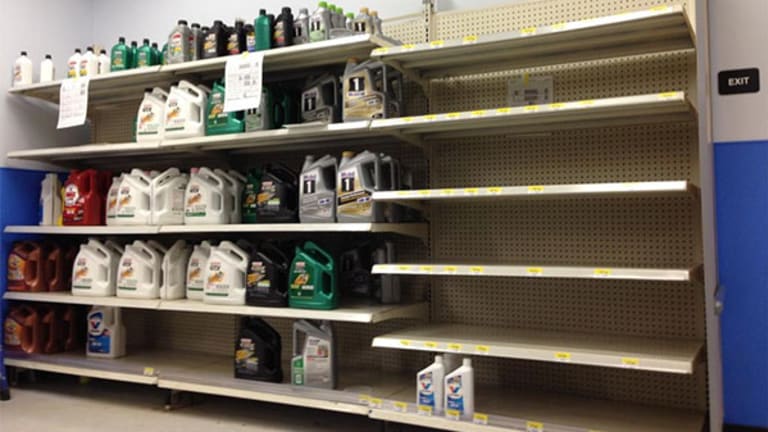 Empty Shelves, Broken Promises at Walmart, Kmart, Sears
Walmart and Sears bristle at photos of empty shelves and poorly stocked stores, but those missing items are the easiest way to tell a customer you don't care about their loyalty.
PORTLAND, Ore. (TheStreet) -- You know what you don't see at Amazon (AMZN) - Get Amazon.com, Inc. Report or any other online retailer? Empty shelves.
That has been the crux of what my colleagues Rocco Pendola and Brian Sozzi have been trying to get across in recent pieces like 1 Huge Problem Killing Walmart and Its Granny-Held Stock, Sears: More Disturbing Images From The Dying Retailer, 24 Pictures From A Walmart That Make Sears Look Classy and Why Pictures Of Messy Sears and Walmart Stores Matter. Beyond the argument that bare or disheveled shelves kill sales at places like Sears (SHLD) , K-Mart and Walmart (WMT) - Get Walmart Inc. Report and erode any value they had as communal spaces, they're the most direct way of telling customers that you absolutely don't care about their needs.
I tried to get this across while explaining inventory and stocking's role in the demise of 1,100 RadioShack stores and Walmart employees themselves have inundated Rocco with so many stories of cut shifts and lack of third-shift reset shelf-stocking at their stores that he just keeps adding pages to his story Mistreated Walmart Employees Speak Out About Company. But sinking sales don't seem to faze the folks at Sears Holdings, who are squeezing pennies until Lincoln screams and are content to sell off company-owned brands and real estate as needed to keep cash flowing. Walmart, meanwhile, not only doesn't seem to care that nobody's shopping its stores -- or that it's closing Sam's Club locations -- but seems legitimately stunned when critics attack its Mike "Dirty Jobs" Rowe and Canadian rock band commercials touting their plan to invest $250 billion into U.S. manufacturing.
Why do people critique them when they provide jobs and make such lofty promises? Because empty shelves and ransacked stores don't exactly instill confidence.
Those wary customers have earned their skepticism. Sears and Kmart stores look as if they've been encased in amber since the 1990s, mostly because Sears holdings spends a scant $1 to $2 per square foot updating facilities, according to International Strategy & Investment Group. By comparison, competitors such as Target spend up to $8 per square foot painting, updating registers and replacing tiles. As a result, even with 2,500 Sears and Kmart outlets and $40 billion in annual sales, Sears Holdings' revenue has plunged by 13.5% in the past four years.
Walmart, meanwhile, employs 2.2 million people and is the largest private employer in the U.S. with 1.3 million workers here alone. However, it was a huge beneficiary during the nation's economic downturn. When the U.S. economy recovered 5.7 million of the 8.7 million jobs shed during the recession, roughly 65% of those regained jobs have been of the low-wage variety. Unfortunately, the National Employment Law Project says nearly 60% of all jobs lost during the recession paid middle-income wages or better.

 The Bureau of Labor Statistics notes that, in the post-recession United States, 4.3 million people hold the most popular job in the U.S., the $25,000-a-year position of retail salesperson. Cashiers come in second with 3.3 million U.S. jobs, but Walmart is just as ready to pay them an average of $20,000 a year to ring up purchases.
Despite this, Walmart still has no interest in keeping stores stocked. Heading into fourth-quarter 2013 -- when its same-store sales numbers took a beating -- Walmart was cutting orders and dealing with a backlog of unsold merchandise. As the Walmart employees who contacted Rocco made clear, most of those goods are sitting in overstuffed back rooms as store shelves go empty. We'd say they're working on it, but this has been a regular gripe about Walmart for years.
This is how Amazon can boost its free shipping threshold from $25 to $35 and its Amazon Prime two-day shipping service from $79 to $99 per year and why Costco can cull 75% of earnings from membership fees alone (as a union shop, but we digress). They each continue to give their customers what they want when they need it and they each have built enough equity with their consumer base to make the more painful parts of each shopping excursion forgivable.
There's no forgiving the state of Sears, K-Mart and Walmart stores. The shelves are the face of those brick-and-mortar retailers and represent the inherent value of those shops to the consumer. If what a shopper is looking for either isn't there, is under a pile from a collapsed display or is buried in a storage room somewhere next to the Ark of the Covenant, that's going to send a shopper and his or her money somewhere else.
We're starting to get the sense that Sears, K-Mart and Walmart really don't seem to mind that much and would rather focus on the margins than the consumer. That's fine: They just shouldn't pretend they're minding the store. They're like bodegas that cover their windows with ads or thin shelves of detergent and soda to hide the seedier aspects of their business. They're managing assets, and they certainly don't need retail consumers' help with that.
For the sake of employees and the few consumers that actually rely on these retailers for everyday items, fill the shelves or sell them to someone who can. Failing that, if you're going to rob retail's grave, don't drag willing customers and faithful employees down into the crypt with you.
-- Written by Jason Notte in Portland, Ore.
>To contact the writer of this article, click here: Jason Notte.
>To follow the writer on Twitter, go to http://twitter.com/notteham.
>To submit a news tip, send an email to: tips@thestreet.com.
RELATED STORIES:
>>Why We Don't Shop At RadioShack Anymore
>>Hey Walmart, These Are American Workers' Songs
>>Josh Homme And Old Rockers Grumble Into Irrelevance
Jason Notte is a reporter for TheStreet. His writing has appeared in The New York Times, The Huffington Post, Esquire.com, Time Out New York, the Boston Herald, the Boston Phoenix, the Metro newspaper and the Colorado Springs Independent. He previously served as the political and global affairs editor for Metro U.S., layout editor for Boston Now, assistant news editor for the Herald News of West Paterson, N.J., editor of Go Out! Magazine in Hoboken, N.J., and copy editor and lifestyle editor at the Jersey Journal in Jersey City, N.J.