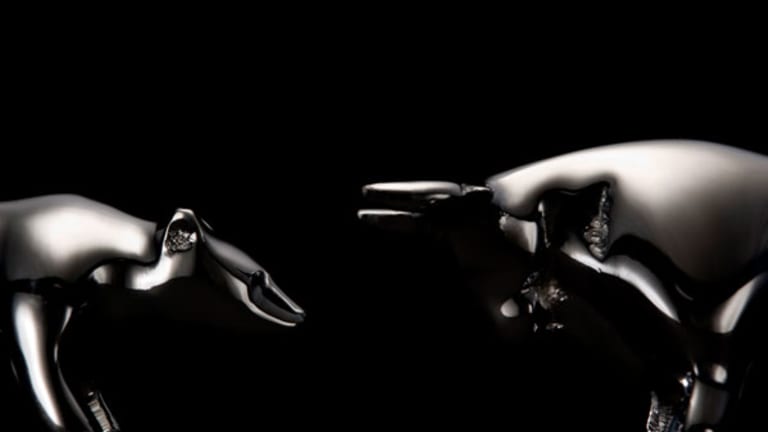 Hey, Bulls: This Stock Market Is Signalling It's Going Down
The stock market remain volatiles and the bears now have the advantage.
The stock market remain volatiles and the bears now have the advantage.
NEW YORK (TheStreet) -- The stock market ended the month of January on a downer, and it's going to go lower in 2015.
The DJIA lost 251.90 points to close at 17,164.95 while the S&P 500 lost 26.26 points to finish at 1,994.99. The Nasdaq was lower by 48.17 to close at 4,635.24 and the Russell 2000 lost 24.79 the close at 1,165.39.
For the month of January the DJIA was down 3.69%, the S&P 500 was down 3.10%, the Nasdaq lost 2.13% and the Russell 2000 lost 3.26%.
Volume on the S&P 500 Trust Series ETF (SPY) - Get Report was fairly heavy on Friday, trading over 190 million shares.
So, what does this all mean? It appears to me the markets are at an inflection point. The quarterly index numbers were all flashing extraordinarily overbought conditions, according to my algorithm process. This had happened only two other times in the last 46 years.
The quarter is still early, but it would seem the worst outcome the stock market could have would be for the indexes to close in the green. This would only prolong the inevitable because this market is going lower in 2015.
The U.S. GDP number for 2014 came in at 2.4%. This was slightly ahead of U.S. growth from 2010-2013, which was 2.2%. U.S. growth in the 1990s was 3.4%. It would appear that the U.S. government and the Federal Reserve have some serious structural problems that printing money will not fix.
In sum, the stock indexes are not oversold on a daily basis and any up days would only be looked at as a bounce. The indexes need to get into oversold territory before a more sustainable bounce can take place.
Volatility is the word for 2015.
For those traders and investors who only use charts and moving averages to model, it would appear they are missing an important ingredient -- modeling volatility.
The S&P Goldman Sachs Crude Oil Trust Index ETN (OIL) - Get Report put in a strong performance on Friday, up 7.66%. This has been mentioned before as a contrarian long side play when factoring in multiple time frames. This could be the start.
This article is commentary by an independent contributor. At the time of publication, the author held no positions in the stocks mentioned.