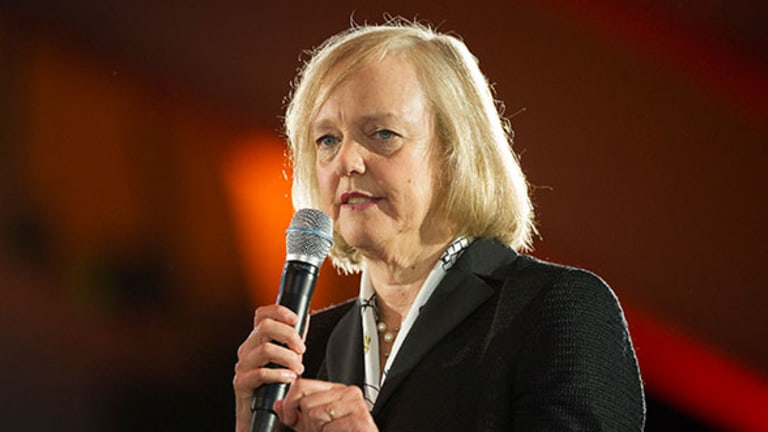 Hewlett-Packard Stock Gets More Attractive as It Falls
If you liked Hewlett-Packard stock at $40, you should love the shares even more now at $34.
NEW YORK (The Street) -- Hewlett-Packard (HPQ) - Get Free Report, the world's second-largest personal computer vendor by revenue, didn't report breathtaking earnings results last week, but with optimism surrounding its upcoming business segment separation, the tech giant did more than enough to remind investors how cheaply Hewlett-Packard stock is trading today.
Shares added 2.75% Friday, closing last week at $34.76. But even with the modest gain, H-P's stock is still down more than 13% year-to-date, shedding almost 7% of its value in the past six months. And this doesn't make sense -- not at a time when the company is poised to create value and become more focused by splitting into two independent and publicly-traded companies.
The slow-moving personal computing and printing operations -- to be called HP Inc. -- will trade under the current ticker HPQ, and will be lead by Australian native Dion Weiser.
H-P's chief executive Meg Whitman will lead Hewlett-Packard Enterprise, which will trade under new ticker HPE. This business will encompass areas like networking, industrial-grade computing and the $23 billion Enterprise Services division.
So buying the stock today really comes down to one simple question: is H-P in worse shape now than it was in January when the stock traded in the $40s? The answer is no. So for current shareholders, if you liked HPQ stock at $40, you should love the shares even more now at $34.
Not to mention, when considering its price-to-earnings ratio of 13, which is eight points lower than the S&P 500. This suggests growth expectations for H-P are low.
If the stock traded on par with the rest of the market, it would trade today at double its current value. And this makes H-P a solid value play for new investors looking for a turnaround candidate, especially one that pays a decent annual dividend yield of 1.84%.
Why the confidence? For the current quarter ending in July, H-P expects its per-share earnings to range from 83 cents to 87 cents. And for the full year, earnings are projected to come in the range of $3.53 to $3.73 per share. While both time frames imply year-over-year declines should the company reach the high-end of its ranges, what's more important to focus on are the years ahead.
In that vein, let's assume H-P does reach the mid-point of its full-year earnings range of around $3.65 per share, this means earnings for fiscal year 2016 are expected to climb more than 4% assuming H-P reaches estimates of around $3.81.So by buying H-P stock today, investors would only pay nine times next year's earnings, or half the forward multiple of the S&P 500, for a company that's accelerating the pace of its recovery.
And this doesn't even factor the $1 billion in costs savings HP estimates it will extract from the breakup once all of the related expenses are inured. That's money the company can then use for things like stock buybacks or boost its dividend. To that end, despite shares being down more than 13% on the year, patience is the best play here -- especially with HPQ stock trading almost 20% under its average analyst 12-month price target of $40.
This article is commentary by an independent contributor. At the time of publication, the author held no positions in the stocks mentioned.