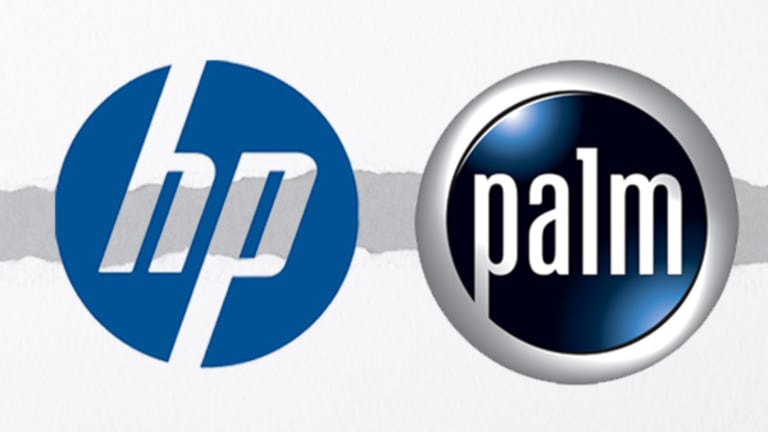 Hewlett-Packard & Palm Among the 5 Worst Mergers of the Last Five Years
When cheap money is flowing, bad deals are inevitable. Out of about 100 mergers, I believe these five were the biggest stinkers.
When cheap money is flowing, bad deals are inevitable. Out of about 100 mergers, I believe these five were the biggest stinkers.
NEW YORK (TheStreet) -- When cheap money is flowing, bad deals are inevitable. With merger activity dominating the headlines recently, we took a look at past mergers to come up with a list of the five worst mergers of the last five years.
To find the stinkers, we looked at more than 100 mergers, paying particular attention to those that garnered big headlines. We then looked to see how quickly these mergers resulted in write-offs for the acquiring companies. The results amazed even me -- both at the size of the write-offs on some, and how quickly the write-offs occurred. Perhaps companies need to step back and look at past merger-failure rates before firing off new buys.
1. Hewlett-Packard & Palm
Not surprisingly Hewlett-Packard (HPQ) - Get Report leads the list of worst dealmakers -- with two notable stinkers over the last five years.
First off we have the disastrous Palm acquisition by Hewlett in April 2010 for $1.2 billion. Analysts and traders cheered the deal at first as a way for Hewlett to catch up in the mobile market dominated by Apple (AAPL) - Get Report and Google (GOOG) - Get Report. A sex scandal with CEO Mark Hurd resulted in his firing a few months later and new successor Leo Apotheker decided Palm was not part of his strategic plans. After plowing an additional $2.1 billion into webOS, Hewlett wrote off the $3.3 billion investment in December 2011.

2. Hewlett-Packard & Autonomy
Hewlett-Packard CEO Leo Apotheker is not immune to bad deals himself. In October of 2011, he brokered the deal to acquire British software maker Autonomy Corporation for $12 billion. Hewlett CEO Apotheker purchased Autonomy to help move the company away from hardware and into the more lucrative software side of corporate spending. Fast-forward, when Apotheker was replaced by Meg Whitman, the current Hewlett CEO, irregularities were uncovered at Automomy. Eleven months after the purchase, Hewlett took an $8.8 billion charge due to "accounting errors" that resulted in Autonomy revenue being overstated by 54%.
3. Zynga & OMGPOP
Social gaming site Zynga's (ZNGA) - Get Report purchase of OMGPOP was not large by any means at $183 million, but it did mark the top in Zynga's stock price. The maker of one-hit wonder Draw Something was taken over by Zynga literally days before its only game topped out in popularity. Over the course of the following year, Zynga saw its stock shed 74% of its IPO price. Only 190 days after its purchase, Zynga took a $95 million writedown on OMGPOP and shut down the division. This was one of the fastest acknowledgments of a bad buy I have seen.

4. Google & Motorola Mobility
I would be remiss if I did not bring up the Google purchase of Motorola Mobility in August of 2011. The $12.5 billion deal was the largest ever by Google and morphed the company from a search and software company into a mobile phone manufacturer. Google also picked up 17,000 patents in the purchase. This was argued as the main reason for the large purchase. Unlike the other bad mergers outlined here, Google actually came out OK in the end, through sales of divisions and the tech know-how it acquired. The $12.5 billion purchase included $3 billion in Motorola cash and $1 billion in tax credits. Google sold the set-top division for $2.4 billion. In January of this year, Google sold the last piece of Motorola to Lenovo for $2.9 billion. All these moves left Google with an estimated $3.2 billion loss on assets plus another $2 billion or so in operating loses.
The Google purchase did annoy its main purveyor of Android gadgets Samsung. Samsung threatened to launch its own mobile software to compete against Android but this was resolved with the January deal both companies signed.

5. Microsoft & Skype
The last bad merger I want to talk about is Microsoft's (MSFT) - Get Report cash purchase of Skype for $8.5 billion in May of 2011 from eBay (EBAY) - Get Report and a group of private equity investors. At the time, many were shocked at the price Microsoft paid for Skype at 10 times revenue. Microsoft has yet to announce any write-down on Skype and its revenue contribution is difficult to determine as revenue is lumped in with the entertainment division. Still, of all the deals we went over, it came up the best of the bad deals and much better than Microsoft's $6.3 billion purchase of aQauntive in 2007, which saw a $6.2 billion write down in 2012.
Traders and investors should note that when cheap money is flowing, as it has over the last few years thanks to Fed easing, bad deals are inevitable. Will the latest round of mega-mergers prove this true again?
At the time of publication the author had no position in any of the stocks mentioned.
This article represents the opinion of a contributor and not necessarily that of TheStreet or its editorial staff.