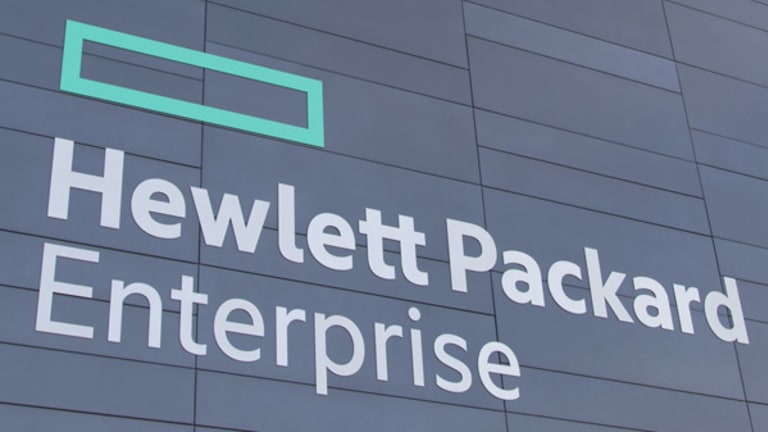 Hewlett-Packard Enterprises Seen in Sights of Hungry PE Firms
Server and storage provider faces cloud competition, but may be takeover bait.
Private equity firms may be eyeing the opportunity that Hewlett-Packard Enterprises (HPE) - Get Report is offering.
Reports on Friday have suggested the largest seller of servers and storage systems may be up for grabs, with KKR (KKR) - Get Report , Apollo Global (APO) - Get Report and Carlyle (CG) - Get Report circling the company.
The server and storage business seems like a wounded bird, given the competition from cloud providers.
The $40 billion valuation of Hewlett-Packard Enterprises might seem like a stumbling block to making a deal. Especially if weakness in sales seems like an issue.
But PE firms are sitting on a huge pile of dry powder. And they haven't put all that much of that capital into the technology appliance business this year.
There would be some appeal to letting Hewlett-Packard streamline its business operations without the glare of the public markets.
The company is already creating itself anew, having announced plans to merge its service segment with Computer Sciences (CSC) .
Meanwhile, Hewlett-Packard is facing diminished competition as its primary rival, Dell Computer, is faced with the roll up of its $67 billion acquisition of EMC (EMC) , a transaction that's considered tricky enough to keep Dell occupied with integration issues.
Hewlett-Packard's plan is to pivot from being a big company to a much smaller one -- something that plays into the appetite of private equity, which likes an enterprise that has a game plan and a stream of predictable revenues. Cash flow would be critical to PE, which presumably would load this acquisition up with credit and need a steady stream of capital to maintain a solid credit rating.
Dell -- itself the subject of a take private -- needs to steadily finance the huge chunk of debt that it will take on to finance the EMC acquisition and has been looking to offload several business lines.
Hewlett-Packard may look like a business that will get overtaken by the cloud sometime down the road. But for now, it's a solid enterprise -- with Lenovo acting as its stalking horse -- and generates enough cash for a private equity player to think it could be a tasty portfolio addition.