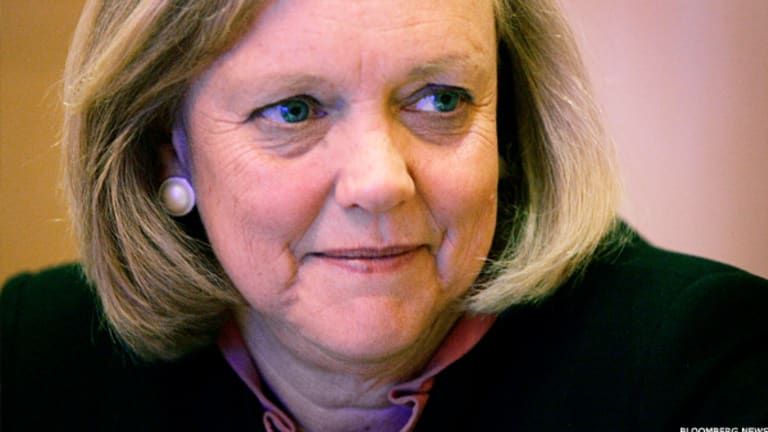 Hewlett-Packard CEO Meg Whitman's Reality Distortion Field
Wall Street thinks Meg Whitman is a big success at Hewlett-Packard. But sales and profits are down from last year.
Wall Street thinks Meg Whitman is a big success at Hewlett-Packard. But sales and profits are down from last year.
NEW YORK (TheStreet) -- Whenever I think about Hewlett-Packard (HPQ) - Get ReportHPQ CEO Meg Whitman, I start humming the theme song from the The Mary Tyler Moore Show.
"Who can take a nothing day and suddenly make it all seem worthwhile."
Wall Street loves Whitman. That love is best expressed in this headline from our own James Rogers: "HP Soars as Sales Surprise." 
Then come the details. Sales of $29.1 billion, down from $30 billion a year ago. Earnings per share were $1.01, down from $1.16 per share a year ago.
Is this winning? Or is this "winning" the way Charlie Sheen might define it? Are these numbers you use as an HP bull to make yourself feel better, or is this real?
At its opening price today of $27.45 per share, HP was worth $52.65 billion. This is almost 90% more than the company was worth at the start of the year. But HP had sales this year of $120 billion, which means the company is still selling for less than half its annual sales.
If this were Costco (COST) - Get ReportCOST I'd say this was pretty good. That company had sales of $105 billion in the last fiscal year and its market cap is $51 billion. But Costco is a retailer.
In the technology business, Hewlett-Packard has an insane discount. By way of contrast, Apple (AAPL) - Get ReportAAPL, at $499 billion in market cap, sells for nearly three times its trailing year sales of $171 billion. Cisco (CSCO) - Get ReportCSCO, worth almost $112 billion, had sales for its last fiscal year of $48.6 billion, a better than 2-to-1 ratio.
You can look at this in one of two ways. Either HP is still distressed, or HP is a screaming buy.

Why the discount to sales? One reason is that much of HP's revenue still comes from PCs and printers, which are losing to devices and the cloud. Our own Richard Saintvilus notes that HP's lack of device sales only looms larger with time, and that the quarter was, at best, "less bad than expected." 
I agree. Whitman is like a baseball manager who comes to a team that lost 100 games the year before, loses 90 the next year, and crows about how the team's young prospects are learning the game.
What are Whitman's young prospects, the new businesses that can turn this loser into a winner?
Whitman announced a "cloud alliance" with Salesforce.com (CRM) - Get ReportCRM last month that really amounts to nothing more than supporting Salesforce on HP's servers. A recent Forrester report calls HP a leader in "private cloud" but argues that such solutions are not yet "mature."
HP has also announced it is getting into 3-D printing. Even Whitman admitted on a recent conference call that this effort is still an "acorn."
Wired has seen HP's first effort and says it makes the same things that consumer 3-D machines like Stratasys' (SSYS) - Get ReportSSYS MakerBots make -- keychains and Christmas ornaments -- out of plastic.
HP says its polymer is new and special, and that its initial strategy will be to work through service providers, companies such as Shapeways that produce such items on demand. But the first real product won't come out until next year.
Since that story came out, near the start of this month, shares in 3D Systems (DDD) - Get ReportDDD are up about 4% and those of Stratasys, whose MakerBot would seem to be in HP's sights, are down about the same amount.
The fact is that even if HP took all the sales of both Stratasys and 3D Systems tomorrow, those sales would still represent less than 1% of HP's total sales. Its cloud moves are interesting, but private cloud has been hyped for years now and has yet to take off.
For 2014, HP will remain a PC, printer and server company. It won't be a cloud company, and it won't be a 3-D printing company. Whitman has said the company will grow next year, and the board has backed her play by giving her a salary of $1.5 million.
But that's less than one-fifth of what the Mets will pay aging pitcher Bartolo Colon next year. Colon has, at best, an average fastball. He gets by on guile. I would suggest Whitman does the same.
I called this stock a mystery in May. It's still a mystery. If Meg Whitman is building a mystery, that's a better song. But is it a better story?
At the time of publication, the author owned shares in AAPL, COST and DDD.
This article is commentary by an independent contributor, separate from TheStreet's regular news coverage.