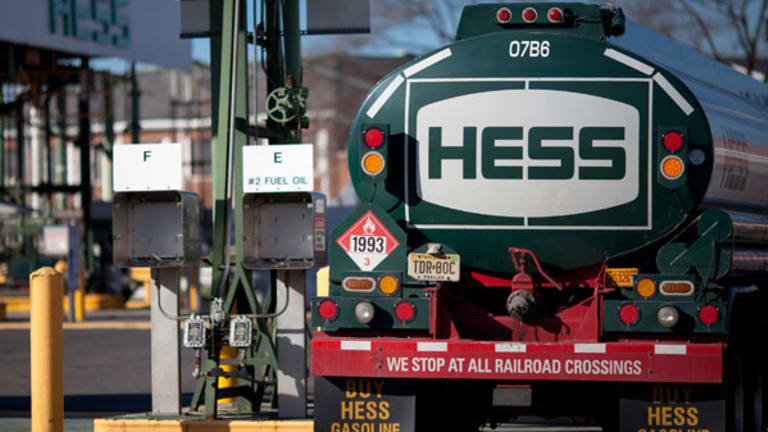 Hess: From a Mess to a Prize
The energy company is now the subject of a heated shareholder battle.
Updated from 6:00 a.m. to correct the number of shares Hess owns, last paragraph, page 2.
NEW YORK (
) -- Just when you think the plot can't get any thicker at energy entrepreneur
Hess
(HES) - Get Free Report
, an activist shareholder stirs the pot once again.
HES, founded in 1920 and headquartered in New York City, is an independent energy company on a global scale. It operates in two segments, Exploration and Production (E&P), and Marketing and Refining (M&R). Its stock was "stuck in the muck" for a long time. So far in 2013 shares have leapt nearly 35%!
Let's take a look at the five-year price chart of HES and see if the price increase correlates with better revenue-per-share or rising earnings-per-share (EPS).
data by
Since late 2009 the trailing 12-month (TTM) revenue per share rose somewhat and then flatlined. The TTM diluted EPS has almost been as flat as a pancake. So what's been the driver that helped the share price of HES to move much higher all of a sudden?
Also see: Paulson on T-Mobile: Debt Over Greed >>
Enter Elliott Management led by activist investor Paul Singer, which happens to be HES's second-largest shareholder. Smelling opportunity and probably looking at the same kind of chart we see above, Singer told the company it should sell assets and bring in fresh board members after years of "unrelenting underperformance."
Not surprisingly, Hess rejected Elliott's nominees, proposed its own slate of six new board members and announced plans to sell some of its operations as it transforms into more of a pure-play E&P company. Chairman and Chief Executive Officer John Hess, on Tuesday,
wrote a letter to shareholders
claiming that Elliott is proposing to pay its board nominees fees to liquidate the company.
Hess doesn't mince words on this topic. The quote from Tuesday's shareholder letter states emphatically:
Despite the strong endorsement our plan has received from independent Wall Street analysts and our shareholders alike, Elliott Management -- an activist hedge fund run by Paul Singer that only recently began accumulating Hess stock -- is asking you to elect a slate of dissident directors who have already compromised their independence by agreeing to be paid directly by Elliott to support the hedge fund's short term agenda. Under this highly unusual scheme, Elliott would control its directors by potentially paying them millions in cash to effectively dismantle Hess and all but foreclose the prospect of future value creation.
Hess goes on to strongly urge shareholders to endorse the company's slate of proposed director nominees.
The letter includes numerous comments from Wall Street analysts who support the company's, and the current board of directors', agenda. This is all under the sub-heading "HESS has the right plan to deliver shareholder value."
If you're a shareholder or a potential investor you'll want to read the entirety of the letter. From this analyst's perspective it appears that HES' officers and board awakened to the frustration of shareholders a little bit too late. The following paragraph from the letter should have been instituted a year ago!
Hess is currently undergoing a multi-year transformation into a pure play E&P company. As part of this transformation, we recently announced additional value enhancing initiatives that will further streamline the company and leave Hess with a portfolio of higher growth, lower risk, oil linked E&P assets.
Singer's claims about the Hess board nominees are also discussed in Hess' letter. Back on March 6 Singer and Elliott Management denied Hess' charges that they were planning to liquidate the company. Elliott Management has accused Hess of using "scare tactics" to motivate company shareholders.
Also see: Steve Rosenman Says Amarin Has Sticky Web Eyeballs! >>
Any way you slice this ongoing dispute, HES as a company and as a stock hasn't been overwhelming anyone for a long time. In 2012 its TTM profit margin was a paltry 5.37% and its return on assets an underwhelming 5.6%.
On April 22 it will report its first-quarter 2013 earnings results. The analyst community's consensus estimate on EPS versus the year-ago quarter is for a gain of around 4%. Yet, the same consensus estimate on sales profits and revenue is forecasting an average of nearly a 4% decline.
As of March 28, Hess owns 10.59% of the shares outstanding, or 36,483,759 shares. HES closed Wednesday at $72.03 and shares are nearing the 52-week high of $72.63.
Elliott Management beneficially owns around 4% of Hess common stock, which would be around $976 million worth of shares by my calculations (the current market cap is around $24.4 billion).
The slugfest between Hess and Singer continues.
Also see: Biogen Wins FDA Approval of MS Pill >>
Meanwhile, if you want to catch the next HES-style energy opportunity, our own Jim Cramer and Stephanie Link like
Occidental Petroleum
(OXY) - Get Free Report
, which pays a delectable 3.28% current yield-to-price and trades at slightly more than 10 times forward (one-year) earnings.
You'd be well-served to
watch Wednesday's video interview with them
. It spells out the investment thesis for OXY and the potential surprises that may mirror what happened to HES.
Cramer says OXY is "undermanaged like Hess," which speaks to why this writer owns both companies. HES has already made a major move higher and OXY, for now, is still unaware that it might be entering its own shareholder slugfest that may send shares significantly higher in the months ahead.
At the time of publication the author was long HES and OXY.
This article was written by an independent contributor, separate from TheStreet's regular news coverage.
Jim Cramer and Stephanie Link actively manage a real money portfolio for his charitable trust- enjoy advance notice of every trade, full access to the portfolio, and deep coverage of the latest economic events and market movements.