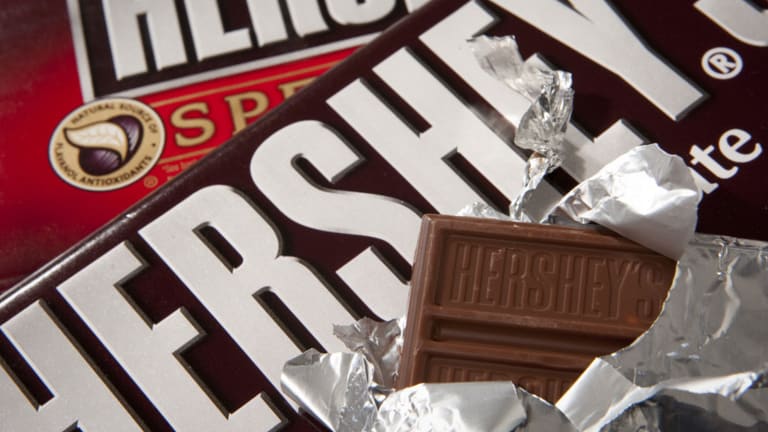 Hershey Stock Looks Sweet Ahead of Fourth-Quarter Earnings
Despite the recent decline, don't kiss your Hershey shares goodbye just yet.
Global chocolate giant Hershey (HSY) - Get Report , which will report fourth-quarter fiscal 2015 earnings results before the opening bell Thursday, hasn't been the delight investors expected. At around $85 per share, Hershey stock is down more than 6% in the past six months, extending to 12-month declines of 23%.
But don't kiss your shares goodbye just yet.
For the quarter that ended in December, the average analyst's estimate calls for $1.06 in earnings per share on revenue of $1.99 billion, compared to the year-ago quarter, when Hershey earned $1.04 a share on $2.01 billion in revenue. For the full year, earnings are projected to increase about 3% to $4.10 a share, while full-year revenue of $7.46 billion would mark a 0.5% increase from a year ago.
In business for more than 120 years, the Pennsylvania company appears on the verge of a recovery, thanks in part to favorable product pricing. Looking to increase its earnings and boost long-term profit margins, Hershey recently raised the price of some of its products by 8% in some cases. And the company has suffered no ill effects from the price increase. That should help the company offset pressures from the strong U.S. dollar, which have decreased the impact of its overseas sales.
In its fiscal third quarter, Hershey expanded its adjusted gross margin by 220 basis points, thanks to a combination of its price increases and various costs-saving initiatives. In a packaged food environment plagued by weak profit margins and plummeting sales, Hershey's price increase may help mitigate both issues. And lessening the impact of the strong dollar is an added bonus.
Investors who are looking for a relatively cheap stock that pays a strong dividend can do well owning Hershey stock for the next 12 to 18 months. At around $85 per share, Hershey stock is priced at just 19 times fiscal 2016 consensus estimates of $4.40 a share. That would mean growth acceleration of four percentage points above 2015 levels.
Hershey also pays a 58-cent quarterly dividend, yielding 2.7% annually. It has raised its dividend more than 80% in the past five years.
With Hershey stock down 23% in the past year and trading nearly $10 below its average analyst 12-month price target of $94, betting on its recovery now could be wise.
This article is commentary by an independent contributor. At the time of publication, the author held no positions in the stocks mentioned.