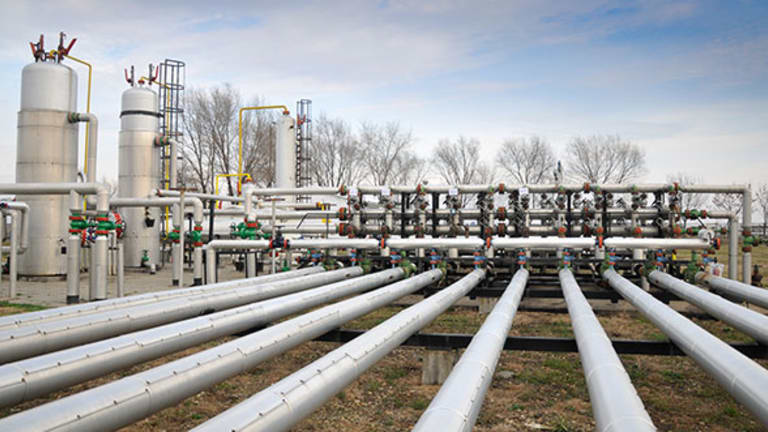 Here's Your Options Strategy for Trading HollyFrontier
The energy company has an excellent balance sheet with plenty of cash on hand. It reports earnings in August.
NEW YORK (TheStreet) -- Holly Frontier(HFC) is a Dallas-based corporation in the business of refining and marketing petroleum products. The company gets an ISS QuickScore of 1, which is the best rating a company can receive from ISS.
HFC has an excellent balance sheet that shows the company has cash on hand equal to their total debt. Basically, it is debt-free. That cash totals over $5 per share. As earnings continue to grow, that pile of cash increases quarter after quarter. Fund managers will eventually wake up to that fact and buy buy buy the stock. However, timing is literally everything. More on that below.
The company will report second-quarter earnings results in early August. Analysts project HFC will have earned $1.20 per share, a 20%+ increase year over year. Better results year over year are now projected for HFC's third quarter and 2015 overall earnings ($3.95 vs $2.79).
Technically, HFC's one-year stochastic and RSI are in bullishly sloping formations as I read the charts. In addition, HFC is now almost fully coiled, which most times is a precursor for future stock price movement that is far more active than when a stock is forming into the coil. That fact also allows for a lower dollar risk trade if using the long gamma approach to taking a trade using the options markets.
The trade tactic I prefer now for HFC is the bullishly-biased, at-the-money vertical call spread, expiring in September. September gives HFC ample time to possibly react positively to better earnings reports, as well as possibly uncoiling to the upside. Finally, and most importantly, the total risk for this tactic is 100% controlled.
Trades: Buy to open HFC Sep 42 calls for $1.90 and sell to open HFC Sep 47 calls at $0.40.
The total risk for the spread is $1.50. The suggested bid to sell for a gain is $1.90 and the suggested bid to stop out is a bid of $1.10.
As always, this is a guideline, and you should always stick to your trading plan and what's best for your risk/reward tolerance.
OptionsProfits can be followed on Twitter at twitter.com/OptionsProfits
Skip Raschke writes regularly for Options Profits. You can get his trades first and interact with him there with a free trial.
This article is commentary by an independent contributor. At the time of publication, the author held no positions in the stocks mentioned.