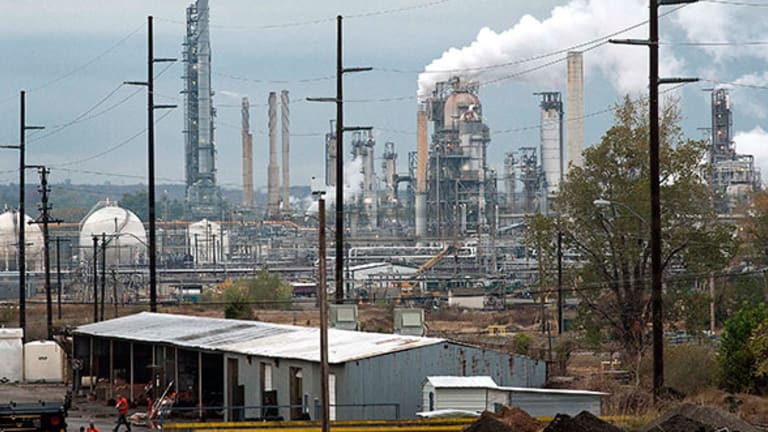 Here's Your HollyFrontier Options Strategy
Refinery stocks are still making money and HollyFrontier is one of the best of the refinery stocks.
NEW YORK (TheStreet) -- The S&P 500 was at 2058 on June 29, the Dow 30 at 17,596. Thus, the S&P has risen 46 points since June 29, the Dow moving up 94 points.
Those moves in percentage terms were small in number, yet a bar bet asking that question about whether or not these major indices are up or down over the past four weeks would probably sucker in plenty of "down" (and wrong!) answers! Chalk that "person at the bar" as being brainwashed by the negativity, or apathy at best, extant today.
Possibly lost in the gloomily pervasive attitude of traders and especially investors is the fact that (as Jim Cramer constantly reminds folks) "there is always a bull market somewhere!" Well, one bullish sector that continues to climb nicely (the type of climb the pros like) can be found in the refinery stocks.
HollyFrontierundefined is one of the best of that breed.
As noted in the above HFC trade posted on June 29, when HFC was trading at $41, is that HFC was coiled at that time and price. Thus, if you follow my coiling pattern as it relates to options trading you now have an excellent reference point/example in order to both understand the pattern's potential for options trading profitability as well as being able to use this HFC coiled chart in order to explain the pattern to others should you wish to share the merits of the pattern.
Note that since that trade was posted, HFC analysts got out their erasers as per their collective earnings projections for HFC over the next three quarters, with the earnings guesses revised up to a $4.25 per share projection from $3.95 a share "seen" on June 29. Ah to be able to use your eraser as nobody notices (well, except for us)!
On Wednesday, HFC will announce its earnings. The guesstimate number is $1.30 a share, which would be a year over year increase of 31%. That result would also make for a nice headline should the spin on the number be bullishly biased (note: almost all results come with biased spin).
HFC is within striking range of breaking out as per making the new 52-week high list as its high so far is $51.31. HFC's all-time high is $57, that posted in February of 2013. Technically, I read HFC's stochastic pattern as being bullish, that pattern (and my bias) supported by a bullish Relative Strength Index.
The trade tactic I prefer now for HFC is the bullishly biased, out-of-the-money vertical call spread that expires in September.
The trade is as follows: Buy HFC September 50 call and sell the HFC September 55 call for a debit of $1.
The suggested target to close for a gain is a bid of $1.50 and the suggested stop loss bid is 50 cents.
As always, this is a guideline, and you should always stick to your trading plan and what's best for your risk/reward tolerance.
OptionsProfits can be followed on Twitter at twitter.com/OptionsProfits
Skip Raschke writes regularly for Options Profits. You can get his trades first and interact with him there with a free trial.
This article is commentary by an independent contributor. At the time of publication, the author held no positions in the stocks mentioned.