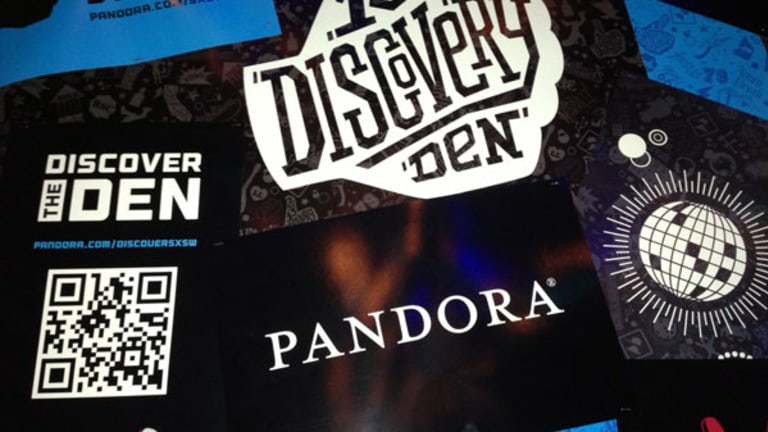 Here's Why Pandora's Crashing
Get out while you can -- On it's present course, Pandora has further to fall.
NEW YORK (TheStreet) -- Don't say I didn't warn you.
You see the timestamp on that Tweet. Since that Tweet the stock's down roughly 16%.
And, as we speak, Pandora's (P) struggling to maintain $30.
Because it's faster to speak in Tweets as the market moves, here's my take on what's up ...
In the shell of a nut, Westergren made the wrong choice going with Brian McAndrews to replace Joe Kennedy as Pandora CEO. McAndrews and other recent hires do not understand Pandora's business and, more importantly, its culture. Plus, and even more importantly, they, guided by Westergren's unfortunate stubbornness, have not set the proper course for Pandora's evolution.
They're making all the wrong moves (or not making moves at all) with respect to data and dealing with content costs.
The big money's starting to sniff out what I've been warning you about for the past couple months -- all is not well at Pandora. Internally, nobody wants to talk, but, as frustration builds, I expect people will chirp. At some point, they'll feel that going on the record, even if anonymously, about what's wrong is actually the right thing to do to salvage Pandora's mismanaged business. 
And it is being mismanaged. I've never seen a company go south so abruptly. 
For more color on these criticisms, see Pandora Thinks We're All Total Idiots ... and Sell Pandora: It's About To Become a Thing of the Past.
In short, get out while you can. This thing has ways to go to the downside. $20s for certain. And, without meaningful intervention, the teens would not surprise me.
In fact, I have a new theme song for Pandora ... it's by the great Taylor Swift ... 
--Written by Rocco Pendola in Santa Monica, Calif.
Disclosure: TheStreet's editorial policy prohibits staff editors, reporters and analysts from holding positions in any individual stocks. Rocco Pendola is a columnist for
TheStreet
. Whenever possible, Pendola uses hockey, Springsteen or Southern California references in his work. He lives in Santa Monica.