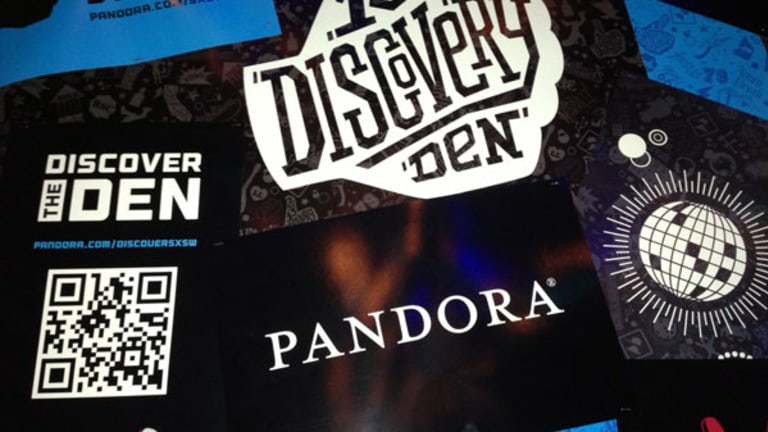 Here's Why Pandora Keeps Crushing the Market
Pandora's competition lacks a well-defined set of goals and objectives.
NEW YORK (TheStreet) -- I'm not sure any of the companies that streamed (pun horribly intended) into the Internet radio space on the back of Pandora's (P) success, including Spotify, truly understand the opportunity Pandora has seized and continues to concurrently chase and dominate since deciding to redefine radio.
The only exceptions -- Apple (AAPL) - Get Apple Inc. Report and Google (GOOG) - Get Alphabet Inc. Class C Report.
They don't need to understand Pandora's opportunity. In fact, it's immaterial. Apple and Google do not run the risk of wholesale failure if they do not succeed at Internet radio. Because they're not in it for any other reason than to prop up their already lucrative core line(s) of revenue.
They're not out to "crush" Pandora.
However, in some way, shape or form, even the pure players who operate complementary to Pandora function as fierce competition. Some, like the misleadingly overconfident Beats Music, more than others. As TheStreet's Carlton Wilkinson explained last year, Beats will see success ... (pause for effect) ... however, the real question we should be asking is ...
How do they define success?
Most of the, again, pure-play Internet radio companies play the we'll define success when we see it game. They have very imprecise objectives.
Like to scale out subscribers. Good luck with all that.
Or to take the way Pandora serves Internet radio with the Music Genome Project and do it better. Exactly what that means I'm uncertain.
Pandora hit and moved past the $30 level because, slowly but surely, investors began to understand the story.
Pandora's focus on a set of well-defined goals and objectives -- missing from the conversation completely for a long time and, to some extent, still -- explains the ascent. Pandora, particularly the company's former CEO Joe Kennedy, saw radio as ripe for disruption so that's where it, squarely set its sights.
From a product/user experience standpoint, Pandora focuses obsessively -- sometimes even stubbornly -- on redefining traditional radio.
So it operates from pretty much the same premise as broadcast radio, except (and this a big except), given the delivery mechanism, Pandora can provide a personalized experience for each and every listener. This means it can take chances (nurture music discovery) terrestrial radio simply cannot take. When you're doing commercial radio for the masses -- and each member of the masses hears the same song -- you can't veer too far from what works for the average listener.
There's a fact that's crucial to the progression of this conversation -- Pandora has absolutely no faith in the large-scale viability of the subscription model. It has always been and, I think, will pretty much always be, focused on the free model.
There's a simple reason why ...

To sell advertising, you need scale. Massive scale. Pandora has achieved massive scale by "giving away" the unique and interactive presentation of the product it licenses from record labels and delivers to its users for "free." Subscription services that promise no commercials (as Pandora does with its barely-promoted Pandora One subscription) will have a tough time making money selling ads. The agencies simply won't take their call. At least not in any meaningful way.
So that's crucial to any understanding of Pandora because the company also mimicked, generally speaking, the traditional radio way of selling advertising. It has poached top sales people from big name companies and stations. In the process, it has established itself alongside broadcast radio in the systems agencies use to make buys and it hits the pavement much the same way the terrestrial reps do going after many of the same clients.
All it wants to do -- and has been wildly successful at doing -- is chip away at budgets once earmarked solely for traditional radio. It has been so successful because of its targeting ability, which goes back to Pandora's unique delivery mechanism. It knows the reported age and gender as well as the location (geographic and situational) and musical tastes (based on interaction with the Pandora platform) of each and every listener.
This powerful dynamic doesn't just sell traditional commercial spots, it also drives creation of highly-targeted Pandora Presents concert events. See October's Pandora Steps Up Its Game In A Big Way for an explanation of how this works. Again, it's another powerful pitch to existing traditional radio advertisers (and others) that traditional radio salespeople simply cannot make. Why do you think so many have left to join Pandora?
This has been Pandora's business plan since its second day one. I say "second day one" because before Pandora became Pandora and focused on radio, it was something else. The video at the link helps put a lot of the pieces together even more tightly than I have here.
There's no other company in Internet radio with such a clear focus. So much of what we're seeing are people coming in to go after what's hot. While I'm not saying that doesn't make sense, I am saying that it's difficult to build a business on little more than an ideal and a knockoff. Nobody has approached the space the way Pandora has. And nobody has been at it for as long, which also helps.
What makes the story even more compelling is that Pandora has barely scratched the surface on leveraging the enormous amounts of data it has collected from users over the years. We're talking 35 billion instances of thumbs ups and thumbs downs and counting. Going forward, I know Pandora will use this information to help artists connect with their fans and build their careers. I'm pretty confident the company will also find ways to monetize its data beyond the advertising options already in place.
As I noted the other day on TheStreet, going forward I will continue to look at Pandora's future. That's what we were doing all along as the stock headed out of the single digits to $35. There's no reason to stop now. Consider this installment number one.
Also -- and please pardon the shameless plug, but, if you're still reading, I figure you might care (!) -- I plan on writing a comprehensive book about Pandora from pre-founding to where it's headed as a leader in the digital transformation of the music and radio industries. I have a Kickstarter campaign established to support the project; if you are so inclined and able, I would be grateful for your support.
--Written by Rocco Pendola in Santa Monica, Calif.
Disclosure: TheStreet's editorial policy prohibits staff editors, reporters and analysts from holding positions in any individual stocks. Rocco Pendola is a columnist for
TheStreet
. Whenever possible, Pendola uses hockey, Springsteen or Southern California references in his work. He lives in Santa Monica.