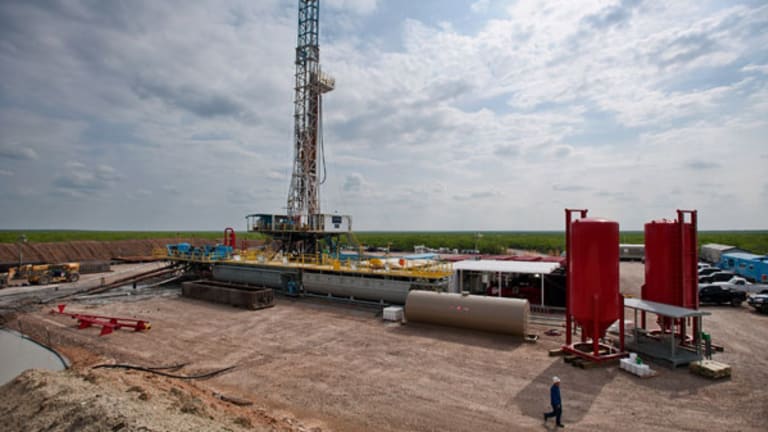 Here's Why Oil Prices Aren't Likely to Remain Low for Long
The pace of oil production is depressing prices now, but can only be kept up so long before economics forces companies and countries to curb output, pushing prices higher.
NEW YORK ( TheStreet) -- While OPEC was unable to agree on production cuts last week, individual members may eventually try to limit their output to put a floor under prices.
What that means for consumers and investors remains unclear. But keeping up the current pace of oil production while prices are declining can only last so long before economics forces companies -- and countries -- to curb output, pushing prices higher.
Let's be real. OPEC's decision to leave production alone was not unanimous. In fact, Iraq, Iran, Angola and Venezuela all wanted a cut at the last OPEC meeting. Therefore, compliance with production quotas should already be a concern for those looking to short oil.
While there may be some additional selling in speculative exploration and production company stocks, there could soon also be some bottom fishing in energy exchange-traded funds by investors not convinced oil prices sub-$70 a barrel will last long.
That could hurt recent gainers like the ProShares UltraShort Bloomberg Crude Oil ETF (SCO) and the Powershares DB Crude Oil Double Short ETN (DTO) , while also prompting renewed long interest in the United States Oil Fund (USO) Energy Select Sector SPDR (XLE) and the beaten-down Market Vectors Oil Services ETF (OIH) , an ETF under pressure from lower oil prices and fears of dividend cuts from companies that comprise the index.
So while investors navigate the OPEC move, there could be reasons to think oil prices will soon find their sea legs.
The Saudis, the leading voice of OPEC, have the economic means to play a game of chicken with U.S. shale producers. But countries such as Iraq really can't afford a prolonged decline in oil prices. The weakness may prompt some members to quietly look to cut production in order to boost prices ahead of OPEC's next official meeting, in June in Vienna, Austria.
Other factors that may help curb a prolonged decline in oil prices are concerns regarding the shale project breakeven points and debt.
Consider this: Citi's Ed Morse recently wrote that if Brent prices dip towards $60, a "significant" amount of shale production would be challenged.  

As for debt, the junk bond markets are now starting to get real focus from investors closely watching oil production. Why? OPEC's decision not to move has a hidden consequence, possibly even an intended one. High-yield dependence could create debt defaults that further soften production output for U.S. shale producers. This could be a really big focus in 2015 especially since nearly 20% of the U.S. bond market comprises debt from energy companies.
If OPEC did move to cut production, it would certainly help OPEC members. It would coincidentally also allow U.S. shale drillers take even more market share away from OPEC members, since there would be more incentive to keep the shale revolution going forward if there was another shot to further capitalize on higher oil prices.
Ironically, despite OPEC's apparent motivation for keeping production steady as a way to crush prices and U.S. producers, the outcome will most likely be the same: higher prices. Exactly how it will happen just depends on who you ask. On one hand, they do nothing, tensions rise among members and oil prices drop to the point where U.S. drillers look to cut production, which can cause prices to rise; OR they cut production themselves and help drive the price of oil higher even faster.
Whichever way you look at it, this is a game of chicken, since at some point someone is going to have to cut production sooner or later. OPEC may have not wanted to make the first move to lift oil prices. However, their inaction on production cuts may have already quietly started the game.
At the time of publication, the author had no positions in securities mentioned.
Follow @bluephoenixinc
This article is commentary by an independent contributor, separate from TheStreet's regular news coverage.