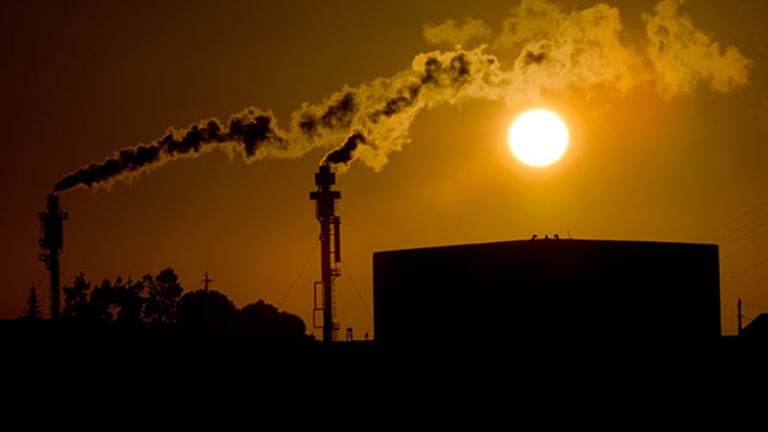 Here's Why Halliburton Buying Baker Hughes Doesn't Make Sense
A potential mega-deal in the oil services space has set the space on fire, but does this combination sound better than it really is?
NEW YORK (TheStreet) --The possibility that Halliburton (HAL)  might acquire acquire rival oil services operator Baker Hughes (BHI)  delights investors who love the possibility of a giant merger. 
But truth be told, a combination between these two Houston-based companies is questionable on both grounds of price and strategy. 
For one, a merger between Halliburton and Baker Hughes is likely to generate a bundle of thorny anti-trust issues leading to all sort of conditions and divestments. Secondly, the possibility of global emissions standards would only complicate the task of generating synergies between two enormous companies at a time of declining energy prices. 
That these two companies are talking was confirmed in a statement from Baker Hughes on Thursday after the close of trading in New York. 
Let's look at the question of emissions standards. Earlier this week, the U.S. and China, the world's two largest economies, announced more aggressive targets aimed at cutting carbon emissions. Whether or not that leads to lower emissions output remains to be seen but the fact that both governments are increasingly focusing on renewables, should be cause for concern for both Halliburton and Baker Hughes.
Then there's the likelihood of regulatory push-back. Washington has already hit the eject button on large telecom mergers, and is likely to slap heavy conditions on Comcast (CMCSA) buying Time Warner Cable (TWC) . 
Halliburton, with a market capitalization of $46 billion, buying Baker Hughes, market cap of $24 billion, is really not much different. Baker Hughes is the third-largest player in the space, so gobbling them up would leave Schlumberger (SLB)  as the only other major player in town. It might make morestrategic sense for Halliburton to acquire a smaller rival such as  Weatherford (WFT) .

Thinking big picture here, let's remember that large merger deals aren't always successful, especially in the energy space. ExxonMobil (XOM)  buying XTO Energy and ConocoPhillips (COP) acquiring Burlington were huge mergers that arguably have been duds. 
Without more clarity about the direction of future oil and gas prices, is this really the right move for Halliburton.
In order for this deal to actually see the light of day, assets will have to be sold off, possibly the cement services that both companies dominate. Maybe some assets in their respective hydraulic fracturing markets would need to be sold as well.
Then there's the social accountability. People will lose jobs. A lot of people actually. A combined company would have roughly 20,000 unnecessary employees. That's also of people losing their jobs. So while this may help Baker Hughes' stock, reducing competition to prop up prices is not always a winning strategy for the U.S. ecojnomy.
Baker Hughes has been doing well in its North American market and that's no lie, yet there is extensive overlap there with Halliburton. Maybe this merger is really about acquiring Baker Hughes' technology to boost production from aging well areas, something that could help Halliburton challenge Schlumberger's domination in that business.
At the end of the day, there's just too much risk involved in making this merger work. More willingness to take on more risky, geographically remote offshore projects only adds to my skepticism on the near-term viability of this deal.
Shares of Baker Hughes were gaining 0.5% to $59.05 while Halliburton was adding 1.8% to $54.74.
At the time of publication, the author had no positions in stocks mentioned.
Follow @bluephoenixinc