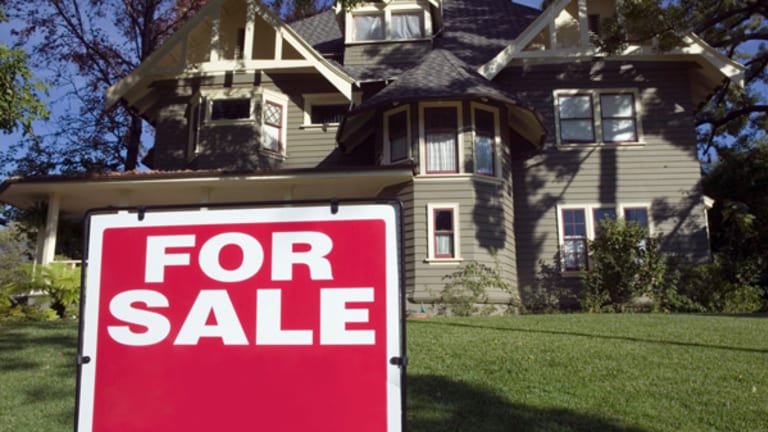 NEW YORK (TheStreet) -- Real estate is topping out.
It's had a good run since 2011, but these trends never last forever and it's time to reframe your expectations.
Real estate didn't get much attention until Jeff Gundlach, DoubleLine's CEO, announced his bearishness a few days ago. Now everyone is talking about it. But this has been playing out for a while. Purchase applications are down 18% in the last year. Home starts are back below one million units. Refinancing has cratered to the some of the lowest levels on record. Even Federal Reserve Chair Janet Yellen is concerned about the housing market.
Here's the problem: There's a huge disconnect right now between the psychology and the fundamentals in the real estate market. Sentiment about real estate is through the roof. A majority of Americans now believe it to be the best long-term investment. The fundamentals don't justify that optimism.
It all started last summer. Mortgage rates in May were 3.5%. By August they were 4.5%. Everybody's still hanging onto the latest Case/Shiller number, a 13% annual gain. It's terrific. But if you look closer you'll see that prices are flat since August.
The good news is the mortgage environment is still historically friendly. Last year's spike in rates moved the typical mortgage payment on a $200k home from around $890 to $975/month. It was quite a jump, but for long-term buyers, owning is still cheaper than renting.
The bad news is that there are now headwinds on the horizon. Even though rates are at levels that would have been unthinkable in the old days, buyers aren't taking advantage of them. Depending on the market, between a third and a half of residential transactions are all-cash. And cash buyers (investors) are always the first to leave a market once it becomes unfriendly.
With the markets expecting progressively higher interest rates in the years ahead, it won't be getting any easier for traditional non-cash buyers. Prior to 2009, the United States of America had literally never seen a 5.5% mortgage before. Remember when it was normal to pay 6% to 8% for a mortgage?
These days, the idea of a 5.5% mortgage seems downright scary. But it's a reality the market needs to prepare itself for.
Here's what a 5.5% mortgage rate looks like with current prices:

Can the market support mortgage rates like that? Will prices have to correct? The odds are high.

This matters because what a buyer pays for a new home is a function of two variables:
The size of their down payment.
The size of their monthly payment.
Buyers don't buy homes based on what the sticker price says. They don't crunch the numbers about the "opportunity cost" of home ownership. They don't relate it to competing investments like the stock market.
Instead, buyers sit down at the kitchen table, take a look at their budget, weigh their monthly income against expenses and then basically squeeze in as big a monthly payment as that budget can support. That's the only math that buyers typically perform.
So mortgage rates are massively important for normal, non-cash buyers. They determine how high prices the industry can support. This is one of the pillars of Gundlach's thesis. It's hard to imagine how higher rates won't be a drag on prices. They certainly have been since last summer.
With softer prices and less demand, one of the many consequences would be fewer new home starts. This is why Gundlach is shorting the home builders.
Home builder stocks suffer from a terrible trifecta right now:
They have a slightly-expensive valuation. The iShares Dow Jones US Home Const. ETF trades at 17x earnings.
Home builders are cyclically sensitive to any general economic weakness.
The real estate market is especially vulnerable to higher interest rates.
Lennar (LEN) - Get Lennar Corporation Class A Report, KB Home (KBH) - Get KB Home Report, Toll Brothers (TOL) - Get Toll Brothers, Inc. Report, DR Horton (DHI) - Get D.R. Horton, Inc. Report, Pulte (PHM) - Get PulteGroup, Inc. Report, NVR (NVR) - Get NVR, Inc. Report and the like are in danger of negative earnings surprises if demand continues to slow. Be extremely careful with this sector.
If you're in the market for a new home, it isn't all bad. For long-term buyers, it still beats renting. Just be mindful of the price you pay, prepare for stagnating property values and make sure you take advantage of rates are historically low and likely to rise.
At the time of publication the author had no position in any of the stocks mentioned.
This article represents the opinion of a contributor and not necessarily that of TheStreet or its editorial staff.
>>Read more: DoubleLine's Gundlach Bleak on Home Ownership