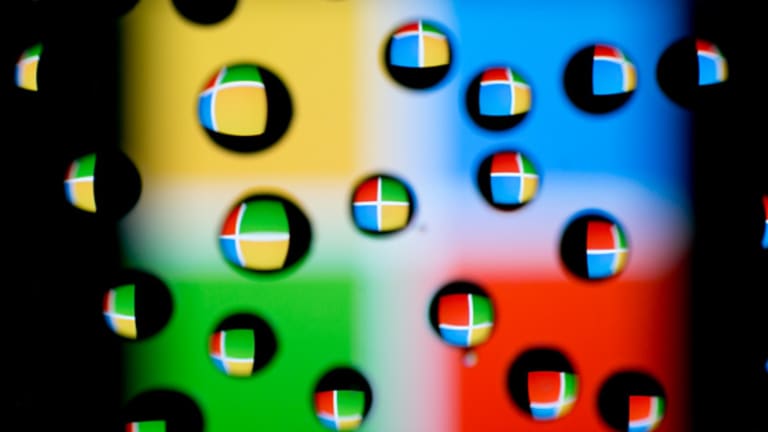 Here's Who Will Replace Ballmer at Microsoft
A lot of executives have been mentioned as possible successors to Steve Ballmer, but only a few are real contenders.
NEW YORK (
) -- There's no better parlor game right now in the world of tech and finance than guessing who will replace Steve Ballmer as head of
Microsoft
(MSFT) - Get Microsoft Corporation Report
.
The decision -- which rests ultimately with Bill Gates -- will say a lot about how radical a change Microsoft's board wants to see over the next few years.
An outsider will signal more change than an insider. A younger CEO will signal more change than an older one.
There's no doubt that Microsoft feels pressure to force some level of change.
It has pushed out Ballmer only because a shareholder with $2 billion invested threatened to run for a couple of board seats and force change from the inside.
Let's go through some of the potential candidates who have received attention over the past week:
1. Sheryl Sandberg of
Facebook
(FB) - Get Meta Platforms Inc. Report
and Marissa Mayer of
Yahoo!
(YHOO)
. I heard Jeffrey Sonnenfeld of Yale mention these two executives last week on
CNBC
. These are two high-profile names for sure, but I don't think Sandberg or Mayer would want to trade her current gig for wrangling the Microsoft beast. Life's too short, and their consumer focus isn't a fit for the wider swath of Microsoft's enterprise businesses.
2. Reed Hastings of
Netflix
(NFLX) - Get Netflix Inc. Report
, David Sacks of
Yammer
or Aaron Levie of
Box
: Some have said that Microsoft needs a radical break from its stodgy past and that a younger CEO could fit this bill.
Although many outsiders believe Microsoft's in need of radical change, I doubt that anyone on the board feels that way. The board has been dragged by activist Jeff Ubben into replacing Ballmer.
The board's focus now will be on making the most incremental change possible to get Ubben off their backs. Someone like Sacks or Levie is a bridge too far for this board. It is likely to view such a move as too risky for such a young and -- in their eyes -- "unproven" candidate. Hastings knows Microsoft well from his time on the board. However, he was -- per Kara Swisher -- apparently the director first pushing for Ballmer's ouster, which led to him leaving the board. Thus, I think it's highly unlikely that the same board who drove him away would seek to bring him back to save the company.
3. Stephen Elop of
Nokia
(NOK) - Get Nokia Corporation Sponsored American Depositary Shares Report
, Kevin Johnson of
Juniper
(JNPR) - Get Juniper Networks Inc. Report
or Steven Sinofsky: Put these three in the category of Microsoft insiders who recently flew the coop.
All once had close ties with Ballmer and the board but left -- Sinofsky most recently after shipping Windows 8. Of these three, Elop seems the most likely "outsider" for the board to tap. He has family still living in the Redmond, Wash. area. He's probably had enough fun running Nokia in Finland. He left Microsoft under the best terms. And he's not associated with a big money-losing division that the board might be now under pressure to sell off (Online Services, where Johnson hung his hat).
4. Mark Hurd of
Oracle
(ORCL) - Get Oracle Corporation Report
: To me, the smartest move Microsoft could make here would be to double down on its enterprise business units and spin off or sell its Xbox and Online Services units. If it were to use the leadership change as an opportunity to push that idea, I think Mark Hurd would be an ideal candidate to run the new enterprise-focused Microsoft. It is right in his wheelhouse, plus it would give him the chance to stomp all over HP. However, in the process, he'd have to stomp all over Oracle as well. Therefore, Larry Ellison is likely unwilling to let Hurd walk -- and will pay him to keep him put.
5. Scott Forstall, formerly of
Apple
(AAPL) - Get Apple Inc. Report
: Forstall is looking for a new gig and he's from Seattle. If Microsoft wants to put an emphasis on its new phones with a big name, Forstall fits. But there's no way Microsoft would pick him to run the entire company. He has zero enterprise experience. The only way I could see him coming in is if the board decided to bust up Microsoft into a bunch of "Baby Bells" and appointed him to head the Windows Phone group. But busting up a company that radically is something a regulator does, not a board of directors.
6. Satya Nadella, Kirill Tatarinov or Terry Myerson: Think about this: Microsoft's Business, Server and Tools, and Windows divisions accounted for 82% of its sales in the last year and 101% of its profit (because Online Services lost more money than Xbox made). Nadella's been there since 1992 and is now responsible for Microsoft's "Cloud OS" which has been a big winner for the company. Before that, he ran Server and Tools, a big feather in his cap. Myerson runs Windows, which is now seen as a fading cash cow. Tatarinov has had a shorter tenure with the company to likely make him seen "ready" by the board for the top job.
7. Kevin Turner: The current COO for the last eight years, Turner spent the previous 20 years at
Wal-Mart Stores
(WMT) - Get Walmart Inc. Report
. He certainly knows the company from his time there, but I suspect he'll be seen as "Ballmer's right-hand man" and not a Microsoft "lifer" by this board. When the new CEO arrives, Turner will probably be first out the door -- just as we saw with David Ko at Zynga after Don Mattrick arrived.
8. Tony Bates: If Microsoft wants to give the impression that it's making a big break from the past while secretly ensuring that it's still getting an insider, then Tony Bates might be the man. The former head of
Skype
now has been integrated into the borg for a couple of years and was just promoted. Still, I think Gates would feel more comfortable with a longer-tenured enterprise person.
9. Eric Rudder: This would be my "dark horse" insider pick. He's currently head of Advanced Strategy and Research. Research has mostly been a sinkhole for Microsoft in the last 15 years, and Wall Street knows that, so it might be difficult for the board to sell his selection as top executive. However, Rudder used to be SVP for Server and Tools and also worked closely with Bill Gates on Technical Strategy before that. That might put him in favor with Gates, who ultimately will make the call.
So, from where I sit, the most likely -- which is not the same thing as saying the "best" -- outsider is Elop. The most likely insider is Nadella.
Of the two, I see Nadella as the one the board would feel most comfortable with.
At the time of publication, Jackson had bullish positions in ZNGA, AAPL and YHOO.
This article is commentary by an independent contributor, separate from TheStreet's regular news coverage.
Eric Jackson is founder and Managing Member of Ironfire Capital and the general partner and investment manager of Ironfire Capital US Fund LP and Ironfire Capital International Fund, Ltd. In January 2007, Jackson started the world's first Internet-based campaign to increase shareholder value at Yahoo!, leading to a change in CEOs in 2007. He also spoke out in favor of Yahoo!'s accepting Microsoft's buyout offer in 2008. Global Proxy Watch named Jackson as one of its 10 "Stars" who positively influenced international corporate governance and shareowner value in 2007.
Prior to founding Ironfire Capital, Jackson was President and CEO of Jackson Leadership Systems, Inc., a leadership, strategy, and governance consulting firm. He completed his Ph.D. in the Management Department at the Columbia University Graduate School of Business in New York, with a specialization in Strategic Management and Corporate Governance, and holds a B.A. from McGill University.
He was previously Vice President of Strategy and Business Development at VoiceGenie Technologies, a software firm now owned by Alcatel-Lucent. In 2004, Jackson founded the Young Patrons' Circle at the Royal Ontario Museum in Toronto, which is now the second-largest social and philanthropic group of its kind in North America, raising $500,000 annually for the museum. You can follow Jackson on Twitter at www.twitter.com/ericjackson or @ericjackson.
You can contact Eric by emailing him at Dr.eric.jackson@me.com.