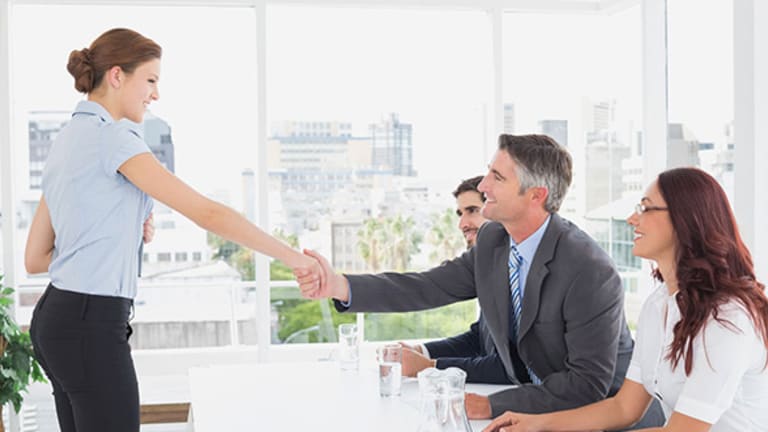 Here's What to Watch in Friday's May Jobs Report
Economists expect nonfarm payrolls to rise by 158,000, in line with April's increase of 160,000 positions.
The jobs report for May will be released on Friday. Economists expect nonfarm payrolls to rise by 158,000, in line with April's increase of 160,000 positions.
Michelle Meyer, deputy head of U.S. economics at Bank of America Merrill Lynch, also expects the economy to have added roughly 160,000 jobs during the month of May.
"The Verizon Communications (VZ) - Get Verizon Communications Inc. Report strike is going to depress job growth by about 40,000," she said. "Trend job growth is 200,000 -- netting off 40,000 for the strike -- and it's still showing an economy that's seeing an improving labor market."
Reports suggest some 35,000 Verizon workers went back to work on Wednesday after a labor deal was reached following a six-week strike.
Meyer is also keeping an eye on the labor force participation rate, which was rising for months but fell in April to 62.8%.
"The labor force participation rate is one of the most fascinating elements of the report," she said. "I think there's potential for it to increase this month -- resume the trend we had previously -- and if that does happen, it shows there is more slack and more capacity in the labor market, which would be an encouraging sign."
On the wage front, Meyer expects average hourly earnings in May to hold steady at April's level, which was a 2.5% year-over-year increase, or dip slightly to 2.3% growth.
"It's been hard for it to break out into the high 2% pace," she added. "If you think about the trend, there has been an upward trajectory in most of the measures around wages and I think that shows you are getting some tightness in the labor market."
Friday's jobs report is the final one before the Federal Reserve's closely watched June policy meeting. Meyer doesn't expect the Fed to hike rates in June. Investors agree, with the markets pricing in just a 23% probability of a June lift-off.
She thinks July or September are more attractive options for the central bank. "I think the Fed would probably want to see a bit more data -- maybe one more payroll report, one more set of indicators that's going to inform second quarter GDP," she said.
In recent years, economic growth typically has rebounded in the second quarter, following a soft first quarter. The economy grew by 0.8% in the first quarter.