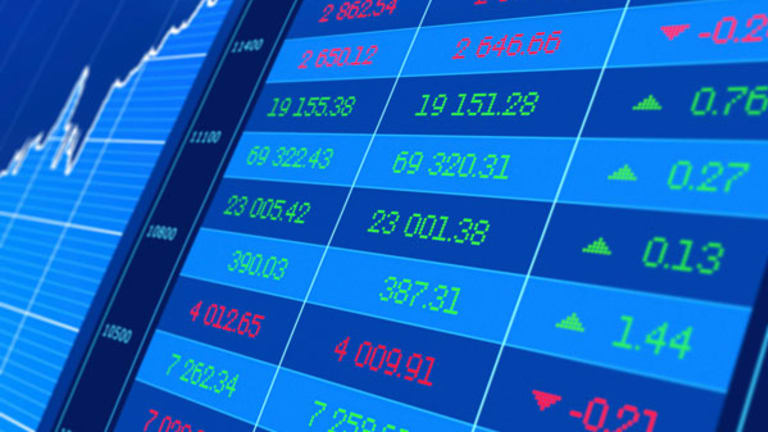 Here's Proof That Small Investors Are Trading More Stocks
With the S&P 500 and Dow soaring to record highs this month, individual investors are re-entering the game and hitting the go button on trades again, and again.
With the S&P 500 and Dow soaring to record highs this month, individual investors are re-entering the game and hitting the go button on trades again, and again.
NEW YORK (TheStreet) -- For the first time since the 2008 financial meltdown, small investors are returning to the stock market.
As the S&P 500 and Dow Jones Industrial Average indexes surged to record highs in November, new data from TheStreet.com shows it's not just the fat-cats on Wall Street who are pocketing the windfalls. The little guys – retail investors – are cashing in too.
Watch the video below to see why one TD Ameritrade strategist says retail investors are getting smarter:
Monthly data from three major discount brokerage firms, TD Ameritrade (AMTD) - Get Report , E*Trade and Charles Schwab (SCHW) - Get Report , shows trading activity from retail investors surged year-over-year in both September and October. Daily average revenue trades, or DARTs, climbed 8.2% in September and 17.8% in October on a weighted average basis.
The number of revenue trades rose across the board among the three brokerages, with TD Ameritrade and Charles Schwab posting the biggest gains. In October, TD Ameritrade reported 494,000 revenue trades, up about 18% from the same month a year ago, while Schwab's revenue trades jumped 20% to 590,487 trades. E*Trade recorded 175,447 trades, up about 10% from October 2013.
"This is the first time since at least 2009 where there has been two consecutive months of positive year-over-year trading growth," following the summer lull, said Jonathan Gerstein, director of Analytics and Consumer Insight for TheStreet. Gerstein compiles monthly data from the three brokerage firms to produce weighted averages.
For Schwab, October's data was the highest monthly volume seen in at least six years.
J.J. Kinahan, TD Ameritrade's chief strategist, said retail investors have been cautiously returning. "Our clients were ankle-deep into the market two years ago, then they went knee-deep, and now they're up to their waist," he said.
All of this means investors are in the markets, actively trading. "Trades don't necessarily mean people have faith and are buying – they're selling as well," cautioned Gerstein, who recalls high trading volumes during the selloff of 2008. Still, the data indicates retail investors aren't missing out on the bull market, despite its volatility.
Many small investors, who were burned in the 2008 financial apocalypse, have gotten smarter in the way they trade. A number of these investors are using options like the pros. Kinahan said 41% of TD Ameritrade's daily trades in October were done through derivative-type trades, which consisted primarily of options. Whereas, only about 17% of daily trades involved derivatives prior to the 2008 recession, he said.

Also, investors are keeping a sharper eye on their investments.
"They learned they can't just set it up and forget about it," said Kinahan. "They need to spend more time on their investments and retirement than they do on planning their vacation – which, unfortunately, many people didn't  before 2008.
It's been a whirlwind ride for investors in recent months, with the Dow and S&P 500 shattering records several times in November alone. Higher-than-expected corporate earnings, from such companies as Caterpillar (CAT) - Get Report , Whole Foods (WFM) , Tesla (TSLA) - Get Report , and Target (TGT) - Get Report , as well as improving U.S jobs numbers are fueling investor confidence in the markets and pushing the indexes to record highs.
Of the 486 S&P 500 companies that have reported earnings so far this quarter, more than 74% have exceeded expectations, according to Howard Silverblatt, senior index analyst at S&P Dow Jones Indices.
News that the Bank of Japan will get additional stimulus and speculation of more easing from the European Central Bank are also propping up stocks.
Jobs are the key driver for retail investors, said Kinahan. The U.S. unemployment rate fell to a six-year low of 5.8% in October, according to the Labor Department. "When people see their friends or maybe even themselves getting better jobs, that's the number one confidence builder," he said.
But the bull run hasn't come without its hair-raising moments. In September and October, nervous investors watched the Dow swing wildly – posting 200-plus point gains and losses in a single trading day, leaving investors wondering if a much-feared monster correction was around the corner.
Yet, retail investors didn't run for the hills this time. Longer-term investors rotated into less volatile stocks while other investors used the volatility to buy into their favorite stocks on the cheap. "Rather than looking at it as a time to run and hide, they're looking at it as a time of opportunity," said Kinahan. "Clients are trading more like professional investors."
So far this year, the S&P 500 is up 11.1%, the Dow has risen 6.9% and the Nasdaq composite is up 12.6%.
The Federal Reserve remains confident the economic recovery remains on track. It affirmed plans to end its long-running bond-buying stimulus program during its latest meeting at the end of October. The Fed also started discussing when to raise short-term interest rates. Still, the recovery hasn't been as robust or straightforward as many had projected.
"This hasn't been the speeding bullet of past recoveries," said Kinahan. He compares it with the child's book, 'The Little Engine That Could' – where the market keeps chugging along up the hill, hitting bumps and obstacles along the way, but continuing to rise. "Month to month, you may not be impressed with the numbers, but then when you look back over six months, it's like – Wow, we've had a good six months in terms of recovery numbers," Kinahan said. He expects this trend to continue.
"There's no reason to believe we are going to have explosive growth anytime soon," he said.
At the time of publication, the author held no positions in any of the stocks mentioned, although positions may change at any time.
This article is commentary by an independent contributor, separate from TheStreet's regular news coverage.