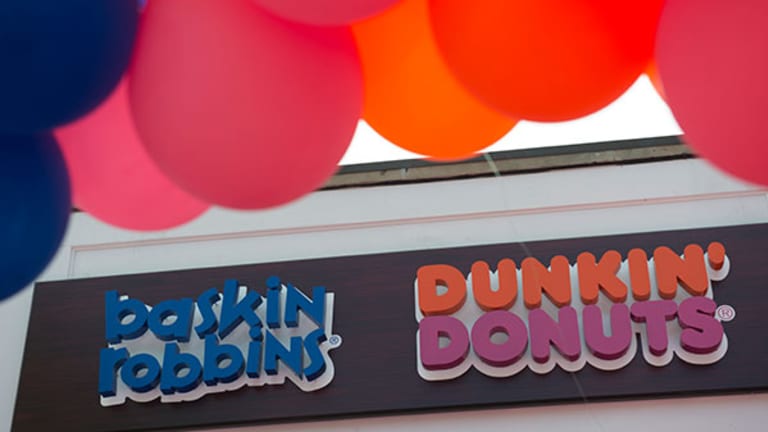 Here's How You Invest in Your Ice Cream and Eat it Too
Talking with President of Baskin-Robbins ($DNKN) discussing the ice cream industry and showcasing some of the tastiest and most outrageous frozen desserts during National Ice Cream Month.
NEW YORK (TheStreet) -- July is National Ice Cream Month and investors may be considering opportunities in the frozen dairy brands. Americans consume on average 48 pints of ice cream each per year and have transformed ice cream sales from a strictly summertime business into a year-round profit-making enterprise.
There is no lack of independently owned ice cream shops across the country offering fresh and increasingly idiosyncratic flavors. But if you want to invest in ice cream, your flavors are few.
There's Dunkin' Brands (DNKN) - Get Dunkin' Brands Group, Inc. Report, parent company of Baskin-Robbins, and Unilever (UL) - Get Unilever PLC Sponsored ADR Report, which acquired Ben & Jerry's back in 2001.
Some see the ice cream industry as a seasonal business. Bill Mitchell, president of Baskin-Robbins U.S. and Canada, disagrees, noting his company has worked hard to achieve year-round profits.
Baskin-Robbins operates more than 7,300 stores worldwide. The business has expanded from the U.S. into hotter markets of the Middle East and Central and South America. Mitchell expect five to 10 new Baskin-Robbins restaurants in the U.S. this year, and Dunkin' Brands plans to open 300 to 400 Dunkin' Donuts and Baskin-Robbins "combo" stores internationally.
Through these combo stores with Dunkin' Donuts, Baskin-Robbins has gained a younger audience and brand awareness. The move has also allowed the ice cream seller to more easily penetrate particular markets.
"It takes a long time to get such large scale and volume for an ice cream store," Mitchell says. "It took us over 40 years to do it. It takes brand awareness and it takes advertising dollars."
This is why so many shops are independently owned. He said ice cream is less of a seasonal business today and there are other ways to increase revenue during the winter months.
"We just have to change the way we do things when it isn't the peak of selling season or, as some people call it, the 'Sweet 16' weeks of summer," Mitchell says.
Baskin-Robbins partnered with Lafayette, California-based Boardwalk Frozen Treats this year, and Mitchell says he's working with retailers to distribute packaged products both domestically and in some international markets.
"We have to balance our portfolio," he remarks, adding the company is stepping up its sales of Greek yogurt flavors to appeal to the health-conscious consumer and is also augmenting its online sales operation.
Independent brands may not yet represent opportunities for investment, but hard working investors need a treat now and then. Consider it research. One of the companies on the following pages might someday be the next Baskin-Robbins.
Stop by for a treat here and you will not be disappointed by the variety of ice cream flavors all churned from scratch daily or the handmade waffle cones that add the perfect amount of crunch to this dessert's creamy texture. Whether it's Cornbread that you're craving or Buttermilk Honey Blueberry, you're certain to find something that satisfies your taste buds.
OddFellows recently opened a second location in New York City's East Village section, with plans for more expansion in the future. The flagship store and production site is across the East River in Williamsburg, Brooklyn.
Started by a young couple, the business prides itself in giving back to the community, supporting other local businesses and creating a whimsical environment that all customers can enjoy. While the owner, Mohan Kumar, says that he hopes to one day create a product to sell in grocery stores, there aren't any plans to franchise at this point, and despite some interest from other big-name buyers he would never want the business to be acquired.
Coolhaus
We all love food trucks, and this one serves up ice cream. Coolhaus is famous for its variety of cookies and ice cream that can be mixed and matched to create the tastiest sandwich that you can imagine.
With ice cream flavors ranging from Red Velvet to Whiskey Lucky Charms or Brown Candied Bacon, you won't be disappointed by the selection, and then you can pair your favorite with a Peanut Butter Captain Crunch cookie or the Potato Chip & Butterscotch if you're feeling a little more adventurous.
The company is currently running 11 trucks around the country in major cities in New York, California, Texas and a handful of other states, and you can find their products wholesale at over 2,000 markets, like Whole Foods! And going public definitely isn't out of the question for this business either, co-founder Natasha Case says. "We're absolutely open to it -- it just has to be the right timing."
This ice cream chain began in Boston but now E&B shops are popping up in New York, Florida, Illinois and even in Thailand and Abu Dhabi. E&B serves up outrageous cones like Nutella Marshmallow Rice Krispies,  hand-spun shakes, fruity smoothies, live cultured yogurt and a novelty Ice Cream Pizza that's sure to impress.
This business has rock & roll roots dating back to the 1970s, and today the owners pride themselves in spreading "peace and love," delivering a product to customers that's made fresh weekly, never warehoused.
There are plans for expansion in the coming months, but E&B founder Bob Rook said that to him it's all about the ice cream and the business won't be going public as long as he's around. E&B distributes some of its products wholesale to restaurants, caterers and other third party shops as well, where the company is able to raise brand awareness and reach more consumers year-round.
Forget the Cronut craze - this little bakery has a frozen treat like none other, perfect for National Ice Cream Month. The shop itself has been around for a few years, but business really took off after the debut of the Cronut -- a croissant-donut hybrid -- in May of 2013. While this creation is tasty, it shouldn't take the spotlight away from some of the bakery's other uniquely designed pastries and sweets like the Frozen S'more!
The toasted marshmallow on the outside and the vanilla ice cream sandwiched in the center make this dessert different than your typical campfire snack. It's no wonder the locals are calling it one of the best frozen treats around this summer.
While the bakery only operates one (tiny) location in SoHo, Manhattan, at the moment, Retail Manager Marcella Perego said that in the future she hopes to serve more customers, and the business is looking to expand.

The burgers bring fame to this restaurant, but Shake Shack also serves up some of the most delicious frozen treats around. The menu is unique, offering a variety of milkshakes to consume with your burger and fries, of course, but the restaurant also offers a popular, frozen custard "concrete" concoction with flavors ranging from Oatmeal Cream Pie to Buttery Caramel Cocoa Nibs.
And if you don't see something appetizing on the menu, you can design your own concrete using your choice of custard flavor with an array of mix-ins!
Shake Shack has created an almost cult-like following in New York, where the business began, but today you will find locations in Miami, Florida, Washington D.C., London, Dubai and Moscow. According to Culinary Director Mark Rosati, the restaurant may or may not decide to go public down the road, but right now they are focused on growing and keeping the quality A+.
After stepping inside the New York location of this iconic restaurant, you will soon stumble upon some of the most outrageous sundaes and ice cream concoctions imaginable.
Approaching its 60th anniversary, Serendipity 3 is famous for inventing the Frrrozen Hot Chocolate, a drink that would surely help you beat the heat this summer. Also on the menu are Drugstore Sundaes galore and even a Golden Opulence Sundae that you might consider tasting...if you have $1,000 to spare! But don't worry, the other desserts are reasonably priced, and you can find products like the Serendipity 3 Frrrozen Hot Chocolate Mix in your local William Sonoma or Bloomingdales (also online on Amazon.com and in a handful of other retail outlets).
The New York restaurant is approaching the sale of its 12 millionth Frrrozen Hot Chocolate this year, but there are also locations in Las Vegas, Washington, D.C. or Miami Beach where you can try some of these famous desserts for yourself. Joe Calderone of Calderone PR said that the business is looking at international markets next and, of course, there are always new desserts in the works. "It's always National Ice Cream Day at Serendipity every day," he says.
This article represents the opinion of a contributor and not necessarily that of TheStreet or its editorial staff.