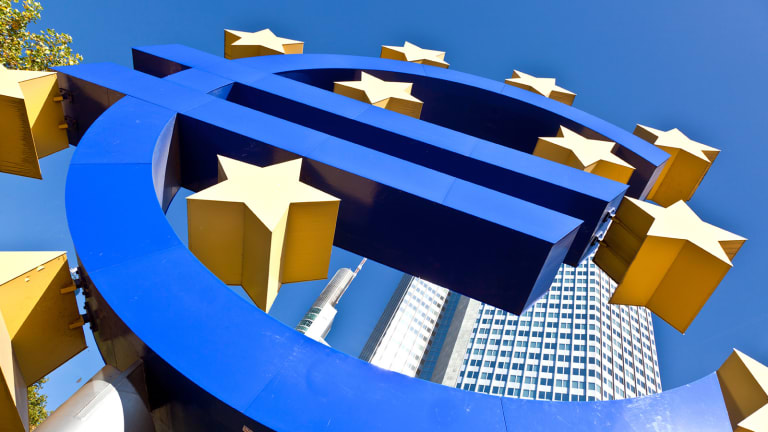 Here's How You Can Invest in Europe's Red-Hot Stock Market
Many new ETFs are giving investors a way to gain exposure to Europe.
Many new ETFs are giving investors a way to gain exposure to Europe.
FRANKFURT (The Street) -- European stocks have been so hot this year that American investors might be wondering if it's too late to join the party.
In fact, many analysts think Europe will continue to outperform U.S. stocks, even with all the uncertainty over Greece.
"Fallout from Greek debt negotiations continues to cast a cloud of uncertainty over the entire currency bloc, which has kept a lid on the euro and likewise equities in the region," said Stoyan Bojinov, an analyst from @etfdb.
The bulls continue to be right about the overall strength of the eurozone recovery. In early June, the euro experienced its largest one-day increase in two months. And despite a recent pullback, the blue-chip Euro Stoxx 50 is up 9% for the year, compared with a 1.5% gain for the S&P 500.
Zacks.com, which just published its hot three euro stocks for June, recommends Delhaize Group (DEG) , a supermarket chain operating mostly Eastern Europe, Belgium, Luxemburg and the U.S., and expects a growth of 10.2% for the year.
It also likes Philips Electronics (PHG) - Get Report because earnings are expected to nearly double this year and the stock trades at 28.3 times earnings, compared with the industry average of 33.6. Zacks also gives AVG Technologies (AVG) , a cybersecurity company, a buy rating.
Because of foreign-exchange risk, analysts say U.S. investors should look for funds that are either hedged or able to weather regional fluctuations. ETdb.com rates Wisdom Tree's Inter Hedged Equity (HEDJ) - Get Report fund made up of European exporters and hedged for the euro as the No. 1 pick on its list of euro equity exchange-traded funds.
"When it comes to broad-based Europe equity funds, WisdomTree's Hedged Equity Fund HEDJ has been the runaway leader thus far in 2015, gaining over 12% YTD," Bojinov said. As of mid-June, the fund was up 16% for the year.
"American investors should look to HEDJ because it offers exposure to European equities which have shown signs of bottoming out in light of economic growth finally turning the corner, without having to worry about currency market fluctuations," Bojinov said.
ETdb's list of the top funds also includes the DBX ETF Trust (DBEU) - Get Report, with a year-to-date gain of 9%; iShares MSCI Italy Index (EWI) - Get Report, up 11% this year; and the Wisdom Treet Europe Small Cap Dividend Fund (DFE) - Get Report, up 15%.
Given the success of hedged funds, similar funds are being formed. WisdomTree and Deutsche Bank (DB) - Get Report launched several more hedged funds in March.
WisdomTree announced the Hedged SmallCap Equity Fund (EUSC) - Get Report, which is described as a small-cap version of HEDJ. Deutsche Bank's three new funds -- the Emerging Markets Bond (EMIH) - Get Report, the Investment Grade Bond (IGIH) - Get Report and High Yield Corporate Bond (HYIH) - Get Report -- are all hedged against interest rates.
In June, Direxion launched the Daily MSCI Europe Currency Hedged Bull 2x Shares (HEGE) , comprised of large- and mid-cap stocks across 15 developed-market European countries hedged by selling forwards on each foreign currency at the one-month forward weight.
State Street (STT) - Get Report introduced the SPDR EURO STOXX 50 Currency Hedged ETF (HFEZ) , which is the first fund to offer currency-hedged exposure to the Euro Stoxx 50 Index.
In terms of country-specific funds, Bojinov also likes the Market Vector Russia ETF (RSX) - Get Report, which is up 28% this year largely thanks to the rebound in crude oil prices in recent weeks. The next runner-up from the country list is the Italy ETF mentioned above.
There are even investment opportunities in the eurozone's most troubled country--Greece.
Marc Chandler, global head of markets strategy at Brown Brothers Harriman, believes that Greece will stay in the European Union after all is said and done and is putting his money on that belief.
According to Goldman Sachs (GS) - Get Report, 2015 is the first year of a multiyear upward trajectory. The firm predicts the Eurostoxx 600 will reach 440 by 2018.
Credit Suisse predicts a 14% return from the Eurostoxx 50 this year. Last fall, J.P. Morgan downgraded its view of the U.S. stock market to underweight and reversed its position on Europe to overweight.
That said, not everyone is bullish on Europe.
"The risk of a eurozone breakup is still real, which is yet another reason why many have been slow to consider adding EU exposure given all of the looming uncertainties in addition to the pro-longed economic slump at hand," Bojinov said.
This article is commentary by an independent contributor. At the time of publication, the author held no positions in the stocks or funds mentioned.