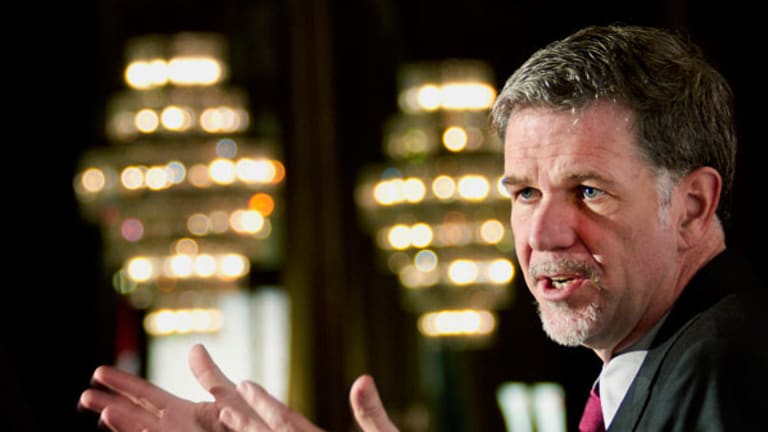 Here's How Reed Hastings Will Bankrupt Spotify
If Spotify really intends to move into video, via original programming, schedule the bankruptcy proceedings shortly after the IPO.
NEW YORK (TheStreet) -- The smoke and mirrors Reed Hastings projects from his perch at Netflix (NFLX) - Get Free Report have far-reaching consequences. The CEO himself probably cannot get his head around the power of his own rhetoric.
Here's a guy who roped investors into bidding his stock past $300 pre-very-predictable implosion. And now, he's doing it again with NFLX --
a company in no better (and maybe worse) shape than it was in 2011/2012
-- up nearly 100% year-to-date.
I'm so hip to Hastings'
that I have been bullish his stock (though not his company)
.
But others aren't so hip. Hastings' hollow claims of cord cutting and binge viewing have led everybody from
Henry Blodget to the average consumer
to forget that Netflix exists because old guard media outlets -- the entities that own and control premium content -- allow it to exist. Netflix has no leverage, no competitive advantage, no reason to breathe another breath barring some profound transformation of the media landscape.
But, now it's getting worse. Hastings' bombast has reportedly tricked
Spotify
into thinking it can pull off original programming. According to Nicholas Carlson over at
, on-demand music service Spotify will compete with Netflix via streaming video driven primarily, if not solely, by original content. Hastings set the false precedent and Daniel Ek at Spotify apparently took the bait.
This will not end well.
It's one thing when powerhouses such as
Google
(GOOG) - Get Free Report
and
Amazon.com
(AMZN) - Get Free Report
get into this mess. They have the cash and thriving core revenue lines to subsidize long-shot expeditions against companies that actually know how to do original programming such as
Time Warner
(TWX)
. They're healthy companies, well positioned and hyper-focused.
Netflix is not a healthy company.
Need a verbal specimen? Just click any of the links in paragraphs two through four, which will lead you to links for even more stories that lay out why Netflix is in such bad shape, despite Hastings' endless hype. And Spotify isn't much better off. In fact, it might be worse off.
And now, if
BI
's report has merit, Spotify is about to lose focus.
Original content is expensive. It's most likely -- for companies in the early stages of producing it -- a money loser. Spotify already participates in one unprofitable business utilizing a Netflix-like business model.
Spotify pays for the music it plays via direct licenses with record companies. That's contrary to
Pandora
(P)
, which pays a fixed amount per song in a deal with the Copyright Royalty Board. That's called compulsory licensing. It's not a good setup either, which is why Pandora is fighting to change it; however, at least, as a company, Pandora maintains a sharp focus that will likely ensure its survival.
Meantime, the private investors who throw millions of dollars at Spotify round after round are sending their cash into a black hole.
Pandora's objectives are clear. Compete with terrestrial radio and attack the $14 billion to $16 billion dollar advertising market that was once the playground of terrestrial radio.
It's that simple. Pandora is radio redefined. That's been the focus since 2004. It hasn't changed. And, regardless of what happens in the royalty fight, don't expect it to change much anytime soon.
Simply put, this is not the time to bite off more than you can chew if you're in the Internet radio business. It might never be time to get into video streaming, unless somebody else foots a majority of the bill. And, even then, it's a bad idea, as a consumer service, to drift away from your emerging core.
Even Hastings knows this, as he refuses to budge from the all-you-can-eat streaming model. No on-demand. No tiered pricing. Nothing but the straightforward value proposition Netflix has become known for.
There's a good chance there's nothing to these Spotify rumors, but Carlson's no slug so I would not be shocked if his report comes to, in some way, shape or form.
I love watching entrepreneurs find inspiration in the success -- and failure -- of other entrepreneurs. The process helps bring great companies to life. But it's a completely different situation when Reed Hastings inspires a young entrepreneur such as Spotify's Ek to repeat his kamikaze move into original programming.
--
Written by Rocco Pendola in Santa Monica, Calif.
Rocco Pendola is
TheStreet's
Director of Social Media. Pendola's daily contributions to
TheStreet
frequently appear on
CNBC
and at various top online properties, such as
Forbes
.