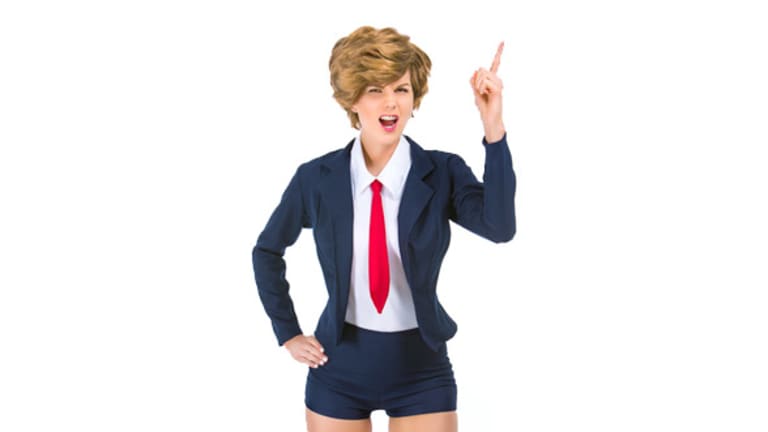 Here's How Donald Trump Claims to Be Worth $9 Billion
'I'm really rich,' Donald Trump declared in a press conference announcing his presidential bid on Tuesday. And how rich is 'really rich,' according to Trump? About $9 billion.
'I'm really rich,' Donald Trump declared in a press conference announcing his presidential bid on Tuesday. And how rich is 'really rich,' according to Trump? About $9 billion.
NEW YORK (TheStreet) -- Donald Trump--real estate mogul, reality TV show host and now GOP presidential contender--isn't modest about assessing his net worth.  
"I'm really rich," Trump declared when announcing his presidential ambitions at Trump Tower on Tuesday.
In a document released to the media, Trump lists his net worth to be $8.7 billion. He declares $9.2 billion in total assets and just $502.8 million in liabilities. He has yet to file the personal financial disclosures required of presidential candidates and must do so within a month.
According to Tuesday's summary, more than a third of Donald Trump's assets come from his personal brand – real estate licensing deals, brand and branded developments that total $3.3 billion. Club facilities and related real estate account for $2 billion of his net worth, and commercial properties, $1.7 billion. He also has $302.3 million cash and other "marketable securities."
Trump also makes a pretty penny off of beauty pageants. According to the summary, the Miss Universe, Miss USA and Miss Teen USA Pageants account for $14.8 million of his fortune.
Trump's biggest liability is $312.6 million from commercial properties and $146.6 million from club facilities.
The financial statement offers few details about his holdings. But others have assessed some of his properties.
While much of Trump Tower in New York has been sold, he still owns the rights to the building's commercial spaces, which Bloomberg estimates to be valued at around $400 million. Other commercial properties contributing to his wealth include 40 Wall Street, Niketown Store and Trump International Hotel and Tower.
Residential properties include Trump Park Avenue and Trump Plaza as well as his penthouse, which Forbes says is worth $90 million.
There are also the properties of which Donald Trump is not the 100% owner. Valued at $943.1 million according to his financial statement, the list of real estate includes the Bank of America Building in San Francisco and the Trump International Hotel & Tower in Las Vegas.
And, of course, there are the golf clubs - Trump has more than 15 worldwide. Moreover, he took advantage of the occasion of his presidential bid announcement to plug his golf courses and said he would welcome Barack Obama to join him on the green.
"I have the best courses in the world, so I'd say, you know what, if he wants to," he said.
For years, the media has questioned just how much he's actually worth.
In 2005, New York Times reporter Timothy O'Brien said that three people with direct knowledge of Trump's finances said his net worth was likely somewhere between $150 million and $250 million. Trump dismissed the claims.
"You can go ahead and speak to guys who have 400-pound wives at home who are jealous of me, but the guys who really know me know I'm a great builder," he said.
Forbes estimates Donald Trump's fortune to be $4.1 billion, less than half the amount declared on Tuesday. Moreover, the publication is sticking to its word and has published a rebuttal to his claim.

The sticking point, Forbes says, is the value Trump places on his personal brand. He says it's worth $3 billion. Forbes say it's much, much less.
"We value his brand at just $125 million," Forbes says in an article posted on its home page. "We give him another $128 million in management fees for Trump-branded hotels."
Forbes also doubts the valuation of his golf courses, which comprise around $2 billion of his declared net worth. He says his American courses are worth $800 million, while the publication contends that independent experts estimate that number should be closer to $200 million.
Outside claims aside, there is one person Donald Trump seems to more or less agree with regarding his wealth: himself circa 2011.
In his book published that year, "Time to Get Tough: Making America #1 Again," he estimated his net worth at $7 billion.
"My whole life has been about executing deals and making real money-massive money," he wrote. "That's what I do for a living: make big things happen, and now I am worth more than $7 billion."
At the time, he listed $1.37 billion in assets in commercial properties and $1.22 billion in club facilities and commercial real estate, as well as $379 million in debts.
This article is commentary by an independent contributor. At the time of publication, the author held no positions in the stocks mentioned.