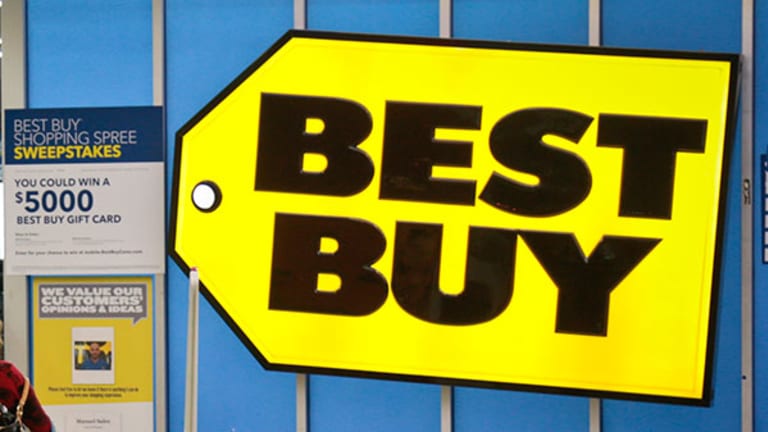 Here's How Best Buy, Target Are Gaining Ground on Amazon
Online sales for the likes of Best Buy, Target, and Walmart continue to surge. Brian Sozzi explains why.
NEW YORK ( TheStreet) -- Online sales from "big box" retailers such as Best Buy (BBY) - Get Free Report and Target (TGT) - Get Free Report continue to surge, and it's not just because of the ongoing price wars with Internet giant Amazon (AMZN) - Get Free Report .
The retailers are also gaining ground because they've learned to integrate the online shopping experience for consumers who still want to visit an actual store.
So far this year, Best Buy's online sales have risen 24.3%, almost two times the rate achieved at this point in 2013.
In an email to TheStreet in September, a Best Buy spokesman pointed to its new capability to ship merchandise from all 1,400 U.S. stores, essentially connecting the virtual world with the physical store. The result: fewer out of stock messages on the Web site that previously had sent customers fleeing to Amazon's homepage.
He added that Best Buy has also improved its checkout process to make it more seamless, channeling Amazon's seemingly intuitive user experience. Best Buy also has a price match guarantee program that includes merchandise found on Amazon.
For the first time, Target this week shared with investors the sales contribution from its online store to its critical same-store sales metric. Online sales added 0.6% to Target's better-than-expected U.S. same-store sales increase of 1.2% for the third-quarter. No doubt the company decided to highlight the information to show how its efforts online and on mobile devices are influencing the business.
"Following the success of our second quarter decision to offer free shipping on all Target.com orders over $50, in October we announced that we are offering our guests free shipping on all orders this holiday season," said executive vice president and chief merchandising and supply chain officer for Target Kathee Tesija on a call with analysts. Tesija continued, "We've seen a meaningful increase in both orders and conversion compared with trends prior to the announcement."
Target's free-shipping push and easier to use Web site come alongside a rollout of a ship from store program of its own, mirroring those being unveiled by Macy's (M) - Get Free Report , Home Depot (HD) - Get Free Report , and the aforementioned Best Buy. In effect, Target and its big box competitors have turned their huge stores into distribution centers that are closer to the consumer than an Amazon facility. Amazon reportedly has 66 distribution facilities in the U.S.  
Target is shipping about 60,000 eligible products from 136 stores in 38 markets, covering more than 90% of the U.S. population. According to the company, the ability to access inventory in the store to fulfill online orders "improves our digital in-stocks and drives incremental sales in situations where we are out of stock in our fulfillment centers."
Summed up Target's new CEO Brian Cornell on the call, "Target's digital sales are growing much faster than the industry and they have been accelerating all year, and we are planning for even faster growth in the fourth quarter."
"Our customers want to be able to buy just about anything from us, so we are expanding our e-commerce assortment to give them that opportunity," pointed out Walmart CEO Doug McMillon on its third quarter earnings call. Global e-commerce sales increased 21% in the third quarter, following what could be characterized as a generally strong year online for the retailer this year.
In the second quarter, Walmart took the wraps off a "top to bottom rebuild of its entire global technology platform," according to Walmart's President and CEO Global e-commerce Neil Ashe, making it more agile in adjusting prices. "Changes to the site can be made in minutes versus days, so we can innovate, test, iterate and deploy new capabilities in real time," Ashe said. "The site has much more personalization, and each customer's experience is always changing with fresh content that helps them discover new items."
As the old guard in retail step up their games online, it looks as if their successes are coming at the expense of the once dominant Amazon. The house that Jeff Bezos built has reported 25.6% sales growth in North America in 2014, slower than the 29% rate attained a year earlier.