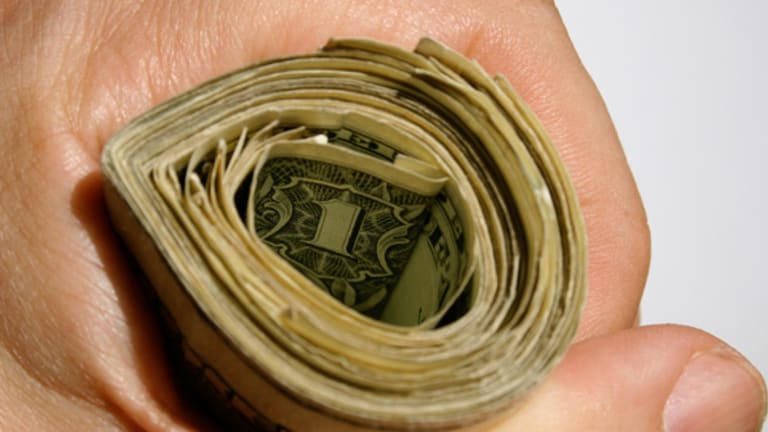 Here's How a Stronger Dollar Should Be Changing Your Investment Strategy
There may be a couple of ways to profit from the strengthening greenback, one of which is to simply buy it.
NEW YORK (TheStreet) -- There are a couple of ways to profit from the strengthening dollar, one of which is to simply buy it. Active investors looking for such exposure might consider the PowerShares DB US Dollar Bullish ETF (UUP) - Get Invesco DB US Dollar Index Bullish Fund Report .
The European Union's move to lower rates last week and further easing in Japan have caused the dollar to break out of its multiyear downtrend. As you can see below, there is a strong technical setup for continued dollar strength (as shorter-term moving averages eclipse the longer-term) in a positive fashion:
What changed? Well, since the beginning of the year both Europe and Japan have been losing their respective fights against deflation. Japan seems to have been deflating long enough to turn itself inside out. Nevertheless, the central banks for both regions have launched efforts to devalue their currencies (against the dollar). Why do this? There is no quicker way to make one's goods more attractive to the largest consuming nation, which also happens to use dollars.
Just six months ago we pointed out that the dollar looked to be weakening further and recommended buying commodities, via the PowerShares DB Commodity Tracking ETF (DBC) - Get Invesco DB Commodity Index Tracking Fund Report -- priced in dollars -- as a result. It looks like it may be time to concede defeat and fold our hand on this one, especially in taxable accounts in which the blow will be softened by a tax loss.
So whom does a stronger dollar help? And whom does it hurt?
Let's start with oil, since it's probably the most widely used commodity. Since commodities are denominated in dollars, a stronger greenback will tend to force prices down.
Here are some others who benefit from a stronger dollar:
And those who might be hurt:
At the time of publication, the author's firm held DBC, EEM, ILF, UUP, VGK and TLT in client accounts.
This article represents the opinion of a contributor and not necessarily that of TheStreet or its editorial staff.