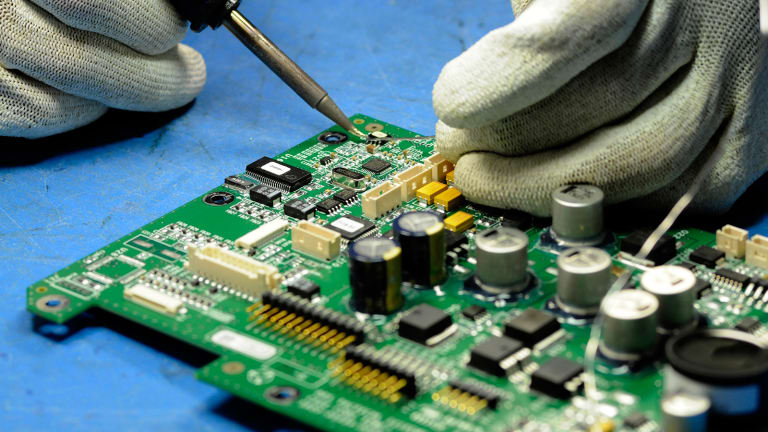 Here's Why You Stay Away From Jabil Circuit Despite Its Strong Earnings
Momentum investors have piled into the circuitry company and the easy money has already been made.
In the last month, shares of Jabil Circuit (JBL) - Get Jabil Inc. Report  are up almost 17%. The stock, currently at around $24, jumped last week after the company reported a very strong quarter. Can the stock go higher? I don't think so, and here's why.
Jabil reported first-quarter fiscal 2017 results last week of 69 cents compared with the consensus of 64 cents. But revenue fell 2% to $5.1 billion versus the $4.91 estimates.
This was the second-best quarter in the company's history. Operating margin was 4.1%, or $210 million. The company saw strong results in its health care, packaging and consumer lifestyle businesses.
Jabil operates in two main segments. Diversified Manufacturing Services (DMS) and Electronic Manufacturing Services (EMS). DMS was 47% of total revenue and was down 3% to $2.4 billion. Within DMS, management reiterated its goal that healthcare and packaging can grow operating income at an annualized growth rate of greater than 20% from fiscal 2016 to 2019.
EMS total revenue was down 1% to $2.7 billion. In 2017, EMS operating income is expected to grow 10-12% versus the pervious guidance of 5.6%. Operating margins may get as high as 4%.
I have followed the electronic manufacturing services (EMS) space since the 1990s. There's a whole bunch of these companies that design, assemble and provide fulfillment for electronics companies in over 18 countries.
I have two problems with this group: tiny profit margins and the companies are so tight lipped about their customers it can be hard to gauge the direction of earnings.
First, those tiny profit margins. It's hard to get excited about the stocks. As a percentage of revenue, gross profits run 8% to 9% and JBL's net income is just 2.5%. That's terrible. Revenue growth ranges between 2% and 3%.
Because companies like Jabil contract manufacture, they never reveal their customer list or the products they assemble. So it can very difficult to figure out how the quarter is progressing. Only when a customer becomes more than 10% of revenue do we actually know its identity.
Jabil has been manufacturing products for Cisco (CSCO) - Get Cisco Systems, Inc. Report  for years because as early as 2011 Cisco represented 11% of Jabil's revenue. We know Jabil has a close relationship with Apple (AAPL) - Get Apple Inc. Report . Jabil manufactures many subassemblies for Apple, including the iPhone 7 display. Both companies are part of Jim Cramer's Action Alerts PLUS charitable portfolio.
Because the EMS companies are highly cyclical, investors rarely pay high multiples for these earnings. Historically the group trades between 4 and 9 times forward estimates. Right now, the fiscal 2017 earnings estimate is $2.04 and $2.57 for 2018. At 9 times forward estimates, the stock should trade at $18, but the stock is already at $24.
I think momentum investors have piled into the stock in anticipation of strong iPhone sales, so I would avoid the stock since it has probably already made the bulk of their move. The easy money was already made.
This article is commentary by an independent contributor. At the time of publication, the author held no positions in the stocks mentioned.