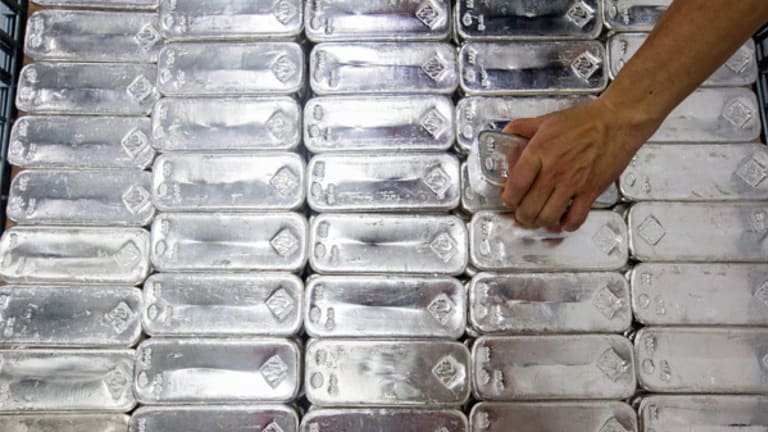 Here's Why You Should Own Both Gold and Silver Right Now, Despite Pullback
Gold gets all the attention, but silver is a precious metal to watch, too. Here's how you should invest.
Gold gets all the attention, but silver is a precious metal to watch, too. Here's how you should invest.
Under normal circumstances, when an investment is up double digits in just seven months, it's a good time to sell. But with gold and silver, up 24% and 41%, respectively, so far this year, this may just be the beginning of a much bigger rally.
Of course, with that big of a jump in a short period of time, either one might be due for a pullback (more on that later). But even if the price of either falls, it will likely just be a short-term consolidation. Both gold and silver still have a long way to run. As we've previously explained, it's not unreasonable to think gold prices could rise by as much as 500%. And, historically, when gold climbs, silver climbs even higher.
Why Own Them Both?
Conditions in the global economy are very supportive for gold and silver. And these conditions will probably only intensify -- making both precious metals even more attractive.
NIRP, or "negative interest rate policy," is becoming a global trend. By paying negative interest to savers -- when lenders pay interest to borrowers -- central banks are hoping more money will be spent, or invested, to help their economies grow.
But NIRP is now in year two, and global economic growth is still stagnant. Instead of spending money, investors have been using cheap cash to speculate in the real estate and stock markets, keep cash at home (where they won't lose any money to bank fees and zero or negative interest rates) or to buy gold and silver. In response, the world's central bankers have printed even more money and pushed interest rates even lower.
One of the classic arguments against owning gold and silver is that you don't earn income owning them. But in a negative interest rate world (or at least a very low, nearly zero interest rate world), that argument doesn't apply. You don't have to pay interest to own precious metals, unlike some bonds. And when prices are rising by double digits, precious metals are all the more attractive.
(What's the best way to own gold and silver?... it's not that difficult. Click here to learn more.)
Gold and silver are also destinations for investors' "flight to safety" when they are worried about market conditions. Brexit was a good example of this -- gold prices rose nearly 5% the day after the Brexit vote. Markets are also scared by what's happening in China -- the renminbi is down 7% versus the U.S. dollar over the past year and is hitting new lows. And there is still concern over what's going to happen to China's overall economy.
When Gold Rises, Silver Goes Even Higher
The past tells us that silver speculators find silver more attractive the higher gold prices get. With silver at $19.60 an ounce (its current price) many investors feel it offers more "bang for their buck" than gold at $1,330 an ounce. In general, as gold gets more expensive more traders look at silver and its "cheaper" prices.
For example, in the gold bull market that ran from June 2001 to August 2011, gold went from $270 an ounce to $1,889 an ounce -- a 600% gain. But over the same time frame, silver climbed from $4 to over $43 -- a 975% gain.
In the most speculative part of that gold bubble, running from October 2008 to August 2011, gold climbed 165%. Silver soared 400%. So during the mania stage of a precious metals bubble, it's silver that gets the most attention from speculators.

But when prices start to fall, silver also sees bigger losses than gold. After precious metals prices peaked in 2011 gold fell 44% by November 2015, the most recent low for gold prices. But silver dropped 68%.
Because the two metals' prices tend to move in the same direction at the same time, they have a high correlation. But silver is the more volatile of the two. One reason for this is that there is less silver to trade than gold, so silver prices can have bigger swings on lower trading volumes. This also makes silver a favorite of day traders.
Time for a short-term pullback?
Silver prices are likely headed higher over the next few months. But silver's recent price action shows there might be a short-term pullback on the way.
The iShares Silver Trust (SLV) - Get Report is the world's most actively traded silver ETF. As such, it acts as a good proxy for silver price performance. SLV shares are trading at about $18.65. But it's 50-day moving average, or the previous 50 days' average closing price, is about 9% lower at $17.
Since market prices tend to be mean reverting -- like a stretched rubber band, they often snap back after an extreme move -- don't be surprised to see SLV's price head back down to its 50-day moving average. But following that slight correction, watch for silver prices to keep climbing higher.

Despite the potential of a short-term pullback, holding silver and gold in your portfolio makes sense. It will keep you properly diversified and offer you some protection against falling stock markets. If the world's political and economic situation remains uncertain, the precious metals uptrend should stay in place. And if it turns into a full blown crisis, you'll appreciate the insurance gold and silver offer.
---
(To find out more about the best way to own gold and silver, click here.)
Kim Iskyan is the founder of Truewealth Publishing, an independent investment research company based in Singapore. Click here to sign up to receive the Truewealth Asian Investment Daily in your inbox every day, for free.
This article is commentary by an independent contributor. At the time of publication, the author held no positions in the stocks mentioned.