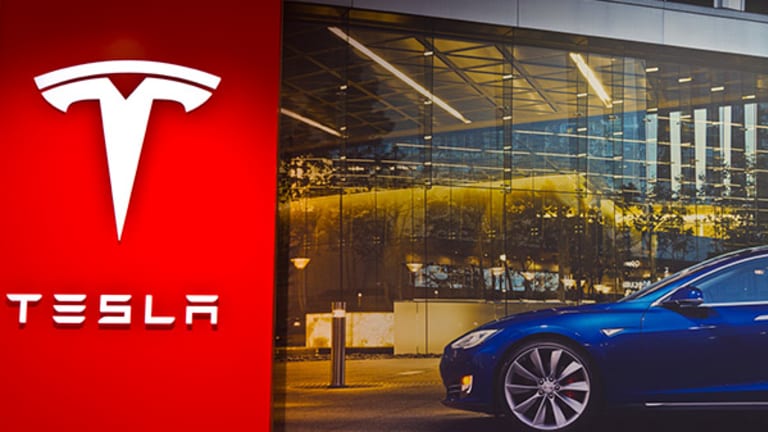 Here's Why You Should Consider Tesla's Convertible Bonds
Investors seeking to bet against Tesla's common stock may want to give its convertible bonds a spin.
Investors seeking to bet against Tesla's (TSLA) common stock may want to give its convertible bonds a spin, said Edward Silverstein, portfolio manager for the MainStay Convertible fund (MCOAX) .
Silverstein is long Tesla's 1.25% convertibles, now trading around 84 cents on the dollar and yielding 4.7%, due in March 2021 and short equal amount of the automaker's common stock, which was trading around $200 at last check.
"The yield on the convertible helps offset the cost of borrowing the shares," said Silverstein. "The bonds should not fall more than 10%, but the stock likely to go down much more, maybe even 50% lower, due to its poor fundamentals."
The MainStay Convertible fund is up 8.3% thus far in 2016, according to Morningstar. The $826 million fund has returned an average of 6.3% annually over the past three years, outpacing 91% of its rivals in Morningstar's convertibles category.
Silverstein is also bullish on Oasis Petroleum (OAS) converts, saying the driller has a cost advantage. Oasis recently issued a convertible security 2.625% due September 2023.
"The company is profitable even when oil is below $50 a barrel and with the convert you get paid to wait for it to move higher," said Silverstein.
Silverstein is also constructive on Intercept Pharmaceuticals' (ICPT) recently issued convertible security yielding 3.25% and due 2023. The company recently won approval for Oclavia, a treatment for liver disease and is trying to get approval for treatment for another liver indication that has a much larger treatment population.
"This is a risky and volatile stock but convert is a less risky way to play the equity and collect income," said Silverstein.
Finally, Silverstein is bullish on the Weatherford (WFT) 5.875% convert due 2021. He said the convertible issuance gave the oil services company some breathing room from upcoming debt maturities and allows it to survive into a presumptive recovery in energy prices.
"Holders of the convert get most of the upside of the common plus a large coupon which is great in this low yield environment," said Silverstein. " They also get a relatively short maturity to protect the downside."