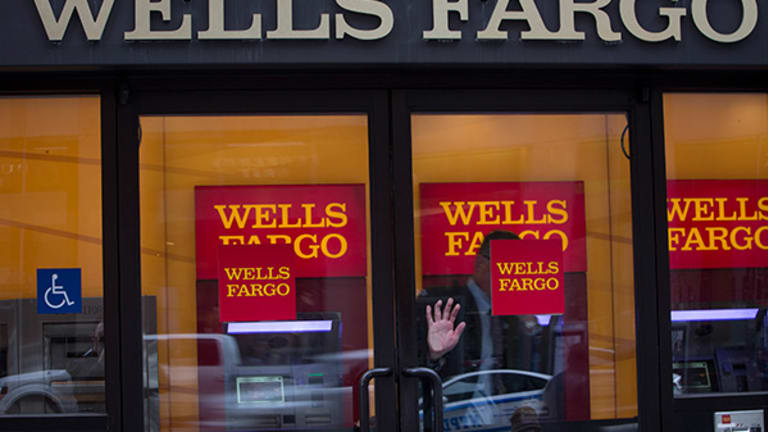 Here's Why Warren Buffett Loves This Undervalued Bank Stock
Put aside any qualms you may have right now about the banking sector. You should follow Warren Buffett's lead and invest in Wells Fargo, for both growth and income.
Post the Great Recession of 2008, banks such as Citigroup, Bank of America and JPMorgan Chase took it on the chin and fell out of favor with most investors.
While JPMorgan has recovered since, Citigroup and Bank of America are still far from their pre-crisis highs. Further, with the U.S. Federal Reserve now expected to raise interest rates only twice this year, instead of four times, banks still don't look like a lucrative investment option for many investors. They're turning to other sectors for gains.
However, in reality, with increased regulations coming into play following the meltdown, bank are now healthier than ever.
One bank that not only survived the crisis but also grew through it is Warren Buffett's favorite, Wells Fargo & Co. (WFC) . The stock is among those investments with tremendous potential to grow in 2016. What's more, thanks to the recent banking sector scare, WFC is available at attractive valuations. Let's see what's working in the stock's favor and why you should follow the lead of the Oracle of Omaha on this stock.
Wells Fargo's primary focus is on lending, with 54% of its revenue coming from loans and 46% of revenue generate from non-interest income sources including brokerage advisory services and deposit service charges. This was one of the reasons for its resilience during the meltdown, when other banks with a focus on investment banking and trading were driven to the ground.
Wells Fargo's biggest competitive advantage is its sheer scale; the bank is currently the third-largest bank measured by assets, and it has a highly capable management led by CEO John Stumpf.
These reasons, among others, led to it becoming the biggest holding (20%) for Buffett's Berkshire Hathaway. In fact, Buffett increased his stake in the bank in 2015, reiterating his faith in the company.
Another quality Buffett loves, and Wells Fargo scores high on, is dividend growth. In an era of 1% CDs, Wells Fargo belongs in your income portfolio.
True, the bank did announce a dividend cut of 85% in 2009 which would translate to savings of $5 billion per year, but that decision augured well for the company, as it helped it fund its acquisition of Wachovia. At a time when other banks were struggling, Wells Fargo, helped by Wachovia, grew to twice its size, thereby increasing total returns for shareholders. The current yield stands at a little over 3%.
The bank has never suspended dividend payments, even at the peak of the crisis, and has grown them over the last five years. Moreover, its payout ratio of 35.8% allows it plenty of headroom to increase payments in the future. By these metrics, WFC is a cash-generating machine.
Over the past four quarters, Wells Fargo has either beat or met analyst expectations on earnings. Further, on a trailing 12-month basis, the company has trumped the industry average on net margins, return on assets, and return on equity.
Even in terms of earnings growth this year, Wells Fargo's 2.2% rise has outpaced the industry's 1.3% and the S&P 500's 1% figure and is expected to exceed the S&P 500's growth in the next five years as well.
Analysts are clearly in love with Wells Fargo, placing it among the growth stock winners of 2016.
Goldman Sachs, Citigroup and JP Morgan, among others, upgraded their ratings on the stock in the last six months. While Goldman and Citigroup raised their ratings to Buy, JPMorgan is overweight on the stock.
In terms of share price performance, a 12-month median price target by analysts is set at $57, representing a 16.5% upside from current levels.
At a price-to-earnings (P/E) ratio of 11.5, the stock is also cheaper than the industry average of 15 and the S&P 500's 13.3 figure. The recent drop of over 10% in the stock over the last year has made it an even more attractive entry point for this long-term play.
Looking ahead, interest rate hikes are inevitable and as they pick up pace, the bank's net interest margins, a key measure of profitability, will expand further. With the bank already enjoying a solid reputation for making prudent acquisitions, returning value to shareholders, and having a highly capable team at its helm, there's little risk, significant upside potential, and regular income for any investor.
You see Jim Cramer on TV. Now, see where he invests his money and why Wells Fargo stock is a core holding of his multimillion-dollar portfolio. Want to be alerted before Jim Cramer buys or sells WFC? Learn more now.
85% Accurate Trader gives his Personal Guarantee. He turned $50,000 into $5 million trading this way and for a limited time, he's guaranteeing you at least $67,548 per year in profitable trades if you follow this simple step-by-step process. Click hereto see how easy it is to collect thousands of dollars in "Free Money" every month.
This article is commentary by an independent contributor. At the time of publication, the author held no positions in the stocks mentioned.