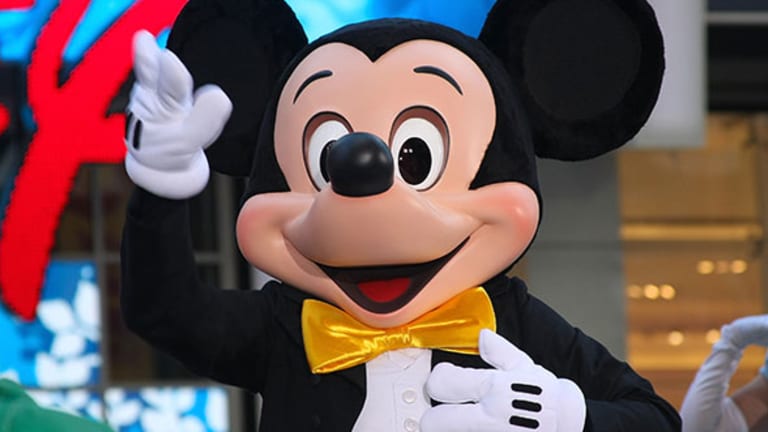 Here's Why Walt Disney, and Not Time Warner, Is the Media Stock to Own Right Now
Time Warner's stock is getting a boost from its DC Comics blockbuster movie, but Disney's diversity makes it a better long-term investment.
Go ahead, tug on Superman's cape if you want. Time Warner (TWX) is getting a lot of investor attention with the success of its latest comic book hero movie, but as we explain below, Walt Disney (DIS) - Get The Walt Disney Company Report remains the smarter place for your money.
Time Warner's shares soared on Monday after Batman v Superman enjoyed one of the best box office opening weekends ever, despite harsh reviews. In fact, the reception from critics (and skeptical fans) has been so cruel, it has spawned an online "Sad Batman" meme: a funny video clip of one of its stars, Ben Affleck, looking depressed in an interview with a critic.
But blockbuster action films targeted to youngsters tend to be "critic proof." The film, produced by Time Warner, grossed about $424 million worldwide, including $170 million in the U.S. alone. Investors took this as a favorable omen for Time Warner's planned series of movies based on DC Comics characters. The stock rose $2.53, or 3.6% to $72.54.
If you want to be an investment lemming and buy a media stock just because one of its movies is a hit, go right ahead. But if you must buy a media stock, the better long-term bet is Walt Disney. In a turbulent year that many analysts warn could deteriorate into a bear market, Disney is on track to emerge as a growth stock winner.
Uncle Walt's empire is the globe's best-known media and entertainment behemoth, sporting a brand name that's been beloved ever since Mickey Mouse made his debut in the black-and-white-cartoon Steamboat Willie in 1928.
Disney boasts several strengths that most media companies would envy, chief among them diversification. The company operates in a wide range of businesses, including theme parks, TV stations, retail stores and cruise lines. Most of these entities are interconnected for synergies that throw off high profit margins.
With its fingers in many pies, Disney is less vulnerable to the fickleness of the movie-going public. Conversely, a media company (such as Time Warner) that's overly reliant on blockbuster hits can get financially creamed if an expensive "tent pole" film bombs at the box office.
Disney's biggest source of revenue (42% in the latest quarter) derives from the media networks division, which owns the ABC television network and several popular cable channels, including ESPN, ABC Family, the Disney Channel and A&E.
What's more, Disney owns the rights to some of the most beloved films in cinematic history, constituting a portfolio of intellectual property that will continue to generate revenue for decades to come. One of the best ways to make money over the long haul is to buy the stocks of companies with proprietary products that consumers will want for generations. An iconic brand name, Disney exemplifies this breed of company.
Disney pioneered color cartoons, feature-length cartoons, movies with humans interacting with animation ... the list of creative landmarks goes on. The company also gave the world the first theme park.
And there's plenty of momentum left in Disney's theme park business. On Monday, it was reported that advance tickets for Disney's new theme park in Shanghai, scheduled to open on June 16, sold out in a matter of hours.
In his day, Walt Disney was as great an American original as Charlie Chaplin. Although Walt Disney Co. is now a multibillion-dollar global empire, Disney's legacy of innovation lives on.
Disney is one of the few old-line media companies nimble enough to successfully survive the challenges of the digital age, a leadership position that only gets stronger with each hit movie, new franchise or theme park opening.
In the coming months, Disney's parks division should continue to perform well. Also encouraging is the enormous critical and commercial success of the company's first Star Wars movie released last December (The Force Awakens), with more to sequels to come now that the company owns the franchise.
Continuing economic recovery, combined with rising consumer sentiment, should make Disney a relatively safe, market-beating investment haven in a volatile climate. Meanwhile, many of Disney's competitors -- Time Warner, Twenty-First Century Fox, and Viacom -- are experiencing inexorable declines in core businesses, such as cable TV and paid-programming segments.
Disney stock's 12-month trailing price-to-earnings ratio of 18.2 is a bit more expensive than Time Warner's trailing P/E of 15.7, but it's in line with the industry's P/E of 18.53. For 2016, analysts are forecasting a 12.4% year-over-year increase in adjusted earnings per share for Time Warner. For Disney's current fiscal year, which finishes at the end of September, analysts forecast one-year adjusted EPS growth of 13.2%. Disney's stock now trades at about $97.47; the median one-year analyst price target for the stock is $108.50, which suggests the stock can gain 11.3%. For Time Warner, analysts on average expect the stock to gain 11% over the next year.
If you're looking to invest in media stocks, it's essential to be selective and stick with the leaders -- and it doesn't take X-ray vision to see that the leader right now is Disney.
Don't Buy Apple; Buy This Tech Stock Instead: There's a battle raging in the fast-moving world of Silicon Valley. Just as VHS tapes snuffed out Betamax and CDs killed cassettes, the winner of a new "gold standard" for data is about to be crowned. I've discovered a tiny company that figured out a way to corner this new $10 billion market, no matter who comes out the winner. Click here to learn more.
John Persinos is editorial manager and investment analyst at Investing Daily. At the time of publication, the author held no positions in the stocks mentioned.