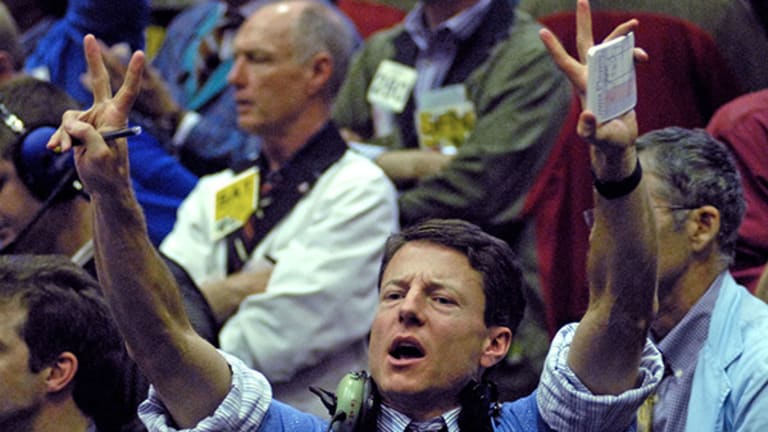 Here's Why the Stock Market Can Rally by the End of the Year
Investors may be pleasantly surprised by the time third-quarter earnings season is over. Here's why.
Investors may be pleasantly surprised by the time third-quarter earnings season is over. Here's why.
NEW YORK (TheStreet) -- As investors look ahead to the upcoming third-quarter earnings season, it's understandable if many are feeling apprehensive. Markets have struggled of late, pressured by the uncertain pace of the global economy, and the impact of that uncertainty will no doubt show up when companies reveal their bottom lines. Indeed, profits for S&P 500 companies are seen falling 3.9% in the quarter, according to Thomson Reuters data, an estimate that reflects a large downward revision. On July 1, analysts were forecasting a drop of just 0.4%.
That's a dramatic shift, but one that shouldn't catch anybody off guard. To the extent that this season is a test for Wall Street, it looks like one that can easily be passed, setting major indices up for a fourth-quarter rally.
The expected year-over-year decline in profits obscures how the U.S. continues to hum along. The labor market is improving, which should get confirmed with the September nonfarm payroll report this Friday, while economic activity continues to expand. Just last week, a read on second-quarter GDP came in at 3.9%, stronger than had been previously estimated and the report's second straight upward revision. When considered against that backdrop, the speed and size of the downward revisions seem vastly overdone, making it that much easier for companies to top expectations.
Indeed, there have already been signs that this is the case. Consumer giant Nike (NKE) - Get Report recently blew past analysts' forecasts in what could be the first of a trend for consumer discretionary names, a sector primed to benefit from the ongoing strength in U.S. markets.
Investor concerns about China also seem overblown. Although investors still need to monitor the region, a recent study by Bloomberg of data from China's biggest search engine and biggest online retailer pointed to stabilizing activity in the country. Beijing is also maintaining its 7% growth target for the year. That's slower than its previously blistering pace, but market bears are acting as though the country is going into recession, which is nowhere near the case. So while China remains a headwind, it will not be an insurmountable one for U.S. profit growth. The same goes for the recent strength in the dollar. Although that should erode multinational profits, the currency rally has moderated as of late and has been priced into shares. Significant new damage from this issue seems unlikely.
Admittedly, some sectors should hold up better than others in the current environment. Although consumer discretionary, industrial and pharmaceutical companies should all top forecasts, the materials sector -- which will bear the brunt of China's slowing -- looks risky, and volatility should persist there until things stabilize. Investors would also be wise to be cautious about financials, where net interest margins will remain depressed until the Federal Reserve finally moves on interest rates. The recent share price declines in both sectors will eventually lead to some attractive bargains, but things could get worse in them before they get better.
But on balance, this seasons should remind investors that beneath some scary headlines, fundamentals remain strong, and the long-term prospects for equities remain rosy.
This article is commentary by an independent contributor. At the time of publication, the author held a position in NKE.