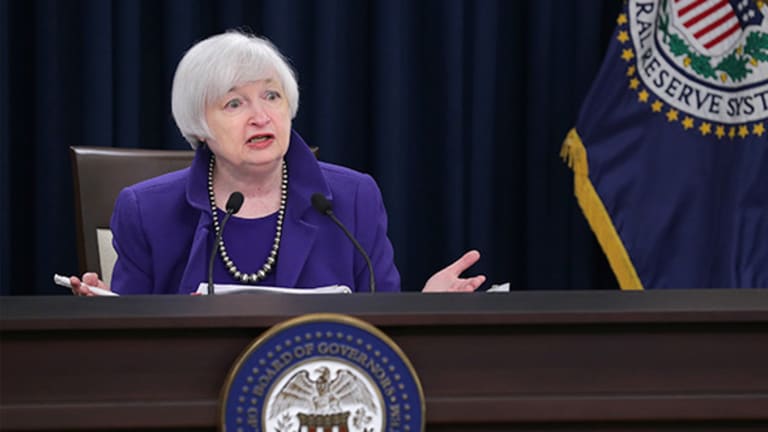 Here's Why the Fed Won't Raise Rates Until December and We Could See QE4
Global weakness is weighing on the financial markets and that could make a very interesting 2016 for the Fed.
Editors' pick: Originally published Jan. 7.
The Federal Reserve's experiment in raising interest rates in December has thrown equity markets into a tailspin -- and it could mean that the central bank won't do it again until December 2016 or even another round of quantitative easing. Let me explain.
Thirty years ago, Japan was going to dominate the world economy. Then it was China. Fast forward to the first days of 2016: China gave us two days of respite and then got clobbered us again. The CSI 300 tumbled 7% in just 15 minutes before trading was halted for the day.
The global markets are in a panic mode once again. Thinking about the interconnections of the global economy made me sit up and notice an important fact: the S&P 500 only gets two percent of its revenue from China. But China is not an island unto itself: It is a "major contributor" to world GDP. The nominal world GDP was about $78 trillion. The three largest contributors in 2014 were:
1. The Euro Zone $18.5 trillion or 24% of world GDP;
2. USA $17.5 trillion or 22.5% of world GDP;
3. China $10.3 trillion or 13.2% or world GDP.
If the U.S. and European economies were growing at their average historical rates of 1.5%-to-2.5% as they have for the few years before the financial crisis, China would just be an asterisk. Europe would be adding about $300 billion to world GDP and the USA would be adding $437 billion to world GDP, or a total of just shy of $750 billion. So if China were to grow at 5% from its current 7% it's nominal GDP would decline by $206 billion, that is, from $721 billion to $515 billion. The decline would be less than a 25 basis points drop to total world GDP.
The crux of the problem does not lie with the growth of China, it lies with the lack of growth in U.S. and Europe.
For months, the Federal Reserve said it was going to raise short-term interest rates. Finally, to save face the FED raised rates in December. It was the wrong decision. The Fed did everything perfectly, in terms of guiding the market and giving it notice to prepare. It just didn't work out well.
In our last Fed article we pointed out significant problems that still persist here in the U.S. Labor markets are still a mess despite the headline unemployment reading of 5%. The labor participation rate is at a near-40-year low of 62%; and U6 , a measure of unemployment around 10%. The argument many investors make is that the labor participation rate is low due to baby boomers retiring. However, the labor force participation rate for people 55 and over tells a far different story. It has been steadily increasing from the early 1990's low of approximately 29% to the 2015's 40%.
Deflationary worries still exist with weak commodity prices. The December PMI was 48.2, indicating a contraction in the manufacturing space. Durable Goods, excluding transportation has been declining since Sept of 2014. Finally, CPI has been relatively flat since August of 2014.
All of these things keep our economy firing on all cylinders. There has been a lot of talk in the market recently, about four rate hikes this year. It will not happen, not in 2016. The 10-year rates on treasuries have been falling, not rising. If we were in a tightening cycle why would an investor be willing to buy a bond at a rate of about 2.2% for the next 10 years? Investors are buying bonds at these levels for two reasons: because they believe bond yields are going lower; or they are uncertain about how much rates will rise in the future.
There is too much volatility in global markets, too much weakness in the economy. The Fed will not have enough positive data to raise rates for at least the first six months of the year. That will take us to a Fed meeting in September, which would be about a month and half before a presidential election. I don't think the Fed would want to move ahead of an election. This leaves open a possible hike sometime in December, taking 2016 off the table.
All of these signs of weak growth at first will be a concern to the markets and will result in volatility going forward. It will give rise to speculation: another round of quantitative easing, QE4. Will there be another round of QE? Could there be? If the economic picture doesn't improve, it is likely to be coming.
Disclosure: Mott Capital Management, LLC is a registered investment adviser. Information presented is for educational purposes only and does not intend to make an offer or solicitation for the sale or purchase of any specific securities, investments, or investment strategies. Investments involve risk and unless otherwise stated, are not guaranteed. Be sure to first consult with a qualified financial adviser and/or tax professional before implementing any strategy discussed herein. Past performance is not indicative of future performance.