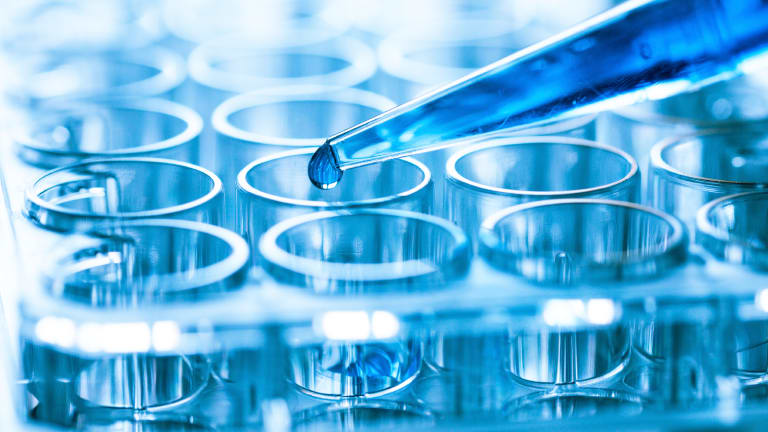 Here's Why the Biotech Sector Is Due for a Pullback
The iShares Nasdaq Biotechnology ETF is preparing for another swing in its 35-day cycle pattern.
The iShares Nasdaq Biotechnology ETF (IBB) - Get Report made an all-time in 2015, briefly touching the $400 level one year ago this month. At that point, it formed a tweezer top, a two-day pattern consisting of a large range white candle immediately followed by a large range dark candle. This pattern reflects a sharp transition from bullishness to bearishness.
After breaching its 40 week (200 day) moving average the fund accelerated lower, but managed to complete a double bottom in September, and then begin making a series of higher lows in a rising triangle pattern. When the pattern support line was broken at the beginning of this year, the fund price dropped a second time, eventually forming three distinct lows at the $240.00 level and carving out a horizontal channel below resistance in the $285.00 area. It is currently retesting that channel resistance and the 40 week average, and in the process has penetrated the downtrend line drawn off the 2015 highs.
The channel pattern on the daily chart is overlaid with a cycle circle tool, which highlights a 35-period cycle of price highs and lows that have defined the horizontal channel pattern. The current retest of pattern resistance comes at another cycle high point. At the top of the chart is the commodity channel index, which is designed to spot a new trend or warn of overbought or oversold conditions. The indicator is synchronized perfectly with the cycles and is currently attempting to move out of an oversold condition.
The daily chart is indicating another cycle high at channel resistance and suggests a pullback into the second week of August and a potential retest of triple bottom channel support. There is an old technical analysis adage that says once a cycle is identified it usually comes to an end. At some point, this cycle will end, but for now it has to be respected, and the assumption is that the biotech sector is due for a pullback.
This article is commentary by an independent contributor. At the time of publication, the author held no positions in the stocks mentioned.