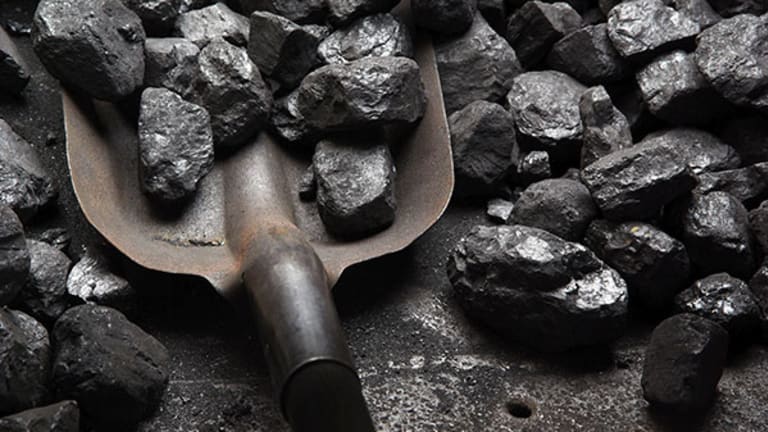 Here's Why the Bear Market for Coal Prices May Be Nearing the End
There are signs that things could finally be turning around for coal.
Nearly all commodities had a terrible run over the past five years, and coal was among the worst of the bunch.
But there are signs that the bottom of the bear market is in sight, and things could finally start turning around for coal.
This may come as a surprise to those who have seen the bad press coal has gotten. Coal is destroying the environment, consumption has been falling as energy users abandon it and prices have plummeted.
Coal prices hit an all-time high of $139 per metric tonne in January 2011. Since then, prices collapsed and hit a historic low of $48.85 this year, for a 65% decline.
Here is what the price of ICE Newcastle Coal Futures, which reflect coal prices around the world, has done since 2010.
Besides the ski slope shape of the chart, note the slight uptick so far this year. This could be the signal that the end of the horrendous bear market in coal prices is coming to an end.
Coal prices are largely dependent on demand from its two largest consumers: China and the U.S.
The recent collapse in coal prices was a result of lower demand from both these economies. China and the U.S. have been pushing for more natural-gas and clean-energy alternatives, so their demand for coal has dropped.
But the fact remains that coal still powers much of the world.
India gets more than 62% of its energy from coal. In the U.S., the use of coal has declined over the years, but it still accounts for one-third of energy production.
Although coal is viewed as dirty, it is still absolutely essential to keeping the lights on in much of the world. So the price of coal can't fall forever.
So far this year, Australian Newcastle coal futures are up 20%. European coal futures, meanwhile, have hit a one-year high.
Meanwhile, the supply/demand equation looks to be improving.
This year, the coal supply is expected to drop by 4.1%, according to BMI Research.
But coal consumption is predicted to fall by just 2%.
This two-percentage point difference, with supply falling faster than consumption, should mean higher coal prices.
As a result, BMI Research recently updated its coal price projections for this year. It now expects prices to be $53 per tonne, up from the $51 predicted earlier.
For the first half this year, ICE Newcastle futures averaged $51 per tonne. For the second half, it is projected to average close to $55.
For next year, BMI projects an average price of $57 per tonne, saying that prices could reach $61 a tonne by 2020.
In part to help deal with its massive pollution problem, China has banned opening any new coal mines until 2019.
And over the next three to five years, China aims to cut 500 million tonnes of coal from production. That is equivalent to 14% of China's production and close to 6% of global production, which is a big cut.
More than 280 million tonnes have been cut from production this year alone. This was the result of Chinese authorities reducing the number of days that mines are allowed to operate by 54.
Last year, China produced more than 3.7 billion tonnes of coal and consumed less than 2 billion tonnes. So it is still making a lot more coal that it is using, which hurts pricing, but cutting some production is a big step in the right direction.
Meanwhile, in the U.S., coal production is at its lowest level since 1981. The U.S. is the world's second-largest coal producer after China.
The fall in coal prices has hurt mining companies in the U.S. more than anywhere else. Mining is simply no longer profitable for many producers.
Since 2012, more than 50 mining companies have filed for bankruptcy protection. This includes Peabody Energy, which was the world's largest private-sector coal producer.
Coal production in the country is expected to decline by 12% this year, according to the Energy Information Administration, which is the biggest drop in production in the past 60 years.
And coal production may drop even further and more miners may be pushed out of business if Democratic presidential nominee Hillary Clinton is elected president.
As part of her clean-energy initiative, she has vowed "to put a lot of coal miners and coal companies out of business."
China and the U.S. produce close to 60% of the world's coal. So, any production cuts from those two countries will help coal prices.
Meanwhile, Indonesia, the biggest exporter and the fifth-largest producer of coal, expects production to fall next year, as well. Many smaller Indonesian coal miners are reducing their output to survive this extended period of low prices.
As production is cut in all the major producers, prices should recover.
Through 2020, coal consumption around the world is expected to grow by 0.8% annually, according to the International Energy Agency.
The strongest growth in demand is expected to come from Southeast Asia, at 7.8% growth per year.
The IEA expects coal demand to triple in Asia between 2020 and 2040.
The agency says that economic factors and strong growth in Asia will drive demand for coal well into the future.
Indonesia, for example, plans to start 117 new coal-fired power plants in the next four years. The lower prices and oversupply should push demand higher.
The World Coal Association expects Asia to add power-generating capacity roughly equal to the power generated by Japan and South Korea now and more than 40% of this new power to be generated using coal.
The reason for this is because coal is cheap, and it works. In developing, densely populated countries cheap power is key to economic growth, and environmental problems come second to making sure that everyone has power in the first place.
With price targets finally on the upswing, coal prices may have bottomed. The price may not skyrocket, but a halt in falling prices is a huge turnaround for the coal market.
As a result, it may be time to start looking for exposure to the coal industry.
One easy way is to use the Market Vectors Coal Exchange-Traded Fund (KOL) - Get Free Report . This ETF tracks the share prices of a basket of coal mining companies.
Kim Iskyan is the founder of Truewealth Publishing, an independent investment research company based in Singapore. Click here to sign up to receive the Truewealth Asian Investment Daily in your inbox every day, for free.
This article is commentary by an independent contributor. At the time of publication, the author held no positions in the stocks mentioned.